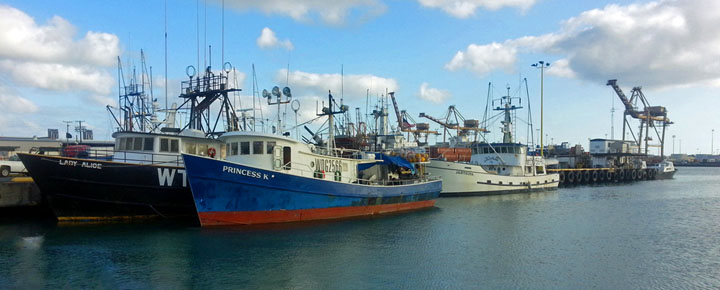 Any restaurant that we frequent multiple times in one week is worthy of mention. We're talking Nico's at Pier 38 in Honolulu. It's where the Hawaiian plate lunch undergoes a healthy French makeover 7 days a week. This isn't a recent find as we've been eating there for many years in both its prior and current locations (both on the same pier). They've also been a repeated Hale 'Aina award winners as one of the best restaurants in Hawaii. They were also featured on The Food Network. And now they have added a new upscale restaurant featuring steak and seafood, set above the pier 38 location. Also now located in Kailua.
Great Value in Honolulu Dining with a view!
When I said "French", you probably saw dollar signs.  It's quite the opposite.  Our favorite plate lunch, the catch of the day, is reasonably priced at from $11.95 to $14.95. Today features include Pan-Seared Ahi (cooked Medium-Rare) with a clam and spinach cream sauce. With a choice of white or brown rice and nalo greens or mac salad.. Yum.
Nico's is also open for breakfast and dinner. No matter what time of day you eat there you'll enjoy a great harbor view, pictured above.
The menu changes daily and includes a homemade sauce with your fish. Since Nico's is located near the Honolulu Fish Auction building, you're guaranteed freshness.
Chef Nico's credentials are impressive. Nico moved to Los Angeles from Lyon, France at age 22 and has lived Oahu for the past 20 years. He was formerly the cook and sous-chef at Michel's at the Colony Surf and the Bistro at Century Center.
The Nico's Vibe:
Informal, upscale, noisy, crowded, with both indoor and outdoor dining and an eclectic clientele. You'll find people of all trades and professions mixed in with visitors.  On Friday and Saturday and other times too, there's live Hawaiian music to accompany your meal.
Ordering Food:

Expect a line, but it moves fast.  We've never had to wait long. When your food is ready, you'll be buzzed to come and pick it up.  You can also have the daily menu emailed if you subscribe to their mailing list. Or see today's specials online.
Location:
On Pier 38 across from the Honolulu Fish Auction building, Look for the crowd and you'll be at Nico's. Parking is plentiful and free.
Hours:
Breakfast served Monday through Saturday from 6:30 am to 10:00 am. Lunch everyday from 10:00 am to 4:00 pm. Happy hour every day from 4:00 pm to 6:00 pm and dinner daily from 5:00 pm to 9:00 pm.
They have a great fish market to take away too. It's open daily.
Disclosure: We receive a small commission on purchases from some of the links on Beat of Hawaii. These links cost you nothing and provide income necessary to offer our website to you. Mahalo! Privacy Policy and Disclosures.