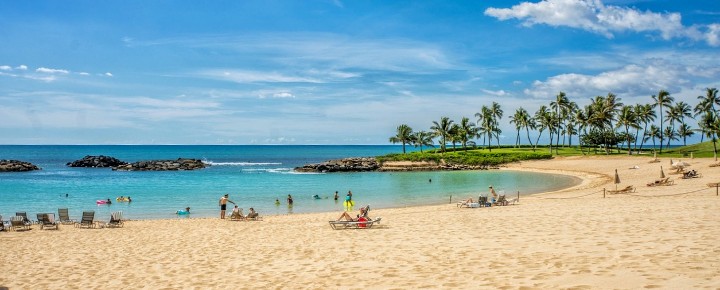 This comes as Hawaii just announced its highest number of new Covid cases; more than 2,200 cases today. Something is going to change.
We're sure that many of you, like us, couldn't help but wonder if some form of a new travel testing model that starts tomorrow won't find its way to Hawaii, and soon. Hawaii officials have been stating that they want to change the way Hawaii travel Covid testing works.
Things will be changing when traveling to the US Commonwealth of Puerto Rico this week, as the island begins mandating Covid tests for all travelers effective tomorrow, including those vaccinated.
Does Hawaii travel need a new Covid testing model? 
Hawaii is between a rock and a hard place. The state faces problems no matter which way it turns. To continue to allow vaccinated travelers to travel to Hawaii without testing clearly does nothing to prevent the spread of Omicron. And while still "apparently" small, the numbers associated with travel are rapidly escalating.
Problems with this new model could be challenging in the short term as it comes as the US faces yet another test shortage, with soaring demand and limited availability at stores, online, and test locations. For example, here on Kauai, one of the island's largest test sites had to move its location to the Target parking lot when lines of cars blocked traffic at its Lihue location and police had to be summoned.
How the new Covid travel system works in Puerto Rico.
Starting tomorrow, all domestic passengers arriving in PR are required to provide negative coronavirus tests taken within 48 hours of arrival, regardless of vaccination status. That choice is somewhat of a middle-ground between 72-hour tests and the harder to obtain 24-hour tests. Previously, only passengers who were unvaccinated were required to provide proof of a negative test in Puerto Rico.
"As of December 27th, 2021, all passengers arriving on domestic flights are required to show a negative test result taken within 48 hours before arrival time, regardless of vaccination status. Passengers arriving without a test will have 48 hours to take one upon arrival or be subject to a fine. Unvaccinated travelers must quarantine for 7 days after arriving, regardless of whether they have a negative test result."
Puerto Rico maintains its version of Hawaii's Safe Travels where proof of vaccination, testing, and a health questionnaire are all uploaded before travel.
What kinds of tests will Puerto Rico accept?
At present, it is our understanding that the island is allowing PCR and antigen tests, but not at-home tests. Their website's travel guidelines have not been completely updated in that regard, however.
"If arriving without a test, they must upload either a PCR molecular or antigen COVID-19 test taken on Island within 48 hours of arrival or receive a ($300) fine."
Vaccinated travelers who choose to test on arrival do not need to quarantine while awaiting results, while those unvaccinated must quarantine for seven days.
On airport testing option.
Puerto Rico says that "for passengers who are not vaccinated… (the airport) offers PCR molecular COVID-19 tests on site. The service costs USD 110 and is offered from 6:00 a.m. to 8:00 p.m., seven days a week." It looks like vaccinated passengers must find other testing options, at least for now.
What are other off-shore US islands doing? 
American Samoa. At present, travel is restricted to essential purposes. "All travelers require advance permission from the Government of Samoa prior to travel."
US Virgin Islands. All domestic visitors must provide a negative antigen or PCR test within 5 days of arrival, including those fully vaccinated.
US Commonwealth of the Northern Mariana Islands. Effective December 27, all arrivals, including those fully vaccinated will receive Covid tests upon arrival. Travelers are to be quarantined while awaiting test results, and it isn't clear what that duration of time might be.
Why 72-hour testing doesn't work.
The amount of time between a test and actual travel is critical. The reason is obvious. While you may test negative that far in advance, you would become infected, especially with Omicron, in the time between then and your travel to Hawaii.
Hawaii has been relying on PCR tests only from its "trusted partner" tests, which typically take longer and can be more expensive, but are said to be more accurate than ubiquitous rapid antigen tests.
Testing after arrival in Hawaii too?
What about people who test negative even within 24-hours of a flight, but later test positive after arriving in Hawaii? Will Hawaii consider additional testing after arrival?
What about fully vaccinated Hawaii visitors and returning residents?
Hundreds of your comments have pointed out the need for everyone to be tested, without regard to vaccination status. Vaccines aren't effective at limiting the spread of Omicron although they may remain very useful at reducing the severity of the disease. In addition, recent reports say that even those who have had Covid boosters may only have the ability to block transmission for up to 10 weeks.
Disclosure: We receive a small commission on purchases from some of the links on Beat of Hawaii. These links cost you nothing and provide income necessary to offer our website to you. Mahalo! Privacy Policy and Disclosures.