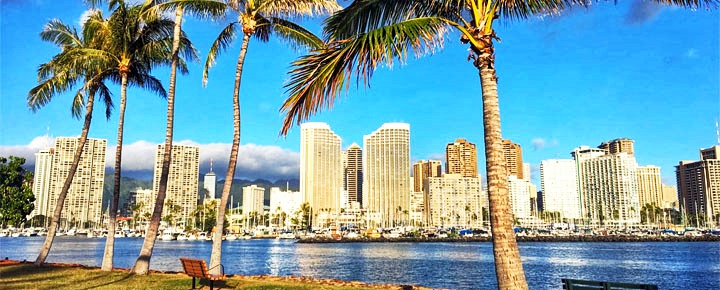 We know that Hawaii is busy and that isn't going to abate. With international travel all messed up once again, exotic yet domestic Hawaii is sure looking good!
To help make travels easier for visitors and residents alike, Hawaii Safe Travels offered its Pre-Clear testing and vaccine verification program through all domestic airlines to avoid all Covid clearance on arrival in Hawaii. But now, Pre-Clear isn't working as planned, and you've confirmed that in comments.
In theory, how Pre-Clear should work.
Travelers who comply with Hawaii's testing requirements will be exempt from quarantine and receive a Pre-Clear wristband from their airline, which will verify their documents before boarding. Once in Hawaii, travelers will be allowed to deplane and bypass airport screening lines entirely. Pre-Cleared passengers avoid the frequently slow and tedious Hawaii airport process and get on with their vacations. You have reported in comments countless times how much this streamlines the Hawaii arrival process.
Pre-Clear programs are offered at mainland to Hawaii gateway airports by Alaska Airlines, American Airlines, Delta Airlines, Hawaiian Airlines, Southwest Airlines and United Airlines.
Reality: Staffing shortages impact Pre-Clear availability.
As Covid issues at the airlines have caused Hawaii flight delays and cancellations, it has significantly reduced both Pre-Clear availability on the mainland, while it has increased screening lines at Hawaii airports.
The Pre-Clear availability and the long lines in Hawaii are now variable and unpredictable. They are being fueled by staffing issues associated with the Omicron variant. Because of that, airlines have either reduced or put a halt to the Pre-Clear screening that largely happened at their  gates prior to boarding flights to Hawaii.
Hawaii's Safe Travels team reports it too is experiencing staffing shortages and is attempting to mitigate lines through employee overtime and additional shifts.
What you can do.
1. Check with the airline immediately upon arrival at your mainland to Hawaii gateway airport. Find out where they are offering Pre-Clear, if they are.
2. Be sure that you have uploaded your proof of vaccination or a test to Hawaii Safe Travels and have received your QR code, prior to arriving at the airport.
3. A commenter's suggestion. Hat tip to regular John W. who just said, "Just learned a new tip for getting the wrist band. Been flying HA and they've been great doing it at the gate, turns out you can get the wrist band at the front counter as well as at the departure gate, potentially saving you some time if they are short-staffed at the gate. This was in SEA.
What is the Pre-Clear Process and how to use it in 4 steps?
To qualify to be pre-cleared for arrival into Hawaii, travelers are required to complete the following prior to departure from the mainland:
1. Create a Safe Travels account for every adult on the itinerary. (Minors to be added to an adult itinerary.)
2. Add mainland to Hawaii flight information to the account.
3. Upload negative test results (PDF format) for every adult and minor (five years and older) on the itinerary to Safe Travels prior to boarding. Bringing a printed copy of negative testing results is also highly recommended. Note that the COVID-19 test must be from a Trusted Testing and Travel Partner and taken no earlier than 72 hours prior to departure.
Your recent comments about Pre-Clear have included these:
Dot: We've just arrived on the BI. If possible, get the COVID pre-clearance bracelet at the airport before entering HI! We registered when we arrived in Dallas Ft. Worth, Gate D28, didn't wait in line, no problem getting bracelet. Amer. Air must have announced every 10 min. if you can, do that now! People with kids scrambled at the last minute cause they didn't pay attention. We avoided a 2 hr. wait to enter HI by having the bracelet. Dirty looks from those in line! More airports should provide this.
Wil: Today at DEN on flight UA384, we were told by United staff that they are no longer offering Hawaii Pre-Clear wristbands due to "lack of staff." It is also to note that we saw the flight crew getting wristbands, however. Thought you guys might want to pass the word around.
Margaret: If you travel at a busy time (like between now and mid-Jan), allow at least 30 minutes extra time at your departure airport for the airline pre-screening where you get the wristband. When you check in, ask an airline rep where the Hawaii pre-clearance center is and go there right after getting thru security. Also have your vaccination certificate or copy of your negative Covid test with you – you may be asked by the pre-clear staff for this documentation. (Advice based on Dec 6 experience).
Kathi: I recently heard that Denver has done away with the pre-clear because they don't have enough employees to do it at the Denver airport.
Updated 1/6/22.
Disclosure: We receive a small commission on purchases from some of the links on Beat of Hawaii. These links cost you nothing and provide income necessary to offer our website to you. Mahalo! Privacy Policy and Disclosures.