One of our favorite events every holiday season, Kauai Festival of Lights (website), takes place at the island's historic county building. Each December, the facility is transformed into an amazing recycled folk art extravaganza every weekend. We volunteered there again last night and most photos are from that Christmas Eve event.
Over half a century ago, the late Auntie Josie (Chansky) began turning trash into treasures. For decades she crafted holiday decorations from things as unusual and seemingly odd as plastic 6-pack holders, Spam cans, bottle caps, now antique IBM punch cards, flash cubes, toothpicks and more. Her Christmas artworks were displayed at her home here in Kapahi, where thousands of people came annually to see the unique, beautiful, and inspired, recycled holiday decor.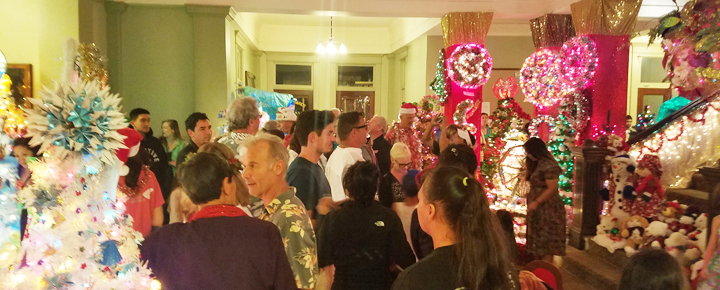 The miracle that occurred: Since 1996, Elizabeth Freeman has been at the helm of Festival of lights. Following Auntie Josie's husband's death, the annual Kauai custom has been magically resurrected and expanded. That courtesy of talented artistic director, designer and educator Elizabeth with the help of countless volunteers.
Auntie Josie decided 20 years ago that she was through with the tradition. In spite of offers of help, she had a garage sale to liquidate the collection. Elizabeth Freeman showed up at the garage sale, and bought up a majority of the art, with the intention of donating it to the County of Kauai for preservation. When Auntie Josie found out what Elizabeth intended, she donated the remainder of the collection. The rest is folk art history.
The much loved and anticipated annual tradition is now assisted by countless volunteers, who together donate approximately 2,000 hours of time, as well as the artistic efforts and financial contributions of countless individuals, businesses, schools and other organizations. Kauai Festival of Lights is also supported by the State of Hawaii and the County of Kauai.
Auntie Josie, who died in 2009, was honored by our State and and County for her 50 years of folk art contributions to Hawaii's holiday season. Festival of lights is highly acclaimed and has been featured in countless publications world-wide.
If you miss seeing the Kauai Festival of Lights this year (the last night is Saturday December 30, 2017), be sure to put it in your plans for an upcoming year. This is truly a unique piece of Americana not to be missed.
On leaving, Auntie Josie always reminded us that "Christmas is not the only time for loving, caring, giving and sharing. It is all year round."
Thank you Elizabeth Freeman for keeping Auntie Josie's dream alive, and Happy New Year!
Note: Featured image above of surfing Santa sleigh pulled by Kauai chickens.