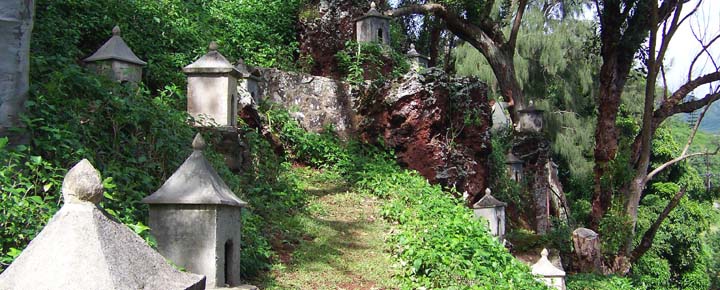 Here's a unique offering among Kauai events. Have you taken the 88 shrine walk back in time? Do you know about their internationally renowned Hall of Compassion?
In a brief but distinctly unique experience of Kauai events not far from Poipu Beach, you'll be transplanted to Japanese and Hawaiian culture as you visit 88 Shingon shrines along a steep hillside path contained on a beautiful 32 acre property. It all takes place at the Lawai International Center and is a perfect adjunct to your Hawaii vacation.
The center is open to the public on the the second and last Sundays each month. Free tours are offered at 10:00am, noon and 2:00pm. You'll visit century old, Japanese immigrant built miniature shrines. Each shrine contains grains of sand or dirt taken from original shrines located in Shikoku, Japan.
Fifty years ago, these shrines and the temple paths had fallen into disrepair. They have since been lovingly restored with the efforts of countless volunteers under the skillful direction of Lynn Muramoto. This sacred site is described as "a place of peace, healing and aloha."
The tour takes place in silence. You'll be greeted like a friend by the team of volunteers and offered tea and snacks after a short presentation. Then you'll enjoy a quiet journey with walking sticks provided. The tour is free but donations towards future preservation are gratefully accepted.
Directions: You'll find the Lawai International Center near Poipu, between Lawai and Kalaheo. More information is available by calling (808) 639-4300 or visiting the Lawai International Center website.