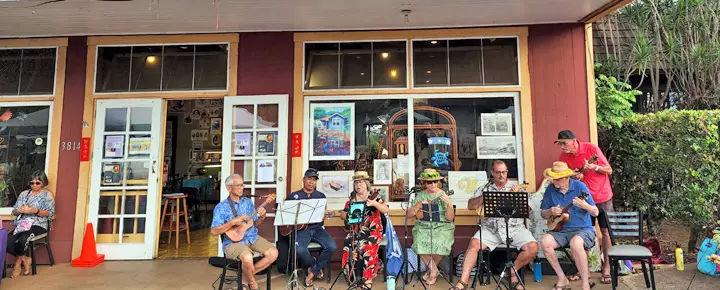 Hanapepe Art night Kauai returned today for the first time since Covid. The historic town again returned to life on Friday night, with artists, musicians, and food and crafts. The event went dark in March of 2020. Despite some beloved legacy businesses not being open tonight, we hope that art night will build momentum with more vendors participating soon.
Fridays have, since 1997, been the best time to visit the Westside. Perhaps even starting with a visit beforehand to Waimea Canyon and Kokee State Parks. Or maybe a swim and beach walk at historic Salt Pond.
Most of the art galleries stay open as the main street fills with people, musicians, artists, and assorted vendors. It felt like life was returning to normal to see businesses thrive and stay open on Friday night. Art night is always a great evening out on Kauai. There's something for kids of all ages to enjoy, and you won't soon forget it.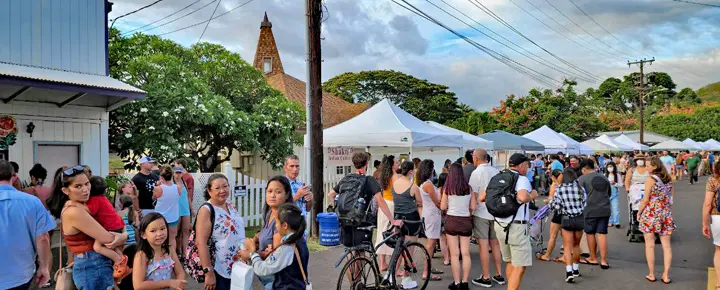 Food pickings were slimmer than in past years, but it was made up by the number and variety of  musicians playing along the main street of this, Kauai's biggest little town. For eateries, the only sit-down restaurant that was open was Grandma's Cafe (outdoor dining in the back), which we'll visit and review soon. We were surprised that some stores that had been there for years are now gone, and that Midnight Bear Bakery and Bobbie's didn't open for the evening activities. Maybe they will in the future.
We also strolled over the famous Hanapepe swinging bridge, which is along the side of Banana Patch Studio. There were so many people on the bridge jumping up and down that it lived up to its reputation of swinging over the Hanapepe River. Rob only made it halfway before turning back.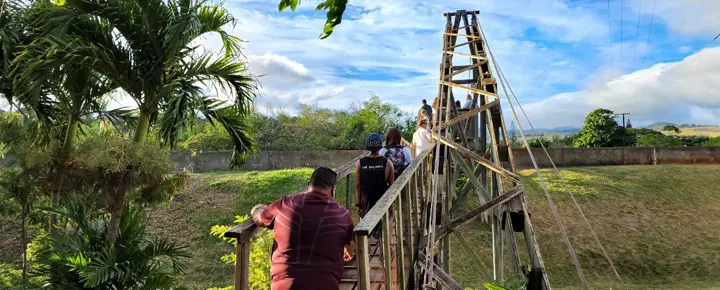 There was also a festive street fair, where both tourists and locals could be seen. Everyone seemed to enjoy being back and strolling up and down the festive art walk street. Vendors of all types representing local businesses were present as can be seen in our photos. The best times to be there for us are early in the evening, and we will say that parking was at a premium on all of the streets.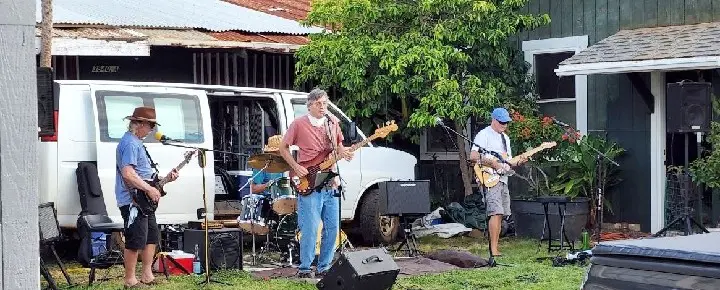 Talk Story Bookstore was very busy and festive, with owner Ed in attendance. When Borders closed years ago on Kauai, they purchased their bookshelves and upgraded the look. As a result, everything is well organized, and there are new and used books. Talk Story is the Westernmost bookstore in the USA and the winner of many business awards.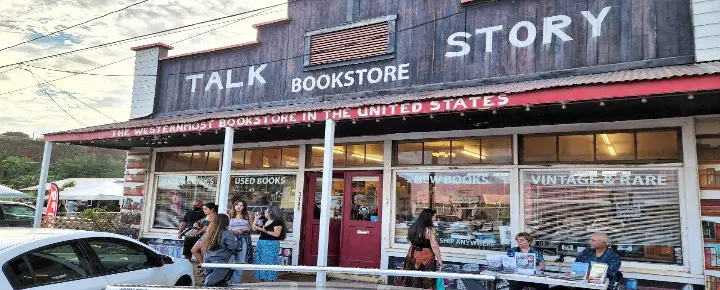 All in all, it was a wonderful night between the shopping, entertainer variety, and more. The weekly art market will return each Friday night from 5 PM to 8 PM. Note the new hours; before COVID, it took place between 6–9 PM.
See you at the Hanapepe Art Night on Friday soon! Small town Hanapepe is located on Kauai's westside and is on the way to Waimea Canyon.
Disclosure: We receive a small commission on purchases from some of the links on Beat of Hawaii. These links cost you nothing and provide income necessary to offer our website to you. Mahalo! Privacy Policy and Disclosures.