We seek authentic travel experiences more than ever, and here's a Hawaii destination that's totally unique with the only natural salt beds in the state. It's a long-standing favorite of ours and it'll be of yours as well.
Start with nearly a mile of uninterrupted crescent-shaped sandy beach. The beach is reef-enclosed, meaning that it is accessible virtually year-round with gentle water. It sits on Kauai's sunny west shore, which means it will at most times have the very best weather the island has to offer. It's also generally not crowded, which, when compared to Poipu Beach is another great asset. Do check ocean conditions and be aware of beach safety.
Historic Hawaiian salt-making.
Twenty-six original Hawaiian families have been practicing the ancient art of salt-making here for generations. It's considered a sacred practice. Each family has a designated area. The beds are formed from clay. Salty water is allowed to dry and become more saline as it evaporates. Scraping the bed with a net collects salt. This salt isn't sold, but can only be gifted. Your editors have for years been recipients of salt from one of the Salt Pond families.
Guests are welcome to the salt beds only upon invitation. Otherwise, it's best to look from afar and enjoy the beauty and culture this ancient art represents. The short video below explains the process in more detail.
Salt Pond Beach has distinct areas.
1. The main beach is adjacent to the large parking lot. This is the place that most visitors will choose to park. It is the largest part of the beach and has the most gentle water due to the breakwater afforded by the reef. It's easy to dip into the ocean and on most days, take off for a swim around the bay if you so choose. You'll find those enjoying kites and frisbees, too, on the grassy lawn. Keep in mind that the ocean near the middle of the bay usually tends to have the roughest water.
Here you'll find rustic amenities including picnic tables and pavilions, barbeques, outdoor showers, and bathrooms.
2. Keiki beach. There's a small beach just west of the main beach. This features the shallowest pools and a calm part of Salt Pond Beach that's the best spot for small children.
3. Burns Airport side of beach. If you continue driving on Lele Road from the highway, instead of turning right for the main Salt Pond Beach Park, you'll arrive here. This was the first Kauai airport and now serves as a landing strip for smaller flights and helicopters, including those heading to Niihau.
This is our favorite part of Salt Pond, and gets the fewest visitors. The area furthest away from the main beach also has the most protection, offering a great place to swim or the best snorkeling.
Parking was once directly fronting the beach, but that's no longer possible. Instead, park in the large lot adjacent to the natural salt ponds from which it is a short walk to the beach.
There are no facilities on this part of the beach. So for showers or restrooms, you'll need to take the short hike back to the main Salt Pond Beach.
Kauai Wildlife abounds at Salt Pond Beach.
At Salt Pond Beach, you may be lucky enough to see some of Hawaii's ocean wildlife. These include tropical fish, black sea cumcumbers (they don't even look real), starfish, and more. On the sand, you'll also find hermit crabs, and in between the rocks, in sea water tide pools, there are sea urchins that you should be careful to not come in contact with.
Whale watching in season. We have frequently seen humpback whales from the sand at Salt Pond. You'll know that they're around as everyone on the beach will be looking and pointing.
Endangered Hawaiian monk seals also frequent Salt Pond Beach. If you see them, remember to appreciate them from a distance and not get close to them. They come to the beach to rest and it's important that they do.
Salt Pond lifeguard.
There's a lifeguard on duty for your safety, which makes for a great addition to Salt Pond. It's one of only two lifeguarded beaches on the west side of Kauai. Lifeguards are on duty daily from 9:00AM to 5:00PM.
Sunset at Salt Pond Beach.
This is our favorite time of day to be at Salt Pond. Things quiet down, and it feels like you are stepping back in time. Then get ready for some truly spectacular sunsets facing to the west.
Nearby Salt Pond Beach.
While you're there, why not stop by historic Hanapepe, Kauai's south shore art town. Take a stroll through the shops and restaurants, or walk across the famous swinging bridge over the Hanapepe River.
Tent camping at Salt Pond Beach.
For those adventuresome Hawaii visitors, camping has just returned. So get a reservation and camp out at Salt Pond Beach. Camping permits are required and the park is closed every Tuesday from 10:00AM until 12 noon and on Wednesdays for maintenance. Camping Fees are $3.00 per adult, per night, and Hawaii residents are free. See the area of the campgrounds set aside for campsites below. Online reservations.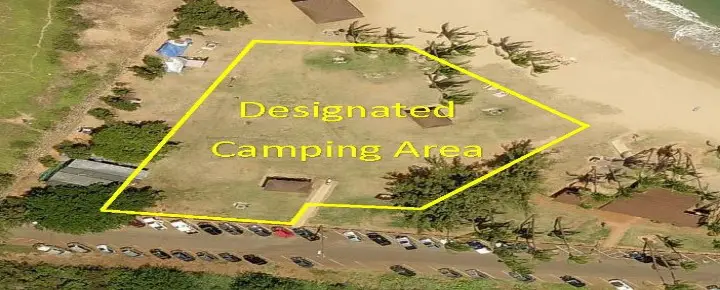 How to get to Salt Pond.
Just a 15 minute drive from the busy South Shore, it's easy to get to. See the embedded map below.