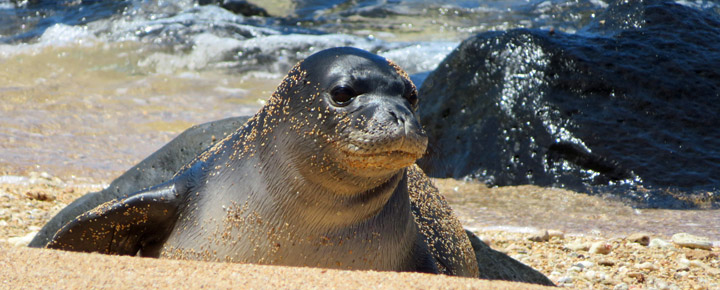 An endangered Hawaiian Monk Seal was born this week at Kaimana Beach, Waikiki, according to the state's DLNR. Mother and baby are doing great, and there has already been a baby-naming for Lolii. Ukukau Hawaiian dictionary defines that as "Relaxed, at ease, without worry, carefree." The name was selected by Hawaiian Immersion School students and also relates to the French name for the birthplace beach. Hawaii Marine Animal Response said, "Being only the second seal to be born at Kaimana Beach, he lives up to the name."
Unlikely birthplace at Waikiki.
We love Sans Souci (worry-free) Beach, also known as Kaimana Beach, near the zoo in Waikiki. The perennial favorite has great swimming and is adjacent to the Waikiki Natatorium. It is popular with both locals and visitors. And now, apparently with Hawaiian monk seals.
Hawaiian Monk Seals keep their distance during COVID too.
Your help is urgently needed during COVID to protect our Monk Seals. The volunteer program is on hold, so protection of the seals on our beaches is left to the lifeguards, paid coordinators, and the public. The photo below shows what recently happened on Kauai. A visitor approached a monk seal which is against the law. The photographer moved her away right after the photo was taken. In fact, the older seal lunged at the visitor with teeth bared.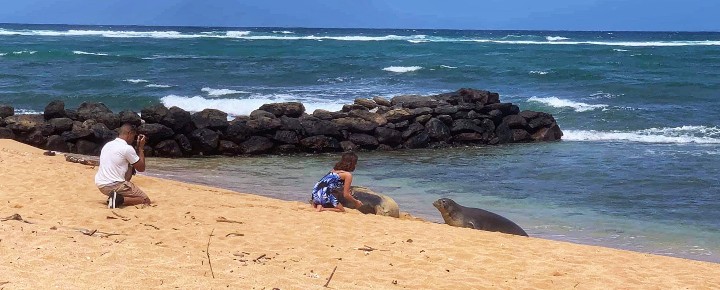 DLNR maintains a hotline for any problems associated with monk seals at 888-256-9840.
Baby Monk Seal Video
The video below is from Barry Flanigan of Hapa fame, who posted this incredible sight.
Featured photo credit: Julie and Steve.
Disclosure: We receive a small commission on purchases from some of the links on Beat of Hawaii. These links cost you nothing and provide income necessary to offer our website to you. Mahalo! Privacy Policy and Disclosures.