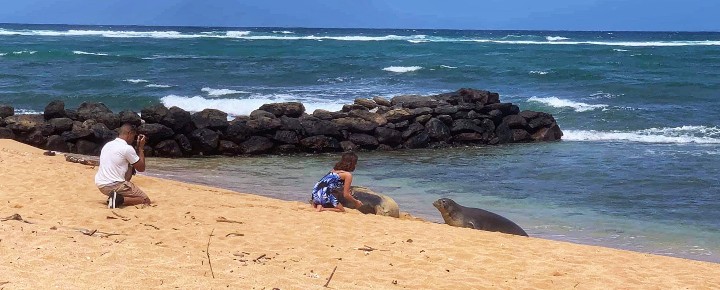 Unfortunately, we are writing about another incident involving Hawaiian Monk Seals and Hawaii visitors. We found watching it very upsetting. The last time we reported on a similar incident was just two months ago, when a visitor, also here on Kauai, disregarded the law, good sense, and safety precautions and approached a monk seal.
In this week's latest incident, which has made the national press as seen in the video below, a couple was on their honeymoon on Kauai when they approached and tried to pet an endangered Hawaiian Monk Seal. They claimed they did not know that what they did was wrong.
We were told that NOAA has already fined the couple, but we have not seen any further details. Harassing or harming a Hawaiian Monk Seal is a felony with fines up to $50,000 and/or five years in prison.
The couple was quoted as saying, "We sincerely apologize if we offended any locals. The last thing we want to do is disrespect anyone or anybody's culture or lifestyle. That's something we're really, really sorry about."
View this post on Instagram
Recent Hawaiian Monk Seal birth in Honolulu.
Recently we wrote about a far happier event as a Hawaiian Monk Seal was born at Kaimana Beach, Waikiki. That was only the second seal to be born. We too, love that beach, located near the zoo in Waikiki. The perennial favorite has great swimming and is adjacent to the Waikiki Natatorium. It is popular with both locals and visitors. And now, apparently with Hawaiian monk seals, as you can see in the video below.
Hawaiian Monk Seals keep their distance.
Your help is urgently needed to protect our Monk Seals. The volunteer program remains on hold, so protecting the seals on our beaches is left to the lifeguards, paid coordinators, and the public. The photo below shows what recently happened last May on Kauai when another visitor approached a monk seal. The photographer moved her away right after the photo was taken. In fact, the older seal lunged at the visitor with teeth bared.
DLNR maintains a hotline for any problems associated with monk seals at 888-256-9840.
Disclosure: We receive a small commission on purchases from some of the links on Beat of Hawaii. These links cost you nothing and provide income necessary to offer our website to you. Mahalo! Privacy Policy and Disclosures.