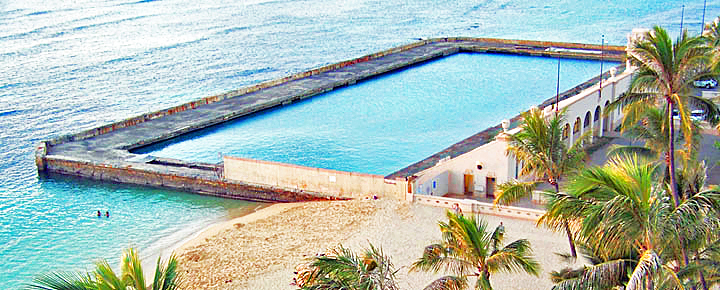 Sans Souci "Without Worry" Beach, also called Kaimana Beach, has been a Beat of Hawaii favorite for years. Fronting the New Otani Kaimana Beach Hotel, it sits on the Diamond Head side of Waikiki, next to the now infamous Waikiki Natatorium. Sans Souci is popular with both locals and visitors and offers great swimming.
Kaimana Beach Needs the Waikiki Natatorium War Memorial to Stay "Worry Free."
It is being widely reported that if the Natatorium is removed, Kaimana Beach will, by nature's own action, also be gone. It turns out that it is the Natatorium itself and its position in the ocean which actually created the beach, and studies say that without the structure, the beach will vanish.
The once beautiful Waikiki Natatorium, pictured here, has been in decay since before it was even closed in 1963. It continues to embroiled in ongoing controversy as to whether it should be torn down. The beautiful and historic saltwater pool, a World War I memorial, opened in 1927 when Duke Kahanamoku dove in as its first swimmer.
Waikiki Natatorium and Sans Souci Beach: The Options
After years of discussion and numerous proposals, there's a new proposal for Waikiki Natatorium which comes from the National Trust. The plan calls for repairing the iconic salt water pool which has remained shuttered for decades.
"The water quality was bad, so to provide a design that allows it to be clean and safe and open to the public is exactly what we're looking for, and this is it." — Mo Radke, Friends of the Natatorium.
A proposal calls for the Makai seawall being replaced with concrete walls and chevrons, together with new openings to allow more water flow. The national trust presented the proposal to the City of Honolulu. In turn they have hired a consultant who is preparing a draft environmental impact study with options.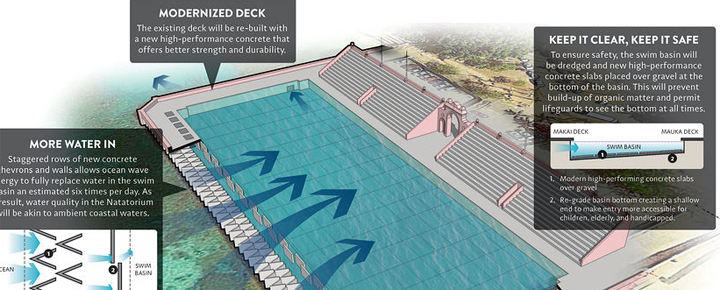 Honolulu Mayor Caldwell has indicated his preference to demolish the pool and replace it with a public beach. He indicated several years ago that the demolition plan would cost $18 million compared with nearly $70 million to rebuild it.
Another alternative previously proposed by an engineering company is to install a replacement device, or groin, in order to create a new "Memorial" beach replacing the Natatorium. It isn't clear what complexity that project might involve, not the least of which would be substantial if not insurmountable regulatory and environmental issues.
We remain inclined towards restoration of the Natatorium and to retaining it as a public resource for every reason, from its social and historical importance to the preservation of Sans Souci beach.
What do you think should be done with the Natatorium?
Disclosure: We receive a small commission on purchases from some of the links on Beat of Hawaii. These links cost you nothing and provide income necessary to offer our website to you. Mahalo! Privacy Policy and Disclosures.