Nobody loves Hanalei Bay Kauai more than the three editors at Beat of Hawaii. It's our local home beach in summer and a place we return to over and over again. Recently, the national press has given accolades to Hanalei as well.
Tripadvisor Travelers' Choice places the beach at #4 on their list of the 25 Best Beaches in the USA. The only other Hawaii beach to score higher is Kaanapali on Maui which came in first. Travel and Leisure magazine also wrote about Hanalei this week, calling it the "crown jewel" of Kauai.
But things are changing from our perspective. We still consider Hanalei Bay as quintessential Kauai, if not Hawaii, and it has been easy to understand why that is. The laid-back Hanalei surf town has been an example of a local community that endures as it holds close to its roots.
Loved-To-Death Hanalei
did not

look like this during spring break.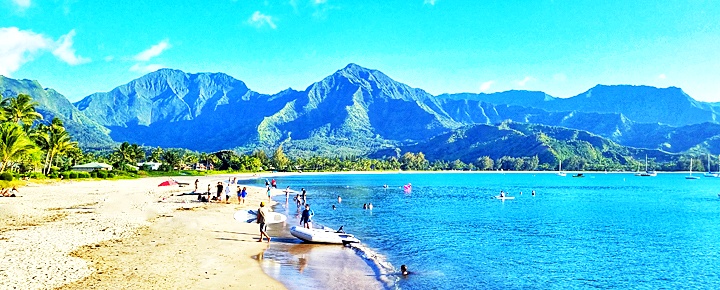 Your editors spent time over spring break and took day trips to enjoy the nice spring weather. What we found was nothing short of astonishing, as in our lead photo above. We had never seen so many people at Hanalei Bay ever. While we weren't "Pollyanna" expecting the beach to be empty, it felt more like we were at Waikiki Beach than Hanalei Bay. Our memories go back to a different time, like the photo above that we took before COVID.
The first indication of trouble was when arriving at Black Pot Beach Park, where we could not find parking in either the front parking lot or the large new overflow lot. We ended up parking along Weke Road, which is a good option if you don't block a driveway.
If you're planning to visit Hanalei in the summer, here are tips to avoid these crowds.
Drive to the end of Weke Road near the river and park close to the Hanalei Pier at Black Pot Beach Park with its iconic view. That's still the best choice for parking. And as we mentioned, off-street parking is another option if the lot is full.
Walk between the pier and the first lifeguard station to the middle beach, where the crowds are far fewer. We see most people congregating closer to the pier (including surfing classes) or the lifeguard station, leaving the stretch of sand between both less congested. That's always worked for us. It is also true in the area between the lifeguard and Pine Trees.
There is a new grassy area at Black Pot which is a good place to picnic and for the kids to have fun when they get tired of the beach. It's usually not crowded, and there are shade trees.
Refer to the regatta schedule at Hanalei Bay when outrigger canoe teams are racing. It's definitely more crowded then and not easy or safe-feeling to swim around. The 2023 dates are June 10, 17, 24, and July 8 and 22.
Plan your visit early in the day or late afternoon.
More About Hanalei Bay Kauai.
Still, those indescribably beautiful views are seen in all directions, from the bay to Bali Hai (Makana) in the distance and the mountains set behind. At nearly two miles in length, Hanalei Bay is the largest on Kauai and is up to 125 feet wide at some points. The bay begins at the Hanalei River's mouth, which adjoins Princeville on the east side. It goes to Waipa Stream on the other end.
It isn't just these latecomers who have noted the beauty of Hanalei Bay. Dr. Beach has included it as one of the best beaches in America countless times.
We will say that the bay features shimmering blue water and on a good day visibility can be incredible.
The new bathrooms are working, but they are a huge disappointment. As a result, temporarily, or not it seems indefinite, they will be supplemented by many portable units.
Hanalei is popular not only on the beach, but in the water with surfers, kayakers along the bay and the river, and stand-up paddlers as well.