Many consider Hanalei Bay Kauai to be quintessential Hawaii and it is easy to see why. Laid-back Hanalei surf town is a splendid example of a local community that harkens back to times gone by.
We've expanded our guide to now include Hanalei Bay places to eat, places to stay, and annual events, in addition to our insider tips.
The verdant, waterfall-laden mountains are epic, as is the crescent-shaped Hanalei Bay that you will surely be visiting. What isn't to love about Hanalei Bay. Spectacular views in every direction await you, from the bay to distant Bali Hai (Makana) and the mountains behind. You're in for a Hawaii dream here. Hanalei Bay is the largest of its kind on Kauai at nearly two miles long and up to 125 feet wide. It stretches from the Hanalei River, where it meets Princeville on the east to the Waipa Stream on the west.
There are lots to do in sleepy Hanalei, whether in the water or on the beach, eating or shopping or enjoying a Hawaiian beverage. We are regulars there and spend lots of time each summer at Hanalei Bay.
Enjoy our Hanalei Bay recommendations from a Hawaii perspective on what to do here on North Shore Kauai.
Exquisite Hanalei Bay has been named one of the best beaches in America by Dr. Beach. The bay still rocks with its sparkling blue clear water and spectacular mountain backdrop. A Hanalei Beach Park extension near Black Pot Beach recently took place, which includes a new grassy area and much improved and expanded parking. The new bathrooms, however, are still not working, having been temporarily, or perhaps indefinitely, replaced with portable units.
In addition to the beach, Hanalei rocks when it comes to enjoyment for surfers, kayaks in the bay and on the river, and padding in Hanalei Bay or paddle the Hanalei river. Ocean conditions and waves at Hanalei Bay vary tremendously from season to season, with summer being gentle whereas winter can rock epic surf.
1. Hanalei Bay Surf Town Insider Tips
How to avoid crowds.
Drive to the end of the road near the river and park close to the Hanalei pier at Black Pot Beach Park with its iconic view. There is also side street parking if the new parking lot is full. Walk between there and the middle beach where the crowds are far fewer. Look behind you and you may spot the house and hedge featured in The Descendants. As you look down the broad stretch of white sand you'll see many people congregating close to the pavilion.  There's no need to be one of them. Enjoy your space and put down your towel.
Tip: There is a new grassy area here near the beach which is a good place to picnic and for the kids to have fun when they get tired of the beach. We don't suggest actually swimming at Black Pot because it borders the Hanalei River and the water is often murky.
Superb photo opportunities are had at the Hanalei pier.
The amazing mountain backdrop makes this location the perfect spot.  You'll also get a chance to see kids (and adults) jump from the pier into the water near the mouth of the Hanalei River. Sunset is most popular for photography at Hanalei Bay and you'll often see informal beach weddings.
The original pier dates back to 1892 and has always been a favorite for fishing, jumping, swimming, and just hanging out. It was featured in the 1957 film classic South Pacific. The pier was also seen in the movie, Beachhead, in 1954, which starred then 19-year old Tony Curtis. The canopy at the end of the pier was restored in 2012. It's listed on the National Register of Historic Places.
Surf can pick up between the pavilion and the second lifeguard station.
Between Hanalei Pavilion and Pine Trees further down, the surf tends to pick up a bit and you need to watch for rip currents. Use caution depending on conditions.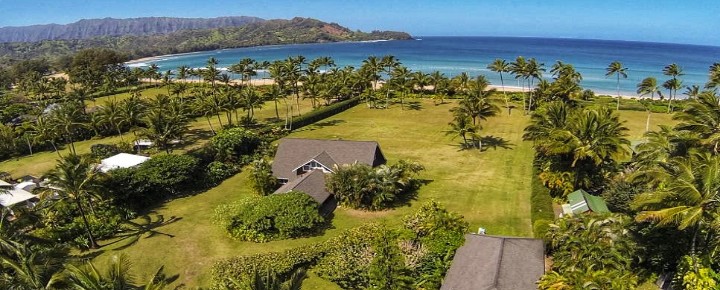 Picnic tables, BBQ's and restrooms at Waioli Beach Park (known here as Pine Trees) score high with us.

This is close to the lifeguard station and is normally quieter than Black Pot beach near the pier.  Even though you don't have quite the mountain view, it's still spectacular looking out to the vast ocean.
Hanalei Bay rich and famous.
The late Michael Crichton's house was located near Pine Trees along Weke Road. Julia Robert's beachfront home (pictured above courtesy of Zillow) was located mid-way between Pine Trees and Black Pot. That prior property just sold again last year for nearly $30 million.
Kauai Snorkeling at Waikoko Beach.
Located on the highway between mile markers 4 and 5, this area is great for snorkeling when calm.  It has a protected reef and is shallow.
2. Where to eat at Hanalei Bay
Bar Acuda. High-end tapas bar near the center of Hanalei town. Outdoor dining in a nice atmosphere. Reservations needed.
Hanalei Bread Company. Organic local baker and coffee shop right in the center of Hanalei Serving fresh bread, pastries, breakfast, lunch, and coffee. They close early.
Hanalei Dolphin. The sushi here is next level but also on the expensive side. But you do get 10 pieces of sushi per specialty roll and it might be some of the freshest fish you've had. Worth the price tag. They also have a fish market next door – get some local fresh fish to grill up at home!
Kalypso. A very popular sports bar ad restaurant in Hanalei town. Okay food and a great place to watch your favorite game on TV. Party-like vibe especially at happy hour for drinks and pupus.
Pinks Creamery. Open 11 to 9 daily and serving gourmet ice cream and homemade waffle cones. 17+ flavors, from classic to tropical. Across the street from Kalpyso.
Postcards Cafe. Upscale patio dining on the road just before Hanalei town. Set in a charming vintage Hanalei cottage not far from the Hanalei bridge.
Tahiti Nui. Food, live music and a warm and friendly atmosphere on the main street in Hanalei town. Since 1963, family run and operated. They operate a luau as well. It was featured in the movie The Descendants.
Wishing Well Shave Ice. Always busy and fun shaved ice with real juices and more. Organic choices, acai bowls, and more make this a family favorite.
3. Where to stay at Hanalei Bay.
Airbnb. You'll find over 300 listings when searching, from Superhosts (vacation rental managers) to local listings starting from about $100/nightly plus fees.
1 Hotel Hanalei Bay. The former Princeville Resort aka St. Regis is returning this fall as the 1 Hotel Hanalei Bay. It is a luxury property with a very small beach and iconic views. The website says, "located in one of the most beautiful spots on Earth, 1 Hotel Hanalei Bay will bring a world-class wellness resort and flagship sustainable sanctuary to Kauai's North Shore."
Hanalei Bay Resort. Actually located in Princeville, and just across the mouth of the Hanalei River with incredible views, this is a condo-hotel with a fantastic ocean bluff location, award-winning pool, and tennis courts.
Hanalei Colony Resort. Beautifully positioned, iconic but aged property is right on a golden sand beach with fantastic views in all directions. Classic Hawaiiana styling. Check reviews as there are issues including mildew you will want to know about.
Hanalei Inn. Super cute in the funkiest way best describes this Hanalei town accommodation which is within a relatively short walk from the beach. Studios with kitchens.
4. Hanalei Bay events and activities.
Activities take place throughout the summer that you won't want to miss. These were canceled last year due to COVID.
The 40th Annual Haena to Hanalei 8 mile run/walk, half marathon, 5k and 1-mile run, and luau is scheduled for Saturday, June 4, 2022.
Hanalei Swim Challenge. This iconic summer event is set to return again in summer 2022. The 1,000 and 3,000-meter and kids events are rated in America's top 100 swims and takes place around July 4. The website has also not yet been updated for 2022.
If you have anything new to share about Hanalei Bay, please add your comments.  And if you see us swimming at Hanalei be sure to yell, Beat of Hawaii!  We're regular long-distance swimmers each summer. You won't be the first to see us there, and we'll be glad to meet you.
Updated 4/19/22.