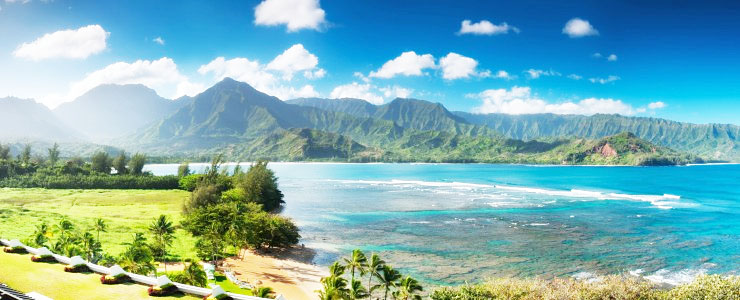 Exquisite Hanalei Bay was previously named one of the best beaches in America by Dr. Beach. The bay still rocks with its sparkling blue clear water and spectacular mountain backdrop. A park extension near Black Pot Beach recently took place, which includes a new grassy area and much improved and expanded parking. The new bathrooms, however, are still not working, having been temporarily replaced with portable units.
Keep in mind that due to a landslide resulting from torrential rain earlier this year, access to Hanalei is currently one shared lane with alternating traffic. Furthermore, work is continuing every day except Sunday, which means you will need to plan your arrival accordingly and expect to have some wait. As of late last week, only one-fourth of the 500 planned soil anchors have been drilled into place and grouted, so this work will be ongoing for some time.
Summer Guide to Hanalei Bay
1. Best Tips for Avoiding Crowds
Drive to the end of the road near the river and park close to the pier at Black Pot Beach with its iconic view. There also side street parking if the lot is full. Walk between there and the middle beach where the crowds are far fewer. Look behind you and you may spot the house and hedge featured in The Descendants. As you look down the broad stretch of white sand you'll see many people congregating close to the pavilion.  There's no need to be one of them. Enjoy your space and put down your towel.
Tip: This is a good place to picnic and for the kids to have fun when they get tired of the beach. We don't suggest actually swimming at Black Pot because it borders the Hanalei River and the water is often murky.
2. Superb photo opportunities are had at the rebuilt pier.
The amazing mountain backdrop makes this location the perfect spot.  You'll also get a chance to see kids (and adults) jump from the pier into the water. Sunset is most popular for photography at Hanalei Bay and you'll often see informal beach weddings.
The original pier dates back to 1892 and always been a favorite for fishing, jumping, swimming, and just hanging out. It was featured in the 1957 film classic South Pacific. The pier was also seen in the movie, Beachhead, in 1954, which starred then 19-year old Tony Curtis.
3. Surf can pick up between the pavilion and the second lifeguard station.
Between Hanalei Pavilion and Pine Trees further down, the surf tends to pick up a bit and you need to watch for rip currents. Use caution depending on conditions.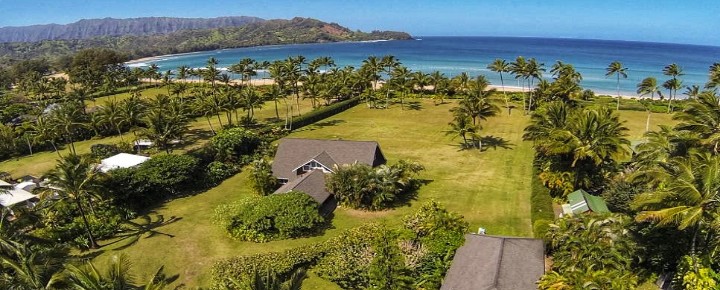 4. Picnic tables, BBQ's and restrooms at Wai`oli Beach (known here as Pine Trees) score high with us.

This is close to the lifeguard station and is normally quieter than Black Pot beach near the pier.  Even though you don't have quite the mountain view, it's still spectacular looking out to the vast ocean. The late Michael Krichton's house was located near Pine Trees. Julia Robert's beachfront home (pictured above courtesy of Zillow) was located mid-way between Pine Trees and Black Pot. That prior property just sold again this year for nearly $30 million.
5. Kauai Snorkeling at Waikoko Beach.
Located on the highway between mile markers 4 and 5, this area is great for snorkeling when calm.  It has a protected reef and is shallow.
6. Brace yourself seriously for the restrooms – either just a bit, or a lot longer.
Unfortunately, one of the best beaches in the USA still has some of the worst restrooms you'll find anywhere. And this has been going on for years and years. We spoke with a County spokesman about this recently, who told us that the state-of-the-art movable restrooms purchased for Black Pot were simply not designed for beachfront applications. Therein they were not ready for use although they have been sitting there now for two years.
The reason these were chosen was to avoid FEMA regulations that would have otherwise required that the bathrooms be elevated 18 feet for severe storms. These bathrooms, however, can in theory be transported away in the event of an impending storm event.
7. Summer Activities at Hanalei Bay.
Activities take place throughout the summer that you won't want to miss. These were canceled last year due to COVID.
Luau at Hanalei Bay Canoe Club. The website hasn't been updated with whether the 2021 event will take place this July or not. The festivities typically include food, hula, fire dancing, canoe rides, and live music.
Hanalei Swim Challenge. This iconic summer event has also not yet been updated for 2021. It normally includes a racecourse for kids and also the 1K and 3K swim event. Named one of America's Top 100 Open Water Swims by the World Open Water Swimming Association.
If you have anything new to share about Hanalei Bay Beach, please add your comments.  And if you see us swimming at Hanalei be sure to yell, Beat of Hawaii!  We're regular long-distance swimmers each summer. You won't be the first to see us there, and we'll be glad to meet you.
Updated 4/18/21.
Disclosure: We receive a small commission on purchases from some of the links on Beat of Hawaii. These links cost you nothing and provide income necessary to offer our website to you. Mahalo! Privacy Policy and Disclosures.