Access to Kauai's beautiful beaches on the North Shore beyond Hanalei Bay to the end of the road at Kee Beach could become yet further restricted. That's if North Shore residents get their way and move the state's visitor management system for Haena State Park further south. Parking and visitor reservations for Haena State Park (which includes Kee Beach and the Kalalau trailhead), need to be made 30 days in advance and fill quickly. Because of this, visitors who could not get a permit often park nearby at Haena Beach, which is outside the restricted area. This new thought would bring Haena Beach and popular Tunnels Beach (both county beaches) into the Haena State Park system, which would stop most non-permitted visitor traffic beyond Lumahai Beach.
The state believes that the reservation, parking, and shuttle system in place there should serve as a role model for how to handle over-tourism at beaches and other sensitive spots in Hawaii. There are 10 other state parks that are currently being considered for a similar system to limit visitor access.
Hanalei Colony Resort could become the end of the road without a permit.
As it stands today, visitors can easily access Haena Beach Park, which is not state-controlled and is administered by Kauai County. That beach and nearby highly acclaimed Tunnels Beach already had minimal parking and other facilities. And that was before 1) the new Haena State Park reservation/parking/shuttle system went into place and 2) before the return of tourism to record high levels.
Outspoken North Shore residents hope to see the problem at Haena State Park remediated by including at least that beach in the state's management system with Haena State Park. And in fact, that may well come to pass. The problem there is that Tunnels Beach, a 10-minute walk from Haena Beach, has even fewer parking and facilities. So could that also get included in the state's reservation system? The answer isn't clear, while the intent of many residents is. And the reality is that the parking situation at those beaches, which was bad before, has become completely unmanageable.
Popular Lumahi Beach, which is beyond Hanaeli, would still be accessible without a reservation, and also the Hanalei Colony Resort, which is close to Tunnels Beach.
Tunnels Beach and Haena Beach could become part of the state's reservation-only system.
Visitors flock to Tunnels, also known as Makua Beach, based on mentions in every guidebook and on social media, among other things. It is one of the most popular beaches on the garden island and is renowned for its golden sand, beautiful clear water, exquisite mountains, and Bali Hai views, made famous in the movie South Pacific.
Finding parking at Tunnels Beach and Haena Beach Park, long a problem, has gotten far worse, to the point of being ridiculous. Visitors at this Kauai tourism "hot spot," aware of the parking limitations, arrive early in the morning and stay until sunset.
Illegal parking is also a problem, and parking tickets are readily dispensed by the Kauai Police for any infraction.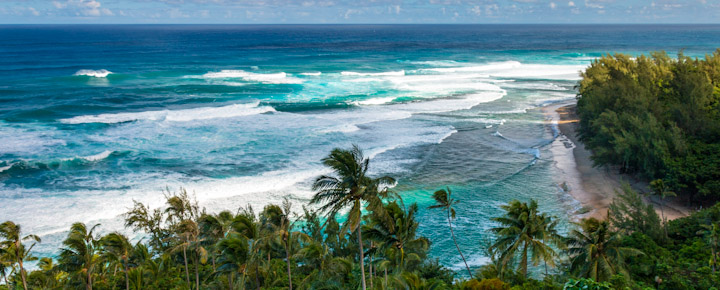 Why is this being considered now?
While the idea of including some county beaches in the state's control existed before, it was last week's visit by Governor Green and others to the area that refocused the idea. The purpose of the visit was to mark the 4 year anniversary of the new reservation system. In order for the park to be transferred from county to state control, approval by the County and the State are still needed. Other issues need to be worked out as well, but that prospect, overall, isn't too far-fetched.
During a press conference that took place last week, the state released its new "Transformation of Haena State Park" blueprint, which is attached below. Haena State Park's plan is being considered as the model for other parks.
Resident-only access to Haena Beach Park.
A resident-only parking area is a measure that's high on the list of considerations. Managing the area is complicated by the fact that it has become a hot spot for visitors while also containing many residential areas.
Haena State Park visitors reduced from up to 3,000 a day to just 900.
What was previously a seriously over-trafficked park approaching a million visitors a year and up to 3k cars a day has been pruned back significantly, with the focus being the limitation of out-of-state visitors. Those must now pay a $5 entry fee, $10 parking, and $35 for shuttle use. Limited parking reservations are available precisely 30 days in advance.
Haena-State-Park-Case-Study (1)