Visitors and residents want their share of Hawaii's beaches. And the beaches, in terms of non-commercial use, are open to everyone without restriction. But Maui has found one way around that, while Kauai now sees protests reminiscent of the Superferry days at Kalapaki Beach in Lihue.
On the surface, these may seem similar and negative toward visitors.
The latest Kauai protest has people with Hawaiian flags on the beach right in front of visitors who have rented beach chairs and umbrellas. But we see that something else is going on. There are two sides to an issue, and it's important to know both before passing judgment. Even we were confused prior to some investigation including contacting multiple parties involved.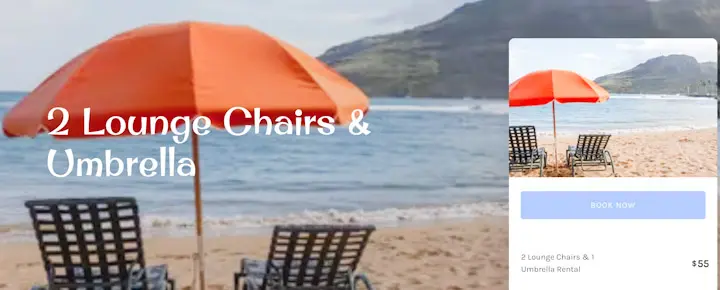 What's wrong with Kalapaki Beach's commercialization?
According to Sue Kanoho, Executive Director of Kauai Visitors Bureau, a company named Kauai Beach Boys does indeed have a valid permit to rent chairs and umbrellas at Kalapaki Beach. Recently, however, the company preset a large number of chairs and umbrellas on the beach before a giant cruise ship docked in order to be able to accommodate a influx of visitors. That would be against their permission to do so. And the protestors, who put up Hawaiian flags in front of the visitors and have vowed to return, were upset that the public beach was being taken over, making access more difficult for locals and visitors who were not paying for Kauai Beach Boy's services.
What got picked up by the press led us to the impression of anti-visitor protests by Native Hawaiian groups. We don't see that at all. As one Kauai resident said, she "would go there for canoe races" (since childhood). And that now, "you can barely get the spot that you want." Looking at the photo above gives you a better idea of the issue with so many chairs and umbrellas on the beach waiting for customers and cluttering the beach. Those chairs and umbrellas are only to be placed there when someone has actually rented them.
The state's Department of Land and Natural Resources is the agency in charge of that beach, and we were unable to reach them. Commercial ventures on the beach itself are typically strictly regulated.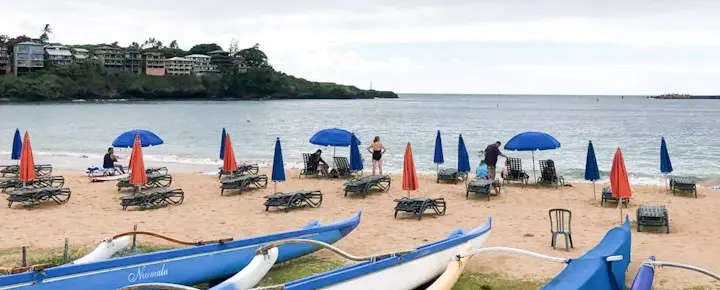 Contrast that with Maui's resident-only beach parking and $30/day visitor fee.
Only visitors will be required to pay at South Maui's Kamaole Beach Parks and Ulua Beach beginning early next year. Parking will be completely free for residents registered with the county using the PARKMAUI program. Now as Kauai residents, it is unclear whether we will need to pay when visiting Maui beaches. That is yet to be determined. Fees will be set by season, peak hours, and other factors, ranging from $10 to $30. Collected fees go to the Maui DOT. Hopefully, it will be used to fund beach park improvements and maintenance.
Many of you suggested that a better option would be hourly parking. That would discourage people from parking all day, so more residents and visitors could make use of the parking.
Visitor Gary just lamented, "We have been going to Maui once or twice/year for 20 years… We will now face a new visitor "tax," new parking fees at beaches, and denied access to some of our favorite beaches until after 10 AM (earlier is way better for snorkeling for visitors). Aloha has increasingly been replaced with a feeling we are impositions-ironically on a lifestyle only affordable with tourist dollars, I suspect. We will now go less, if at all."
Jennifer said, "We loved Hawaii. It's obviously one of the most beautiful places on earth. But what really gets me is all of the articles, new policies, and laws, etc., that are anti-tourist. It seems like all I hear is how much they don't want tourists. I just think it's odd that they have adopted locals-only hours for beaches and other such practices.
Now it's your turn to sound off.
In the meantime, we are heading to Kalapaki Beach this afternoon to see what is happening. This post will be updated later if there are any new developments.
Inline photo 1: https://kauaibeachboys.com/.
Inline photo 2: Megan Wong, Facebook.
Lead photo at Kalapaki Beach Kauai