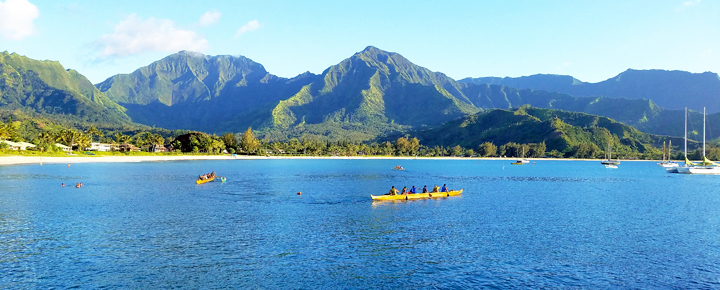 Kauai County mayor, Derek Kawakami, came forward yesterday with the next version of Kauai's unique proposal towards reopening. Now up for debate is a four-tier plan based on the COVID risk assessment that visitors need to know about. Read on for our take on this controversial idea.
You'll recall that the mayor previously called for a second mandatory test 72 hours after arrival and a quarantine period between arrival and negative results being obtained from that test. Thus visitors were being asked to spend 1/2 or more of a typical Kauai vacation in quarantine. The governor rejected that plan.
The current proposal is as follows:
Tier 4. That is where Kauai is at present in terms of virus count. It represents the lowest risk level when active cases of two or less have been the average over the past seven days. This tier permits mainland travelers to avoid the mandatory 14-day quarantine so long as they have a negative COVID-19 test result within 72-hours of mainland departure.
Tier 3. Being more restrictive, it limits the size of social gatherings when the average virus count is between two and four but still allows visitors to avoid quarantine.
Tier 2. Should the 7-day average reach between 5-8, Kauai could opt out of the state's testing program and reinstate the mandatory 14-day quarantine for all travelers.
Tier 1. We aren't clear what the difference is here, but being the most restrictive based on more than 8 cases, it also stops all quarantine exemptions.
Beat of Hawaii Viewpoint:
Our strong sense is that Kauai will open next Thursday, October 15, with the rest of the State of Hawaii. It is not clear whether or not Governor Ige would ultimately accept this or any proposal deviating from one encompassing all of the islands. Hawaii is too small, and it is not feasible for there to be a difference in rules when flying to any of the islands. Visitors are already exceedingly confused about the statewide plans and this can only exacerbate that frustration.
The very existence of this plan can't help but further deter visitors from Kauai vacations. How can Garden Island-bound visitors safely plan, buy tickets, and pay for accommodations, etc., with any real prospect that between the time of their purchases and their actual arrival, they could become subject to an unacceptable 14-day quarantine?
Whether the governor will address this proposal directly at this time or not remains to be seen. We would be remiss to not at least mention that there may be as much at play politically here, all the way around, as there is a concern for safety.
According to Dr. Fauci, who had a conference this week with Lt. Governor Josh Green, "Hawaii can reopen but should do so carefully." He understands the reopening anxiety residents feel on islands like Kauai where the infection rate is low. Fauci went on to say, "On the other hand, if you don't open up, the economy is going to crash even more than it is crashing. You can't throw caution to the wind when you open."
That means in addition to the pre-travel testing, everyone needs to practice social distancing, wear a mask, and wash hands.
Disclosure: We receive a small commission on purchases from some of the links on Beat of Hawaii. These links cost you nothing and provide income necessary to offer our website to you. Mahalo! Privacy Policy and Disclosures.