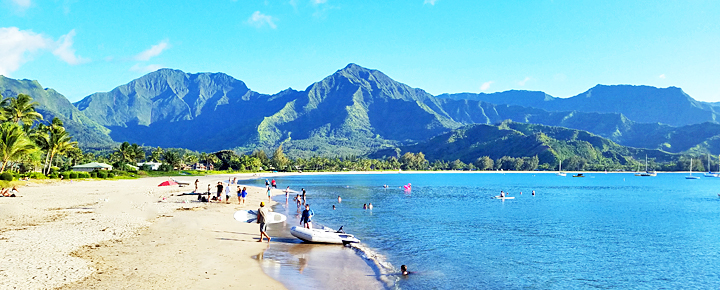 Look at Hanalei Bay pictured above, both beautiful and iconic with its views and a long stretch of sand. Kauai Mayor Kawakami is thinking you'll quarantine 72 hours on arrival, before a mandatory second test, just to be here. Would you spend half your vacation in quarantine or go somewhere else? This comes on the heels of yesterday's announcement that two more Kauai visitors tested positive after testing negative before their flights.
Kauai's mayor is proposing divergent COVID rules than the rest of the state of Hawaii. Yet, Governor Ige has been clear that no such rules can be implemented without his specific approval. The last time Mayor Kawakami asked the governor for a mandatory quarantine, Governor Ige said no.
But here are some facts. Kauai has 9 ICU beds. And since reopening Hawaii on October 15, cases have grown on the island. As of yesterday, there were 14 active cases on Kauai, with 9 recovering at home, 3 in facilities, and 2 hospitalized.
In addition to a mandatory 72-hour quarantine for all arrivals, the Mayor is also asking to require travelers to upload a negative test result to the Safe Travels website before flying to Kauai, rather than on arrival. Otherwise, they face a 14-day quarantine.
"This virus requires measures of intervention and in our opinion, it's clear that the one test 72 hours prior is not enough intervention, so we are trying to remain in tier 4 and keep this island safe and not overrun our healthcare systems on Kauai." (Mayor Derek Kawakami)
Issues associated with a 72-hour quarantine?
The average duration of a Hawaii vacation is 7 days. Some are even shorter. Visitors will simply not come if they face the possibility of quarantine for half of their vacation.
Vacation rentals are locked out, in the sense that at this point, visitors who are in quarantine cannot stay in vacation rentals, only hotels. Also, many vacation rentals have a minimum number of nights required.
Will Ige agree with Kawakami this time?
We do not think it is likely. The Governor says the state's trying to close loopholes in its pre-travel testing program and is reluctant to support more restrictions. So far, Ige doesn't feel a second test three days after arrival is feasible, but is open to other ideas.
Possibly telltale, there was an interesting aspect of Monday's gubernatorial proclamation which came subsequent to Kawakami's request. It states, "I direct all counties to obtain my approval or the approval of the Director of Hawaii Emergency Management Agency (HIEMA), prior to issuing any emergency order, rule, or proclamation."
Kauai purchased 15,000 rapid test kits. 
As you recall, Kauai obtained 15,000 rapid test kits several months ago, when it originally envisioned a mandatory quarantine. The state did not provide approval at that time, but we suspect Ige "might" approve some use of those tests now. Could they be required after some number of days? We don't know. But, currently, only 2% of Kauai visitors have opted to take the voluntary second test, so that obviously isn't working.
Canada trials example of new quarantine exemption.
Unrelated, Canada is trialing a way for some arrivals to avoid 14-day quarantine. Those who test negative on arrival, and who then agree to a subsequent test, in their case on day 6 or 7, are not required to be in quarantine. Participants in the pilot program are monitored with daily symptom checks and are required to follow other safety measures.
If that were to work here similarly to Canada, arrivals who agree to a second test several days after arrival could avoid quarantine. That together with contact tracing may present the best possible scenario. 
Your thoughts?
Disclosure: We receive a small commission on purchases from some of the links on Beat of Hawaii. These links cost you nothing and provide income necessary to offer our website to you. Mahalo! Privacy Policy and Disclosures.