Can data intelligence vs. actual mitigation efforts reduce traffic problems on Kauai's only mostly two-lane highway? In a press release today, the County of Kauai and Near Intelligence announced the results of a partnership for "real-world insights to inform transportation planning on the island."
"Near was thrilled to partner with the country by providing our data intelligence platform to inform recommendations for improving Kauai's transportation system. The insights from our real-world data will help them understand resident and visitor travel patterns, identify intuitive solutions for reducing traffic congestion, and contribute to planning for a more sustainable Kauai." — Anil Mathews, CEO of Near.
While we await their specific recommendations, here are some initial thoughts to launch the discussion.
Kauai handles 1,000,000 annual visitors plus residents on its roads.
With more than one million annual visitors and up to 12,000 added rental cars on the island any day, the only island highway suffers sunrise-to-sunset congestion that can resemble Southern California traffic on a smaller scale.
Two areas are especially prone to gridlock. Those areas are known as the "Kapaa Crawl" and the corridor from Lihue heading west towards Poipu via the Tree Tunnel. The "Kapaa Crawl" makes it a nightmare sometimes to travel between the North and South Shore. You have to go through Kapaa; there's no other way. And once you clear Kapaa, you have the congestion after Lihue to get to Poipu.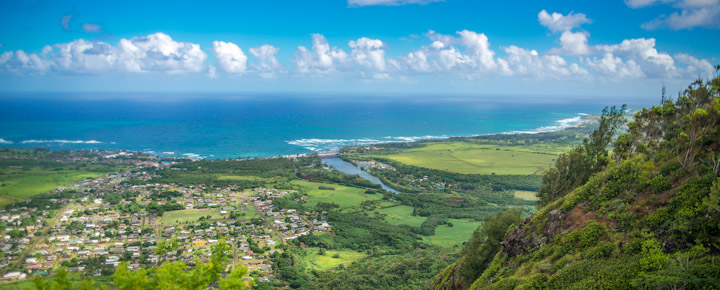 Expanding the island's only highway and other roads is years away if ever.
We recently mentioned that the idea of a bypass road inland of Lihue is again being discussed. Should that ever happen, it would be to improve southwest and eastbound traffic to flow away from Lihue. In addition, it should reduce the "Kapaa Crawl" and the entire situation between Kauai's east side and its southwest tourist area.
Traffic on Kauai is now considered a significant safety hazard due to the inability of emergency vehicles to pass.
Another study is being proposed, which is awaiting funding. The County Council unanimously approved it, although one member estimated that such an addition would be no less than ten years away.
With limited public transportation too, the county turned to data.
Kauai County and Near used data from the long-troubled Hawaii Tourism Authority, the state Department of Transportation (the same people responsible for the indefinite runway closure at Honolulu Airport), and what they termed "anecdotal information about congestion."
Near's job is to provide "a deeper understanding of actual residential and tourism travel patterns to reveal origins and destinations; distance traveled, and variations across time of day, day of the week, and seasonality."
The county said the partnership is a "key source of data to drive Kauai's study forward. The Near data provides critical insights and validation around travel patterns on the island. Plus, data visualizations the researchers created are incredibly helpful as we work on making the case to key stakeholders to evolve our transportation offerings."
Where are the island's hotspots?
Where are common origin and destination points for visitors and residents?
What are the main travel corridors based on the time of day?
How far do tourists typically drive in a day?
What do transportation patterns look like at different times of the year?
Kauai travel pattern analysis report.
"This report provides insights and recommendations to consider for how to reimagine travel on the island by potentially:
Creating mobility hubs around the island where tourists can access transportation services

.
BOH: Can the current archaic bus system be upgraded to provide meaningful transport for visitors and residents and help eliminate car trips on Kauai?
Introducing shuttles and first/last mile micro-transit solutions.
BOH: Shuttles have been tried before and are in limited use now. They have had limited success.
Increasing the availability of micro transportation offerings like bikes and scooters.
BOH: Bikes and scooters are extremely problematic on Kauai. There isn't adequate infrastructure (lanes) for them to operate safely, and accidents involving them are frequent and sometimes deadly.
Setting up a public electric charging station network around the island.
BOH: There are no level three fast chargers for electric vehicles on Kauai, and the level two charges are few and far between and sometimes inoperative. We've tried using them with limited success.
Encouraging the use of car share

.
BOH: This is an interesting idea that hasn't been tried widely on Kauai before. Car-sharing online platforms are rapidly increasing in popularity. This is similar to car rental but is designed to be convenient for those renting cars for shorter periods (like a few hours to a day). Visitors pay for how long they have a vehicle and the distance they drive.
Establishing satellite car rental locations around the island

.
This could provide limited relief, such as having rental locations based in Poipu. Therein visitors could theoretically shuttle to Poipu and later acquire a rental vehicle, thus eliminating some traffic in one of the two busiest corridors.
What's not mentioned?
The ideas of enhanced carpooling, ride-sharing, and ride-hailing are not included. There remains limited access to Uber, for example, on Kauai. Sometimes they are available, and at other times they are not.
Carpooling may have significant potential on neighbor-friendly Kauai. Google-owned Waze provided Waze Carpool; however, its service designed to connect drivers and commuters was recently shuttered after six years.
Peer-to-peer ridesharing. This seems to be another worthwhile but not mentioned avenue to pursue. That is where a rider and a driver agree to share a ride, usually via a smartphone app. The driver offers the ride, and the rider pays a share of the cost. The charge covers fuel, maintenance, insurance, etc.
Who is Near?
"Near, a global, full-stack data intelligence software-as-a-service ("SaaS") platform curates one of the world's largest sources of intelligence on people, places, and products."
What are your ideas for improving the traffic problems on Kauai?