When you live someplace, you often don't think to take in some of the very things that bring people to visit. Such is the case with your editors. Trying to break that mold as we resume travel around the state, we started last week close to home here on Kauai.
Kauai Backcountry Adventures.
We'd heard of this for years, and people all told us they enjoyed it. So did we and can report that it was a very memorable experience that we'd recommend for kids of any age. Kauai Backcountry Adventures did not know we were coming, and we paid full-fare.
You may have seen some of the posts about Kauai tubing on YouTube and elsewhere. This mostly-relaxing Kauai adventure, takes you down the flumes of the south fork of the Wailua river. This is a part of Kauai you aren't going to see by other means.
Guests, replete with sunscreen and bug repellent, float down 1800's sugar cane canals in individual, industrial inner-tubes, navigating through rock tunnels located below Mt. Waialeale. The amazing tunnels are historic engineering feats.
We met at the reservations office located in Hanamaulu, where check-in occurs, and where we were provided gear including helmets, headlamps and gloves.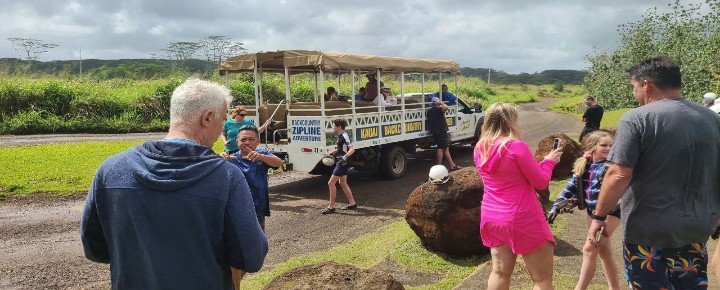 Then we boarded open air buses to head into the Grove Farm Co. land, to the launch site where the activity takes place. Once we arrived at the literal jumping off point, we were met with beautiful mountain scenery including views of Mount Waialeale, considered one of the wettest spots on earth.
You'll be wearing swimsuits for this adventure, since part of you will remain in the water as you will sit navigating the irrigation ditches throughout the duration of the tubing tours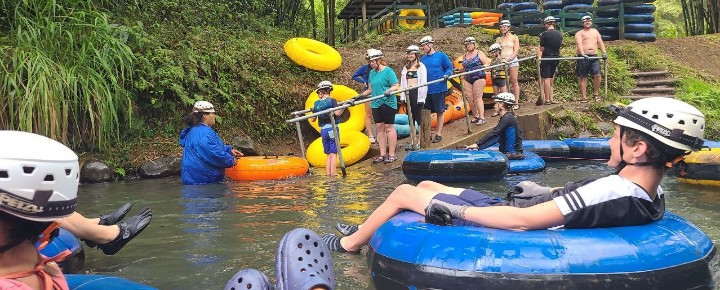 .
After the totally enjoyable outing, we were taken to their picnic area where a simple, make it yourself delicious lunch was provided. The options were sandwich fixings, cookies, and chips.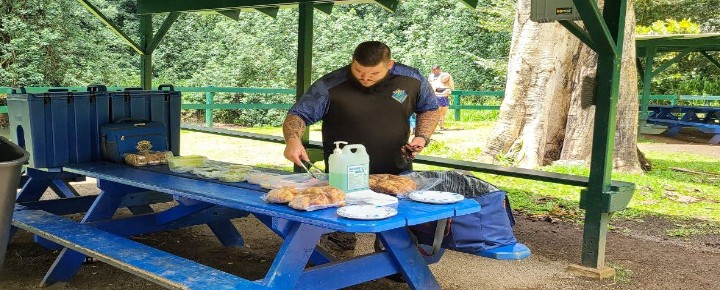 You'll want to pack a dry change of clothing, and a towel, since it's easy to get a bit cold after the cool dip in the flowing waters of the Wailua River.  Keep in mind that flip flops are not allowed, and if you don't have Crocs or other water-friendly shoes, rental shoes are available for $5. There are other restrictions including a weight limit, and minimum age…. Also, cancelation is permitted up to 24 hours in advance.
The total tour time was three hours, although the actual time in the water is just about one hour. The ride each way to the open canals was about 30 minutes, and the picnic lunch time was about 30 minutes.
What if I tip over? – we both felt very secure in our inner tubes. But if that were to happen, the water is only 3 feet deep so you can stand up and get back on to the tube. There were also two guides in back and one in front to watch everyone.
What's the ride like? – It was really fun! You'll be moving faster in some parts and spinning around in the tubes and sometimes hitting someone next to you. In the tunnels you'll be glad you have footwear and a helmet in case you bang into the walls. If it looks like your feet are going to hit the wall, you just moved them in closer to you so the tube hits the wall instead.
Is there a water slide? – Not exactly. It's more of a gentle decline as you go with the water moving faster in some places. There's only one significant drop on the course and it's fun and easy to handle.
Can I stay with my group? – You'll probably meet some new people. Once you start moving, it's hard to stay in a group. After the last tunnel it slows down so you can wait for friends or family to catch up with you.
Your helmet has a light on it and you can usually see a light at the end of the tunnel. In the last tunnel, we were asked to turn our lights off which gave us the sensation of not moving.
Is the water cold? – Yes, but not uncomfortable. Expect your behind to feel chilled for several hours after because it will be mostly in contact with the water. Because the tunnels can be cool, I suggest wearing a top too (like a swim t-shirt) and having a change of clothing when you stop for lunch.
Online Reservations – You can check availability easily online and see how many spaces are left for each tour. We suggest you book early, especially during peak season.
Was three hours too long? Not at all. Everything was well timed. On the drive up, the guide answered questions and shared a local perspective of living on the island and the culture of Kauai. The one hour tube ride was exactly the right length.
Have you tried this Kauai activity? If so, please let us know about your experience.