Snapshot of My Review: Here's a good Hawaii travel deal for two couples sharing or a large family. You get to stay in a new million dollar (plus) luxury Poipu Beach Kauai condominium "villa" with lots of room and privacy. The gourmet kitchen in each unit saves money if you prepare some of your own meals.
When Trip Advisor readers gave high marks to the new Koloa Landing at Poipu Beach Wyndham Grand Resort, I had to see for myself if the reviews lived up to the hype. Recently I checked in for an overnight stay as their guest. As much as I tried to find something that Trip Advisor missed, this time they got it right. Even the bathrobes fit my tall frame.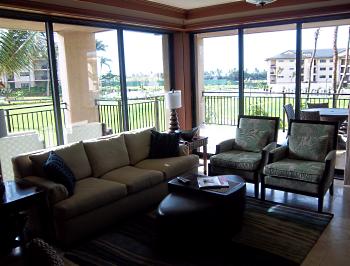 I think my photos tell the story. Take a look at the floor to ceiling glass walls that open to the outside. Then there's the huge lanai for relaxing and entertaining. The kitchen is top notch, replete with granite, Wolf and Sub-Zero. It's also beautifully furnished. Not surprising since one of their major investors is Bill Childs who made his fortune in furniture (think R.C. Wiley).
My two bedroom, two bath villa overlooked the lagoon pool which is perfect for families. Another pool for adults was close by with a waterfall backdrop. The resort is still under development with their main pool and spa coming in Phase Two. To compensate for on-site construction, the resort is offering deals which I've included at the end of my review.
Likes: Each bedroom has its own bathroom. The living area separates the two for added privacy. These condos are large at 1,300-1,600 square feet which includes lanai. I liked having a washer/dryer in my unit. Double walls created an effective sound barrier. The bed was more than comfortable with its pillow top mattress.
Interesting Feature: No interior hallways. Each building has multiple semi-private elevators that serve two condos per floor. With elevator doors opening front and back, it feels secluded as you walk to your villa entry.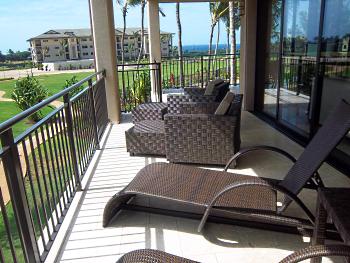 Spacious Lanais: My end unit lanai was over 600 square feet. If you're stuck in the middle, your lanai will average around 250 square feet.
What Could Have Been Better: I'm not a fan of resort fees and this one charges $20 a day (includes parking, WiFi, local calls, pool and  24-hour fitness center). While the glass walls are beautiful the doors are heavy and required some muscle to open and close.
Rate Tip: If you can't take advantage of their special offers below, become a member of Wyndham rewards (no cost to join) and you may also score a good deal.
Two Deal Alerts:
1. 30% Off Two Bedroom Villas fall special using promo code DISLDS, September 1 and December 15. $199/night.
2. Kids Stay and Play for Free promotion, including free water activity, available now through December 15. $299/night.
Beat of Hawaii received a complimentary night.