Last Monday, what a Southwest passenger called a "rollercoaster" flight, came after their Boeing 737 MAX8 plane encountered severe turbulence on departure from Honolulu for the mainland. The video below depicts the audible fear that ensued. At the same time, the passenger gave kudos to the Southwest pilot and crew. There has been no official comment from Southwest about the event.
The video's author said, "Bumpy rise on #southwestairlines last from Honolulu night !! Pilot and crew were great! Passengers deserve an Oscar for best performance in a disaster film. 😂✈️
Others commented, "Yikes! He's not kidding about it being like a roller coaster ride- watching the cabin shake and drop in the extreme turbulence looks intense. Hope everyone had their barf bags close at hand for that rough ride. Also, is it just us, or have videos of crazy bad turbulence been taking over social media lately? This stuff is anxiety-inducing…"
While turbulence can be dangerous, it still doesn't pose a serious threat to the aircraft itself, and as long as you're buckled into your seat when it strikes, you're safe from most of the potential risks. Still, heavy turbulence like this is enough to set even the calmest flyers on edge, to say nothing of people with a severe phobia about flying!
We've all heard enough about severe turbulence on Hawaii flights, especially since the epic turbulence event on Hawaiian Airlines in December in which dozens of passengers and crew were injured.
When the pilot makes a turbulence announcement – beware.
As our pilot friends who comment have said, when the pilot comes on the intercom to warn passengers about turbulence, you can typically expect there will be something significant ahead. But while you do expect some rough flying, you still don't expect this. When terrible turbulence strikes, it can seriously hit hard and be most frightening.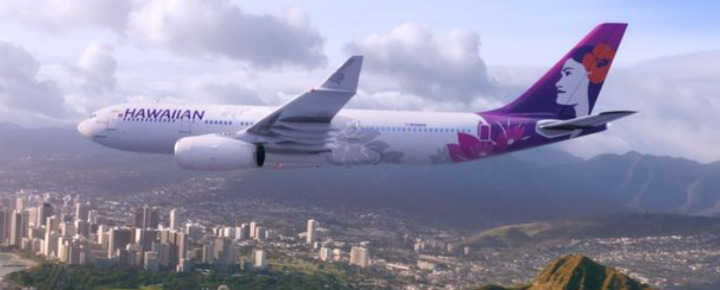 Other recent Hawaii incidents raise concerns and questions.
The issue of turbulence on Hawaii flights was magnified in December's Hawaiian Airlines mass-injury flight turbulence event, which occurred just before the flight was due to descend on approach to Honolulu. That was followed last month by the United Airlines incident. We're unsure if that will be classified as turbulence or something else. Nonetheless, the plane plunged following takeoff to within 750 feet of the Pacific Ocean before regaining its climb and heading towards the mainland.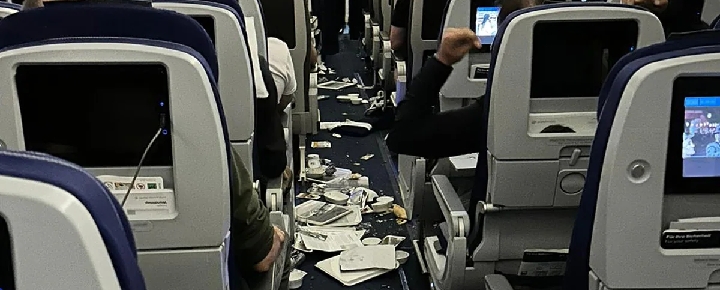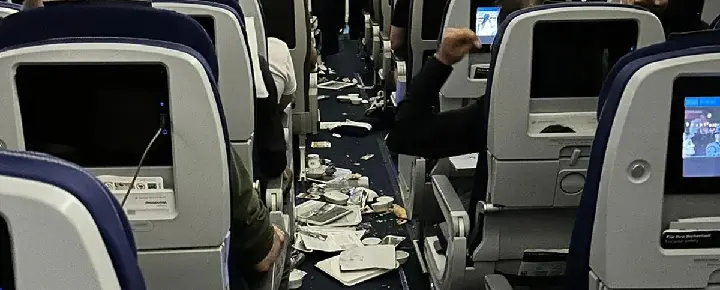 And lastly, three incidents outside of Hawaii caused global concern. First was the Lufthansa A330 (pictured above) that diverted to Washington DC earlier this month after unexpected cruise-level turbulence caused at least seven injuries severe enough to require hospitalization. In that event, some passengers reported not wearing seatbelts and that the turbulence came out of nowhere. It isn't clear if the seatbelt sign was or was not illuminated at the time.
Second, a woman died earlier this month after the business jet she was flying on encountered "severe turbulence." There may also have been aircraft issues at fault, it has been reported. The plane diverted to Bradley International Airport in Connecticut. The Bombardier CL30 jet was flying from Keene, New Hampshire to Virginia when the incident occurred, according to the FAA.
And last week, another Southwest flight between Maryland and North Carolina encountered severe turbulence that caused passengers to vomit and more. On the descent into Raleigh, turbulence struck, which resulted in an emergency being declared and the plane diverting to Murtle Beach instead.
Is turbulence that much worse than before?
We aren't just imagining it. And the topic has certainly become a major conversation point among travelers. Some experts believe this is only going to get worse. A University of Reading team in the UK has been studying this and is believed to be among the world's leading authorities on the subject. One of the team members there said, "There's a possibility it could get a lot bumpier. The more temperatures rise, the more likely it is that the turbulence will increase by a greater amount."
More turbulence and flight changes ahead.
The UK research team suggests there may be three times more turbulence in the period from 2050 to 2080.
What will airlines do? It is suggested that they will make more significant efforts to fly around possible turbulence-inducing weather. That means more fuel, longer flight time, and in the end, more cost to passengers as this phenomenon starts to get factored in.
Case in point. Not long ago, two of the BOH editors were returning to Hawaii from New York with a connection in San Jose. Due to the severe thunderstorm weather, their flight had to fly north to Ottawa, Ontario, instead of west, before continuing to its destination in San Jose. The flight arrived nearly six hours late at SJC due to the diversion and an unexpected fuel stop mid-continent, which the weather diversion necessitated.
Have you experienced turbulence?