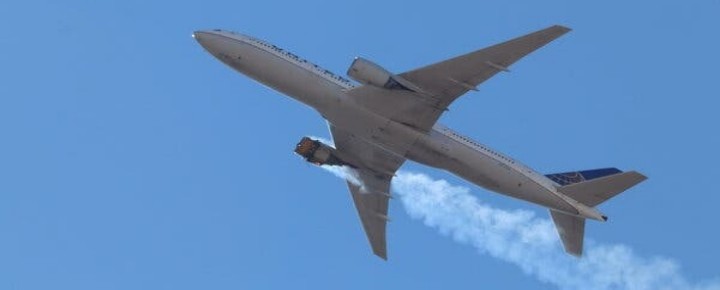 Several passengers have reportedly already lawyered up in a case related to a recent United Airlines' Hawaii-bound flight incident. Those onboard allege they were traumatized by the "Fiery loss of engine" that occurred and which we wrote about back on February 20. At the time, we said that there had been prior "Incidents on Hawaii Flights preceded near catastrophe."
The Clifford Law Offices based in Chicago is representing the plaintiffs. The nearly 40-year-old firm said that they are "Known nationally for our success in complicated legal matters," including those related to aviation. Clifford also represents 72 families in the 737 Max crash on March 10, 2019, in Ethiopia that killed all 157 passengers. "Passengers have retained Clifford Law Offices after suffering severe post-traumatic stress disorder stemming from a United Airlines flight that experienced a fiery engine loss while traveling from Denver to Hawaii on February 20, according to law firm."
In the February incident, UA Flight 328 was just minutes into flight en route to Hawaii when the engine explosion occurred, resulting in the right engine being engulfed in fire. The plane successfully returned to Denver, and thankfully the passengers lived through the experience that included an engine explosion, subsequent fire, and what appeared to be a missing engine. The plane was in the air less than 30 minutes in total that day and landed safely.
Clifford said, "The passengers on this flight thought it was going to be their last… Imagine as a passenger looking out the window of a plane and helplessly watching the engine on fire. The terror you experience lasts a lifetime."
It will take significant time before the government's NTSB investigation of the Hawaii flight incident is concluded.
Disclosure: We receive a small commission on purchases from some of the links on Beat of Hawaii. These links cost you nothing and provide income necessary to offer our website to you. Mahalo! Privacy Policy and Disclosures.