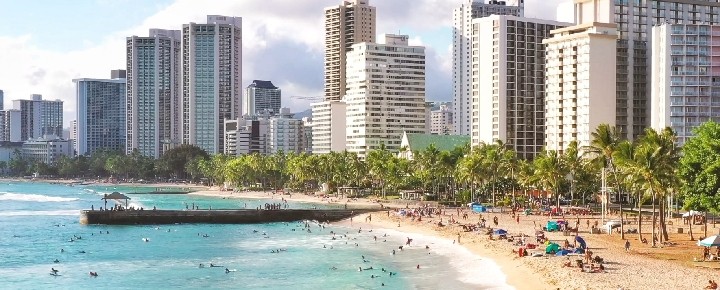 It was reported by the Hawaii Department of Health this week that another recent visitor has now developed Legionnaires' disease. All three of the cases reported stayed at the same hotel in Honolulu. Officially named Legionella Pneumophila, Legionnaires' is caused by a bacteria and results in pneumonia. The hotel in question was the Grand Islander by Hilton located in Waikiki.
When the first visitor was diagnosed last June, we didn't give it that much thought. It wasn't until this month that both the second and third Legionnaires' cases were found to have occurred at the same property.
Legionnaires' is on the rise here in Hawaii and elsewhere, and it's something to be aware of since it is fatal in about 10% of the cases. State DOH's Dr. Sarah Kemble said "while the risk to the general public is low, cases of Legionnaires' disease are on the rise nationwide. The symptoms are typical of pneumonia including coughing, shortness of breath, muscle aches, fever, and headache.
Legionnaires' bacteria are found in water which can be breathed in, and occur naturally in lakes and streams. "It can become a health concern when it grows and spreads in human-made building water systems," according to the DOH.
Not everyone exposed to the bacteria even develops the disease. Those are greatest risk are those aged 50+, smokers, or immuno-compromised individuals.
The hotel said, "we are taking several steps to ensure everyone's safety, including temperature treating of systems, which was completed March 23. This non-chemical process is not harmful and only involves increasing water temperatures to systems at The Grand Islander."
Legionnaire's is also called Pontiac Fever as well as Legionellosis. The infection is also sourced from areas such as pools, bathtubs, and other water features.
Legionnaires' outbreaks in Hawaii.
Legionnaires' cases in Hawaii have been increasing. There are typically up to twenty per year here. They have occurred in vacation rentals, and an outbreak at the Kapaa Shore Resort on Kauai about five years ago resulted in the temporary closure of the entire property. The disease thrives in water pipes. When the bacteria are found indoors, they rapidly multiply.
You may recall that the disease was named for an outbreak from an American Legion Convention that took place in Philadephia in the 1970s.
In Hawaii, there's been an growing number of cases of Legionnaires' disease reported over the past decade, growing from one and two cases in 2009 and 2010, to 12 and 14 cases in 2016 and 2017, respectively.
The latest of the three visitors to be diagnosed stayed at the hotel March 18 to 25. The second case was diagnosed last month and the first case related to the Grand Islander was diagnosed in June 2021.
The Grand Islander said , "While it is not yet known how or where this individual was infected, our team is working cooperatively with the Hawaii Department of Health as an investigation is conducted. The health and safety of our owners, guests and team members is our top priority."Early investigations based on water samples collected indicated the potential for the bacteria to develop in the hotel's potable water supply.
Is there anything you can do to prevent Legionnaires' Disease?
It isn't clear that much can be done from a visitor's perspective. Recommendations we've seen for preventing Legionnaires' are limited. They include flushing showers and other systems thoroughly with the hottest water before using them, and avoiding the consumption of tap water. What seems clear is that the most important thing is to seek treatment immediately if you experience any of the symptoms.
Disclosure: We receive a small commission on purchases from some of the links on Beat of Hawaii. These links cost you nothing and provide income necessary to offer our website to you. Mahalo! Privacy Policy and Disclosures.