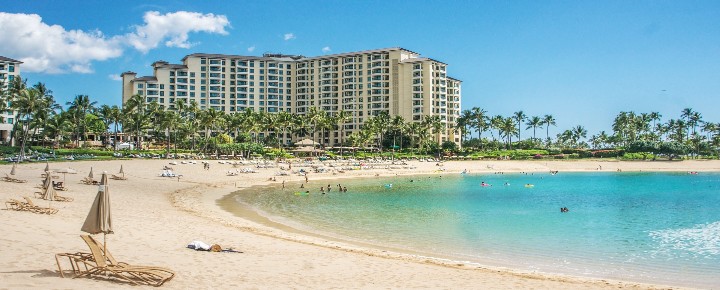 Island-bound tourists are about to return in bulk as Hawaii re-welcomes visitors. A new problem has arisen, however, related to all-important Hawaii hotels. We've come to largely take hotels and the services they provide for granted, at least until now.
This first came to our attention from the Facebook post by the Hawaii hotel workers' union. They said that Hawaii hotels are cutting back drastically on services, first and foremost, daily room cleaning, to slash costs. Yikes. As Hawaii hotels decide to skip daily room cleaning, workers remain unemployed or on call. A housekeeper at Hilton Hawaii Village said in an interview that she was never brought back to work full-time since she was furloughed in March of last year.
Hotels counter by proferring that many guests no longer want daily housekeeping following COVID. Whether that's true or not, it is certain that the change has afforded hotels substantial cost savings, which properties now expect could be permanent.
Hilton Hawaiian Village said, "Housekeeping Services: Customize Your Clean. For your comfort, we want your stay to be as undisturbed as possible, so we will only provide housekeeping upon request. To schedule your guest room cleaning please dial ext 44 or text us at (number hidden) the day prior."
The hotel workers' union says that "daily hotel room cleaning means a happier and healthier Hawaii" and that rarely cleaned and thus very dirty rooms aren't sustainable. They have a point.
Workers at Hilton Hawaiian Village, including housekeepers and others, have passed out leaflets to guests asking them to call to request that their hotel rooms be cleaned daily.
The union said, "Only a few housekeepers are being called back to work because many hotels are not providing daily room cleaning." They noted that Hawaii hotels are taking advantage of reduced labor costs by not providing essential daily room cleaning. The union quoted a HospitalityNet study on hotel cleanliness which indicated "79% of respondents are most concerned about their room's cleaning and sanitation, while 91% are more likely to stay at a hotel that helps their employees who lost their jobs during the pandemic." Earlier this year, another American Hotel & Lodging Association survey ranked enhanced cleaning, followed only cost, in terms of guest priorities.
Filthy Hawaii hotel rooms.
Housekeepers who are employed complain that the workload has become unbearable because of rarely cleaned, filthy rooms. Some Hawaii hotels, however, have restored daily room cleaning services, including the Sheraton Maui and The Kahala Hotel, for example.
Guests are being caught off-guard.
When staying in a Hawaii hotel, we certainly had come to expecxt daily room cleaning. We know not to anticipate that in a vacation rental, but this is totally different. It looks like we aren't alone. Many guests are apparently being caught off-guard when hotels fail to provide daily room maintenance.
Do you want daily housekeeping when you stay at Hawaii hotels? Have you been impacted yet by this cutback?
Beat of Hawaii's take.
What we are witnessing is a decline in Hawaii tourism's product quality, and this is but one example. It is essential that the appeal of Hawaii vacations not be reduced, as it will impede a healthy environment for tourism to succeed. We need industry stakeholders to help assure that Hawaii travel remains attractive to our visitors.
Reducing housekeeping services and not resuming other services like full restaurant opening, lounges and other amenities makes it hard to rebuild our Hawaii travel industry and make Hawaii travel exceptional once again.
We know that hospitality stakeholders have suffered alongside workers. Now that Hawaii travel is resuming in earnest, we encourage Hawaii hotels to both begin room maintenance without request, and to offer other services that were reduced.
Hawaii hotel service levels were already declining before COVID, so it is hard to attribute all of what has happened to the pandemic and related shutdown. The reasons are unclear but likely include management of spiraling costs and optimizing hotel earnings.
Return the romance of Hawaii to our hotels and throughout the industry. Be sure we continue to give Hawaii visitors every reason to want to return to Hawaii again and again.
Disclosure: We receive a small commission on purchases from some of the links on Beat of Hawaii. These links cost you nothing and provide income necessary to offer our website to you. Mahalo! Privacy Policy and Disclosures.