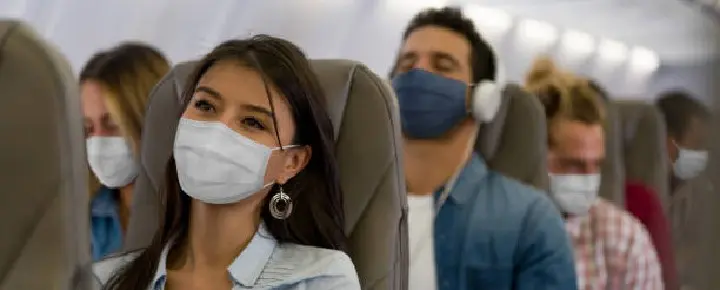 As we move around the state of Hawaii and continue traveling on Hawaii flights, something is changing in passenger behavior that is becoming quite apparent. More and more people are once again wearing face masks, at least on flights here.
Not only that, but details just coming out from the Hawaii Department of Health based on wastewater testing indicate that Covid cases are rising more than previously thought.
Last week, the World Health Organization (WHO) also recommended wearing masks on longer flights as well. We had been wearing masks during boarding and taking them off in flight. Now we find ourselves back on Amazon and researching the best masks for travel. Not what we had in mind to either do or to write about.
The increase in Hawaii Covid cases isn't being reflected.
"All counties are observing an increasing trend in raw sewage concentrations of SARS-CoV-2." — Hawaii Department of Health.
The State of Hawaii's Covid-19 dashboard and the graphic below doesn't clearly indicate any significant increase in the number of Covid cases yet.
The problem with the dashboard is that it only reflects cases reported, and in this situation, it appears many if not most cases are no longer being reported. We have learned anecdotally of more and more people contracting Covid recently in Hawaii, and they haven't been getting tested any further than their medicine chest. Editor Rob just ordered more at-home Covid test kits to arm his own medicine chest, for example.
WHO: Travelers should wear masks as new Covid variant spreading
The World Health Organization suggested last week that countries consider recommending that passengers wear masks on long-haul flights (that's what Hawaii flights are), given the rapid spread of the latest Omicron Covid subvariant XBB.1.5 in the United States. They said that is the most transmissible variant so far detected. But they cautioned that it remains unclear whether it would cause another widespread wave of infections.
Public health measures: airline and community wastewater (WBE) surveillance.
The latest Covid variant has been found in the wastewater associated with some international flights. The United States Centers For Disease Control is working on a program of wastewater testing of airlines' human biowaste for cases of Covid. This will serve as an early indication of the prevalence of Covid on flights. We don't know what airlines or flights are involved in that program. It is being discussed first in relation to arriving on international flights.
Australia, Austria, Belgium, and Canada are also in various wastewater testing planning and implementation stages. Studies have focused first on flights from China due to its recent outbreak.
In Hawaii, the state Department of Health Laboratories Division is now performing regular surveillance of wastewater in all counties. It is reported every two weeks.
BOH editor Jeff spoke with the Hawaii Department of Health's Outbreak Control division today. We wanted to understand the most recent results of Hawaii community wastewater testing. For a point of reference, wastewater testing is accurately termed wastewater-based epidemiology (WBE).
WBE is being performed frequently, and we'll be updating this regularly more actionable information. As seen in the graphic below and based on our conversation with the Department of Health, Covid is currently on the increase.
Why the importance of wastewater testing.
Wastewater testing is an old and a new field. It was first created in the 1940s, although it only became popular in the past 10 years and even more so since Covid.  It was seen as a way to deal with the lack of widespread testing to determine more accurately the prevalence of Covid in the community. It is also an earlier indication of infection than testing. There are now a huge number of programs, and Hawaii is part of a nationwide system of WBE. On flights to Hawaii, cruise ships, and elsewhere, WBE can be highly useful as well.
Airlines asked to return to some "enhanced cleaning and disinfection of aircraft."
WHO is now recommending "enhanced cleaning and disinfection of aircraft "on routes that are of concern" and random testing may also be carried out on a sample of arriving passengers." Again this is initially focused on flights from China, and it isn't clear if this could become industry-wide.
Is the Hawaii flight filtration system enough to remove Covid-19?
It could certainly reduce it, but if the person behind or next to you coughs near you, could it do that in time?
We welcome your thoughts.
Having said that, conspiracy theories won't be published.
Hawaii Wastewater Report

Disclosure: We receive a small commission on purchases from some of the links on Beat of Hawaii. These links cost you nothing and provide income necessary to offer our website to you. Mahalo! Privacy Policy and Disclosures.