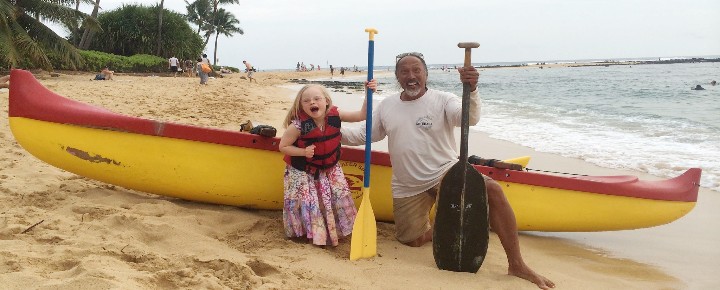 A good friend of ours on Kauai and Beat of Hawaii, pictured here with their beloved canoe, is mourning its loss. Chris Kauwe said in an interview that "every canoe has a 'mookuauhau,' and has a history. For me personally, it's my spiritual connection to my past, my ancestors."
This canoe is very hard to miss. Pictured above, it's bright red and yellow, measures in at about 17-feet, and is a veritable fixture at Poipu Beach Kauai. Have you ever seen it there?
The boat went missing on April 1, to which Chris thought at first it was just a joke for April Fool's. But nearly two weeks later, it's definitely not funny. This boat isn't easy to hide, and we wonder if any of you might see it and let us know.
As is apparent in the photo, Chris uses the boat for teaching, among other things. He is a renowed Kauai surf and canoe instructor as well as a beekeeper. We can attest to his expertise as a canoe instructor, as your editors have both taken lessons from him.
The canoe is also used for contests, and for the sacred spreading of ashes in the ocean. Chris was also in New York with us, too, when, in 2012, he competed with others in the Hawaiian Airlines Liberty Challenge that coincided with the airline's nonstop service to New York.
Disclosure: We receive a small commission on purchases from some of the links on Beat of Hawaii. These links cost you nothing and provide income necessary to offer our website to you. Mahalo! Privacy Policy and Disclosures.