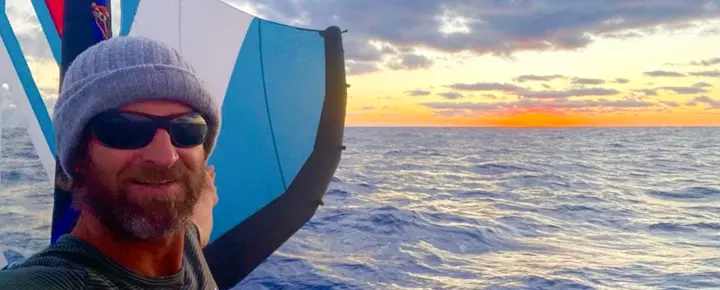 First, there were the Polynesians who traveled here in the year 400 by canoe. On their 2000-mile journey, they used the sun and stars to guide them. Other epic journeys included writer Paul Theroux who paddled a collapsible kayak from the South Pacific to Hawaii and wrote about his adventure in, The Happy Isles of Oceania. Then in 1987, Ed Gillett became the first paddler to cross the Pacific from California to Hawaii in an epic 63-day voyage. His relatives thought he was lost at sea. Ed reported later that he ended up eating toothpaste for nourishment to make it.
Chris Bertish becomes the second person to make the transpacific journey.
A South African surfer, stand-up paddleboarder, adventurer, and motivational speaker, can add his name to the list. Yesterday, Chris Bertish became the second person to complete the crossing in a 48-day journey from Santa Barbara to Oahu.
Before this, in March 2017, Chris completed the first solo, unsupported stand-up paddle board (SUP) crossing of the Atlantic Ocean from Africa to the Caribbean in a 93-day journey. His motto is, "Dream it, See it, Believe it, Achieve it."
Chris worked 12-hour days in his Trans-Pacific Wing Project by holding the wing of his custom-made craft. It propelled him by wind power across the Pacific. Named the Flying Impifish, the 14-foot vessel had a small cabin with sleeping space.
One thing that Chris noted was how much garbage he encountered in the ocean. He took pictures and made an emotional plea on his Instagram page for better environmental measures. He stands behind his words and raised money on his journey for organizations like Sea Sheperd, 1% For The Planet, and Conservation International.
Last year, Chris made his first attempt at the crossing from California but got stopped by electronic malfunctions. Everything worked this time; yesterday, he was escorted by friends for his arrival at the Honolulu Yacht Club. Chris' finish got upstaged by the record-breaking southerly swells that wiped out beaches, wedding parties, roads, and more.
Making a journey alone like this takes perseverance and drive. The ocean between California and Hawaii is vast and unpredictable, with rough currents, time spent alone, and unexpected interactions with wildlife. Many have tried before but always turned back.
Cyril Derreaumaux hopes to be next to cross the Pacific.
There's another adventurer in the mid-Pacific right now doing just that and following Chris. It's French-born Cyril Derreaumaux, who is making the crossing from Monterey in a kayak. You can track his position and see daily updates. This is a great way to be part of the adventure as it's happening. Go to https://solokayaktohawaii.com/tracker/
What have been the most significant travel adventures in your life?
Disclosure: We receive a small commission on purchases from some of the links on Beat of Hawaii. These links cost you nothing and provide income necessary to offer our website to you. Mahalo! Privacy Policy and Disclosures.