Are you looking for new things to do in Honolulu on your next Hawaii vacation? We have a recommendation to make. Plan a visit to the Manoa Heritage Center and visit a thousand-year-old heiau next to a historic Tudor home. Unusual bedfellows for sure make this hidden gem in Honolulu even more enjoyable.
Things have changed from when we first visited back in 2016. And that includes the recent death of the property owner, Mary Moragne Cook, born in Koloa, Kauai, and recognized for her contributions to Hawaii's land preservation and support of the arts. Much of her focus with her late husband Sam Cook was preserving their home in Manoa, built by Sam's grandfather, Charles "Monty" Montague Cooke, Jr..
Sam and Mary founded Manoa Heritage Center adjoining their property, including botanical gardens and the Kuka'o'o Heiau (Native Hawaiian temple). Monty died in 1948, and he bequeathed the land where the heiau stands to his daughter. She later sold it to a developer, and Sam repurchased the parcel, saving the heiau a second time.
Centuries ago, there were 14 Heiau in Manoa.
Now you're going to see one of the few traditional Hawaiian structures in urban Honolulu here at the Manoa Heritage Center. This one is called Kuka'o'o and it survived because of a decision made years ago by Monty Cooke. When his mansion was built in 1911, the architect wanted to locate the home on top of the heiau because of the better views of Waikiki and the Manoa Valley. Monty said no. He wanted the heiau protected.
The thousand-year-old Kuka`o`o heiau, restored in 1993, was used for rites and rituals surrounding food productivity. Surrounding Kuka`o`o are native Hawaiian plants, and a large Tudor Revival Style Home called Kuali`i.
New Visitor Center Opened in 2018.
The Harry and Jeanette Weinberg Visitor Education Hale is a multi-purpose center with classrooms for educational programs. It includes music, art, and cultural events you can enjoy during your Hawaii vacation.
Tours of the Manoa Heritage Center are on select afternoons and one Saturday monthly.
You can now book your tour online. Only eight people are in a group, and the tour lasts 60-90 minutes. It includes the botanical gardens where Native Hawaiian plants and the heiau can be seen. In the future, they plan to open the Tudor residence. The current admission is $20 for adults.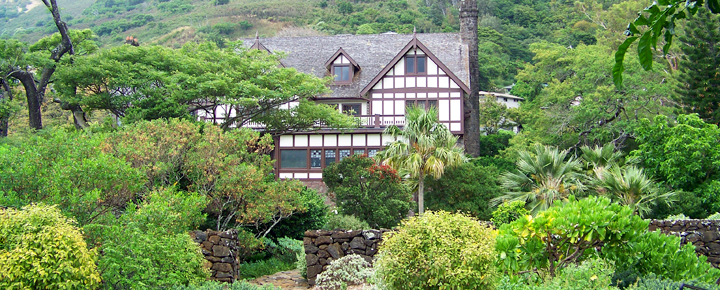 The nonprofit Manoa Heritage Center was established in 1996 by the Cookes'. Kuali`i is on the National Register of Historic Places. Some day it may be open to the public as a historical museum. For now, you can explore the grounds and heiau by reservation only. The location is in Honolulu at 2856 Oahu Ave. 
Photos  Beat of Hawaii.