It is now widely expected that behemoth Hawaiian Electric Company (HECO) will be forced into bankruptcy by the recent Maui wildfires. Many visitors may not know that it supplies power to 95% of the state. The 5% not included is the island of Kauai, which is largely immune to the fallout, and we'll tell you why in this article.
Oahu, Maui, Molokai, Lanai, and Big Island residents could see electrical costs soar, and so could visitors.
Hawaiian Electric owns the following electric utilities: Hawaiian Electric Company on Oahu, Hawaii Electric Light Company on the Big Island, and Maui Electric Company, which powers Maui, Lanai and Molokai.
"Hawaiian Electric may collapse after fires, forcing reckoning for utilities. One after another, utilities confront massive liabilities for wildfires. With the Maui fire, Hawaiian Electric faces potential insolvency."

-The Washington Post
Hawaiian Electric bk would leave Kauai the lone wolf standing in power independence.
How this will impact power and related costs on the other Hawaiian Islands hasn't been previously reported. But we can anticipate higher prices which will be felt by both visitors and residents alike.
An electric utility bankruptcy will increase the cost of service and could also harm the ability of Hawaii to continue its move forward in renewable energy. This has been seen in other recent bankruptcies elsewhere.
Big payouts associated with the Maui fire may also impair the ability of the utility company to make the necessary upgrades that could help prevent future fires. Undoubtedly, the cost of all this will come directly down to the customers, residents, and visitors across Hawaii, where electric rates are already the highest in the nation.
Electric rates impact Hawaii hotel and vacation rental costs and restaurants, too.
Higher electric rates for Hawaii hotels ultimately lead to increased operating costs, inevitably increasing nightly room rates. Restaurants will also face higher expenses with increased energy costs, resulting in higher menu prices.
Owner of Fairmont Kea Lani, Fairmont Orchid, and Ala Moana Hotel offers worst-case scenario.
"Energy typically accounts for about 8% of total costs, but that could rise as high as 25% in a worst-case scenario."

-Sebastain Bazin, CEO of Accor.
Indeed, Hawaiian Electric customers on all islands (except Kauai) may face skyrocketing energy bills, which could have a ripple effect on the economy. While at hotels and vacation rentals in Hawaii, it can result in a decrease in the number of room nights sold and a reduction in revenue and profitability.
Impact on Hawaii electricity costs.
While it isn't clear what impact a Hawaiian Electric insolvency will have on most of Hawaii, the island of Kauai has been insulated from the effects of fuel price fluctuation, which we'll tell you about below. The State of Hawaii has had a long history of relying on oil as its primary source of electricity generation. For example, in 2021, more than 65% of Hawaii's power came from oil, and 1/3 of that came from Russian sources. That was before the Ukraine situation, which resulted in the US banning all Russian gas and oil, driving prices even higher.
Hawaiian Electric: since 1891.
Hawaiian Electric Company's long history dates back to October 13, 1891. It has now expanded to provide power to all of the Hawaiian Islands except Kauai.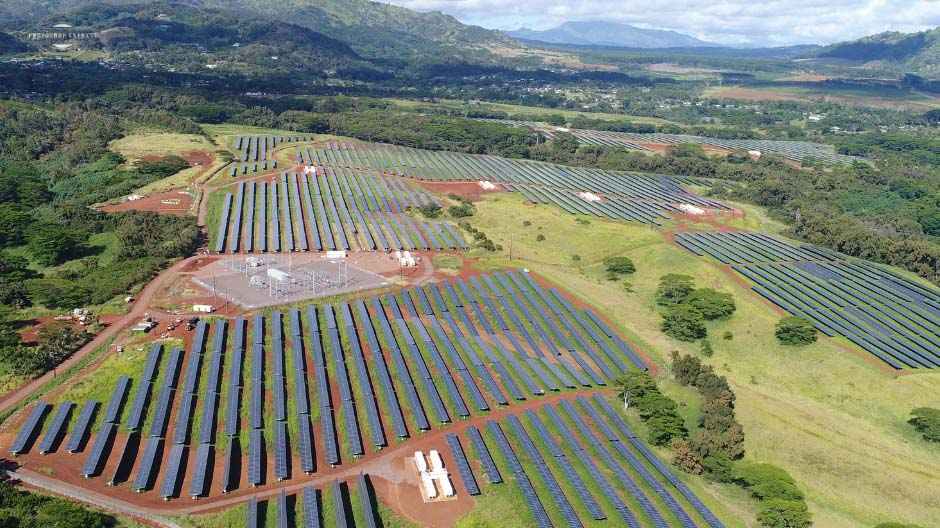 Environmentally friendly Kauai boasts solar and Biofuel.
Kauai is the only Hawaii island not supplied by Hawaiian Electric Company. Instead, the consumer-owned Kauai Island Utility Cooperative (KIUC) manages that island's electricity.
KIUC was formed in 2002 and is one of America's newest electric cooperatives. There are some 900 U.S. electric cooperatives in the country. KIUC operates as a not-for-profit entity, owned by its members/customers and governed by an elected board of directors.
Under KIUC, Kauai has charged ahead with renewables, and began leaving HECO in the dust long ago. One example is Biofuel, which you may not have ever noticed when visiting the Garden Island.
But, if you've ever wondered what is going on with all those closely planted stands of trees along the highway between Halfway Bridge and Omao, here's the answer. These trees are being grown and harvested for locally produced power.
An 847-acre plot of land seeded with Eucalyptus and Albesia trees and test plots of other species were planted years ago. In all honesty, they weren't sure exactly what they would do with the trees at the time, but eventually settled on burning them as a fuel source. Later, it was determined that only Eucalyptus should be grown because they are much more energy-dense than Albezia.
There is an ongoing debate about applying the term "carbon neutral" to this type of biomass energy operation, given that the machinery alone needed to harvest, transport, and process trees for burning decidedly tips the balance to being less than 100% carbon neutral. As is the case with many "renewable" energy schemes, there are many other impacts often overlooked.
In any event, such biomass energy is currently considered renewable. It is just one of multiple power generation methods that Kauai has used to position itself farther away from reliance on long-distance importation of fossil fuels. The coop's current generation portfolio contains a diverse array of renewables, including home-based photovoltaics and massive commercial solar farms spanning the island.
More than 60% of the electricity produced on Kauai is from renewable sources.
Kauai is already far above and beyond the state-mandated milestone of 40% renewable energy generation by 2030. Hawaiian Electric, which serves the other islands, reported 32% renewable in 2022, just about half of Kauai's production. Previously, Hawaiian Electric said it was still on track to meet the 40% renewable benchmark by 2030, it remains to be seen how this latest disaster will impact this timeline.
West Kauaʻi energy project will move island towards 80% renewables.
Recently, the state appeared to approve permitting and construction of a large-scale project that combines solar, batteries, and pumped hydraulic storage in a system that will also deliver irrigation water.
Barring further complications, that project is set to be operational by 2030 and is set to bring the island's renewable production up to 80%.
Kauai already generates 100% renewable-sourced daytime energy.
According to KIUC, during the middle of the day, Kauai is often powered by 100% renewable sources, thanks to its ample solar capabilities. However, the output of these systems can vary widely, so adding mass storage will help significantly in offsetting times when power is less available.
As you may know, Hawaii has hoped for the past decade to become 100% renewable energy-based in the next twenty years. While Hawaii as a whole has a long way to go, Kauai is already well on the way.
Kauai jumpstarted Hawaii's power transition.
The Garden Island has been renewable-focused for years. Kauai is also looking at how to reduce its extreme dependence on automobiles. A plan including improved bus transportation, bicycles, bicycle-sharing, and better walking access is in the works.