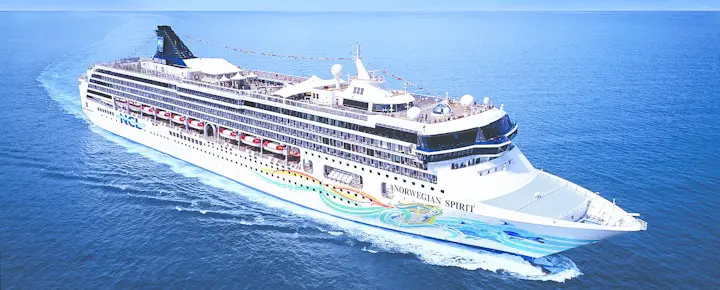 A Tiffany jewelry mogul on a birthday cruise died recently when she fell off the Norwegian Spirit Hawaii cruise ship headed for Honolulu. Her body was never found, and the presumed death corroborated by video came amid mysterious and sinister circumstances. This real-life tragedy could be the makings of a Hollywood movie with missing jewels, a Swiss lover, and a fall that's impossible to explain.
The magnate of Tiffany's, Dilek Ertek, died from a mysterious 3 AM fall overboard on October 26. She had embarked on the NCL ship in Tahiti on October 24. After leaving Papeete, Ertek planned to celebrate her birthday in Bora Bora on November 5 while en route to Hawaii. Unfortunately, Ertek didn't arrive at the ship's final destination, Honolulu.
Dilek Ertek graduated from New York's Gemological Institute of the institute of America. She opened the first Tiffany store in Turkey and, for more than two decades, was Tiffany's distributor there. Her family has raised serious questions regarding the suspicious circumstances of the mysterious death of the 71-year-old Turkish citizen.
Valuable jewelry went missing from the deceased's stateroom.
The victim's son reported that jewelry had gone missing from his mother's cabin safe, perhaps even before her death. It isn't clear if he was also onboard or how he knew what the contents of the safe should have been.
The cruise partner-lover didn't report her death for 20 hours.
Her 74-year-old Swiss boyfriend waited an inexplicable 20 hours prior to reporting the victim missing. The ship's surveillance video indicated that she fell from the cruise ship at about 3 AM.
The short-stature deceased could hardly fall by accident.
Ertek was just 5′ 2″ in height, which caused investigators to question how she could have fallen over the 36″ ship railing by accident. Her body was never found in part due to a long time between her fall and the notification of her disappearance.
The unnamed Swiss lover was held under observation.
The ship returned to Papeete, Tahiti, rather than continuing to cruise toward Honolulu following the death. During the three days it took to return to Tahiti, the lover was "under observation" by the cruise company until the ship arrived in Papeete and authorities could board.
French Polynesian authorities first questioned and then ultimately released her lover for lack of evidence, after which the man returned to Switzerland.
Controversy about the investigation continues.
Ertek's family asked that authorities investigate her Swiss lover. Norwegian reported the death to authorities in Tahiti. Turkish newspapers are saying that the deceased's attorneys now claim that French Polynesia authorities didn't properly investigate Ertek's cabin, among other things. Her family is reportedly preparing to file a wrongful death lawsuit against Norwegian for the tragedy.
Mysterious disappearances on cruises.
There's a Lifetime movie loosely based on a similar mysterious real-life cruise ship disappearance of a honeymooner. George Smith died on his honeymoon when the newlywed went overboard. His bride, who claimed she was passed out when he went overboard, received a $1.1m settlement from Royal Caribbean.
Smith disappeared mysteriously during the night and evidence suggested foul play. With blood found in his stateroom and on the side of the cruise ship, it was believed he was either thrown overboard or fallen off. Murder was suspected.
The investigation has been ongoing, including by the FBI's Mafia division. TV show Dateline first theorized it was a robbery that had gone bad. His wife remarried four years after his disappearance and was criticized by Smith's family for her conduct at the time of the disappearance and her accusation that the accident was caused by intoxication.
Recently, after over 15 years, a related murder may have taken place. The deceased's attorney said of the murder, "At one point, at about 2 a.m., they were in a disco type setting at one of the bars. Unfortunately, George and Jennifer actually got in a fight and Jennifer stormed out of the club and left George behind." The attorney said that after that, Smith remained with a "group of guys" from the ship who later walked the victim back to his room. His attorney continued, "They claim they just left the room, but the evidence revealed afterward was that it was an attempted robbery gone wrong."
One of the men with whom Smith was seen that night was Gregory Rozenberg. In December 2019, he was the victim of a targeted murder in Florida.
Disclosure: We receive a small commission on purchases from some of the links on Beat of Hawaii. These links cost you nothing and provide income necessary to offer our website to you. Mahalo! Privacy Policy and Disclosures.