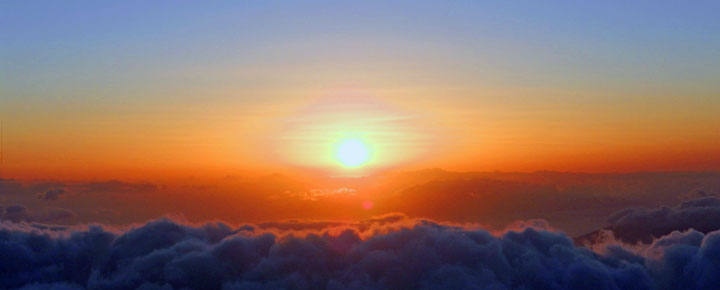 The popularity of Haleakala National Park has led to a significant access change. This is due to the increased number of Haleakala sunrise visits that has caused damage to the area, traffic jams and accidents.
Haleakala Sunrise Reservations Now Required.
A new reserve before you go system was introduced by the National Park Service in 2017. This was done in order to help mitigate issues caused by the shear number of visitors.
Guests accessing the park summit from 3am to 7am are now required to reserve in advance and pay a $1 per vehicle fee. Then on the day of your visit, pay the $20 park entrance (payable on entrance). Reserved guests then show up with their receipt and photo ID to gain access. Reservations can be made up to 60 days in advance.
A prior reservation is not required for any other time of day. The $20 park entrance fee (up from $15) provides access to both park districts for up to three days with your receipt. Read on for days when the $20 entrance fee is waived.
Park officials indicate that 16% of visitors come for the iconic sunrise, but that emergency calls account for 40% of the park's total.
How to book in advance. Book online at recreation.gov or call the reservation phone line at 877-444-6777.
Last minute availability. A small number of last-minute reservations may be available two days in advance, starting at 4:00 PM HST. Note that the website will show tickets as sold out until 4:00 PM.
Sunset at Haleakala.
We have also visited the summit of Haleakala Crater in the afternoon for sunset, and as you can see from the photo, it was nothing short of completely spectacular. Having driven up for sunrise on many occasions too, this timing seemed like an interesting juxtaposition. Unlike driving up in the pre-dawn hours, the afternoon drive was very different with almost no cars. We had the windy road virtually to ourselves. When coming for sunrise, it is frequently traffic all the way up.
An easy drive up – but, slow down and take your time
Don't be intimidated by the drive to Haleakala. Just slow down and savor it. Once we turned up Crater Drive it took about 45 minutes to reach the summit. The views and scenery along the way are simply breathtaking. You'll find the road in pristine condition from when it leaves Olinda, all the way to the 10,000 foot peak.
Once near the top, there's a visitor center and a short hike. That's not the end of the road, however, there's more to see at the top where you'll find an enclosed observation deck (always open) and surreal views over the crater to the ocean beyond. I also saw the two summits of the Big Island in the distance.
Park headquarters include a Visitors Center that is open from 8am to 3:45pm daily. The other visitor center situated at 9740 feet is open from sunrise to 3pm. All restrooms are open 24 hours per day, except during severe weather events. Please check for alerts on closures.
The well maintained Haleakala National Park is vast, encompassing far more than the famous volcanic summit. It starts at the ocean at the Kīpahulu area, which is accessed just beyond Hana. That's home to O'Heo gulch, also knows as Seven Sacred Pools (which is closed until further notice). Hiking trails in Kīpahulu remain open.
Your $20 at either point buys you a three day entrance, as it is just too much park (and too much driving) to be done in one day. Park entrance is also free on Martin Luther King, Jr. Day, National Park Week in April, National Park Service's Birthday week and National Public Lands day in September, and Veterans Day.
Haleakala Activities
There are an unlimited number of things to do, including sightseeing, walks, organized downhill bike rides and even horseback. You can also do a walk or hike conducted by the National Park Service. Naturalists will enjoy unique Hawaii flora and fauna. Star watching is unequaled, being above one third of the earth's atmosphere. This is also the home to Hawaii's first astronomical research observatory.  If you'd like to stay on, and plan ahead, there are cabins for rent in the park.
Maui Weather.
You can expect the weather to be extreme within the park. This is not a joke and should be taken seriously. At 5pm the temperature at the summit was a very brisk 45 degrees and sunny. Bundle up – you're likely to need every bit of clothing that you have.
Tips.
Bring food and have gas. Those aren't available at the park.
Carry water and sunscreen, and wear sturdy shoes.
You can pay the entrance fee with a credit card.
More information.
The National Park Service has more on their Haleakala website.
Disclosure: We receive a small commission on purchases from some of the links on Beat of Hawaii. These links cost you nothing and provide income necessary to offer our website to you. Mahalo! Privacy Policy and Disclosures.