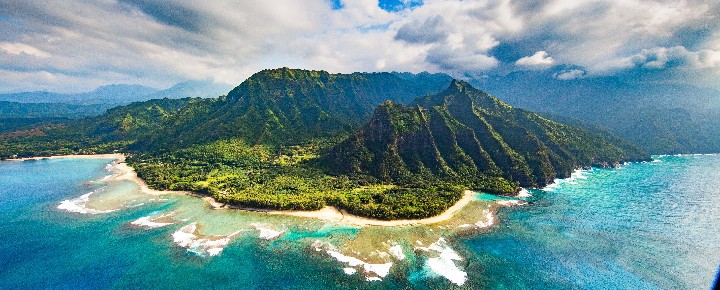 We just tried out the new website just introduced by the Hawaii Tourism Authority and the Office of Economic Opportunity. We wanted to check how the website and all of the new options referred to. Will this help visitors? Read on for details of what we found, including some pretty exciting ones. Then, we'd like to hear from you.
The genesis of the new website was to address the critical Hawaii car rental shortage here on Kauai. It aims to offer transportation options that everyone can use. The offerings include the new airport shuttles and Haena service from Hanalei, ride-shares, the Kauai Bus, and even bike rentals. That new website's plan is to have weekly updates about Kauai transportation issues.
The Get Around Kauai website also purports to address the issue of so many rental cars on a small island. Kauai's mayor said, "We see the opportunity to do better in managing visitor impact, and that includes implementing transportation mode change on our island… During the pandemic, our residents were given a glimpse of what life is like without the influx of cars on our roads, and there's no denying how much traffic had improved."
HTA CEO John De Fries said, "educating visitors about traveling responsibly is key to addressing tourism's impacts and enhancing the well-being of Kauai's communities. We encourage travelers to utilize this comprehensive website when planning their trips."
The website was intended to encourage alternative and green options and reduce island traffic while educating visitors and creating new business opportunities.
Moped on Kauai?
We have heard that Kauai moped rentals have boomed too since tourism came racing back. The companies listed include Kauai Mopeds, Kauai Motorsports, and Kauai Motorcycle.
BOH Tip: We like mopeds as much as anyone and have rented them on appropriate roads in French Polynesia, Bermuda, and elsewhere. On Kauai, however, we find them to be extremely dangerous. They are generally unable to keep up with the flow of traffic, and our roads and drivers are ill-equipped to deal with those in addition to all of the normal vehicular traffic. Perhaps for short distances okay, but please, stay off the highway.
New Haena Shuttle from Hanalei:
This is good news after the landslide in March that limits access into Hanalei. When the shuttle first started to Haena, it left from Princeville. Now it leaves from Waipa, which is just after Hanalei. The last pick-up is at 11:30 am, and the last return is at 5:30 pm. For $35 per person, it includes the day pass for the park and is an alternative to driving if parking permits are not available. Check out the Haena Shuttle for details. Haena State Park includes Kee Beach area, Kalalau Trail, Hanakapiai Beach, and Hanakapiai Trail).
BOH Tip: This is a great new way to get a day pass. When we just checked, there was space available even this week.
"How to Travel with Aloha."
This is where the website provides recommendations from the local perspective called "Tips from Aunty Lani."
Expandable topics include:
Give Aloha First and Foremost
Hang Loose the minute you arrive:
We are not all on VACATION!
"Well, where's the Aloha? I thought this was the Aloha State."
Take time to learn about where you are:
Beach Etiquette
Space and Noise:
Leave the place better than you found it:
Use reef-safe sunscreen:
Giving animals space at the beach and in the water.
Driving Etiquette.
Parking.
Speed Limits.
U-Turns.
Waving or giving the shaka sign.
Visiting the over visited spots.
Taking a photo or checking directions.
The famous Kauai one-lane bridges.
Respect Mauka to Makai (mountain to ocean)
Don't let social media be your guide to Kauai.
Ocean Safety.
Trail Safety.
Beautiful Kauai Kalo (Taro) Fields.
Drones.
Kauai Airport Shuttles.
There are a number of new shuttle services that operate from the airport. Those now include Roberts Hawaii Airport Shuttle, Speedi Shuttle, Kauai Island Shuttle, Polynesian Adventure. Some hotels near the airport also provide shuttle options.
BOH Tip: First, check with where you are staying to begin finding the best shuttle options.
Uber, Lyft, and Holoholo.
Yes, there are rideshares on Kauai. So do try all of those to see if drivers are available.
BOH Tip: We have encountered multiple occasions when there were no rideshare drivers available. At that point, we have always resorted to a taxi.
Taxis on Kauai.
They exist, and they are quite costly. Availability is another question, especially during this time.
Tip: Find out if they are likely to be available and, when possible, schedule it in advance. You might also want to ask what the cost estimate will be.
Kauai car rentals.
We've covered car rentals in our post updated post, Hawaii Car Rentals: With Prices Up 250%, What's Being Done.
Feel free to add your ideas or experiences. Thanks!
Disclosure: We receive a small commission on purchases from some of the links on Beat of Hawaii. These links cost you nothing and provide income necessary to offer our website to you. Mahalo! Privacy Policy and Disclosures.