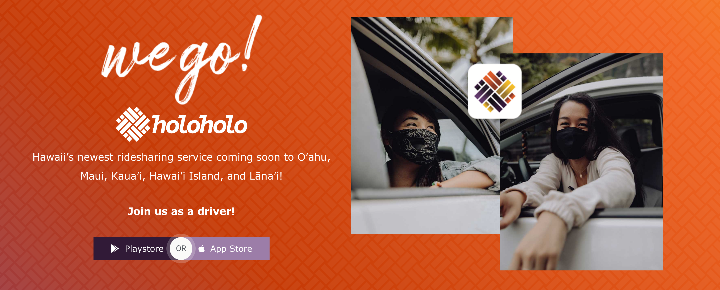 A new way to get around Hawaii has just launched, at least for drivers to be recruited. This Hawaii Rideshare called Holoholo is coming soon to the Big Island, Kauai, Honolulu Lanai, and Maui. It could be your "Ticket to Ride" around the islands, in addition to car rentals, taxis, Uber, and Lift. But, unfortunately, passengers will have to wait a bit longer.
There's no doubt that this comes at a unique time when Hawaii car rentals are sold out through the peak of summer in many cases.
Also seeking rideshare drivers.
Holoholo's website says it is a "Marketplace of community drivers where passengers can request a ride in minutes from their smartphone, see the cost, and have it charged to their selected credit card, which helps passengers have access to affordable and safe transportation."
Before approval, drivers are pre-screened, have their vehicles checked, and pass a pre-trip inspection.
We'll update you as soon as this launches for the public. It looks to be any day, although there's no clear way to get to the rider side of it as of today.
Holoholo features
GPS Tracking. "Our GPS system will track your every ride, so there's a complete record of your trip. You can also share your approximate location with friends and family."
Clean Safe Vehicles. "Drivers are required to keep their vehicles clean and safe. We provide a PPE kit with hand sanitizers, wipes, and masks to ensure your safety. You can also turn down riders without masks."
Are you down for Hawaii Rideshare?
Disclosure: We receive a small commission on purchases from some of the links on Beat of Hawaii. These links cost you nothing and provide income necessary to offer our website to you. Mahalo! Privacy Policy and Disclosures.