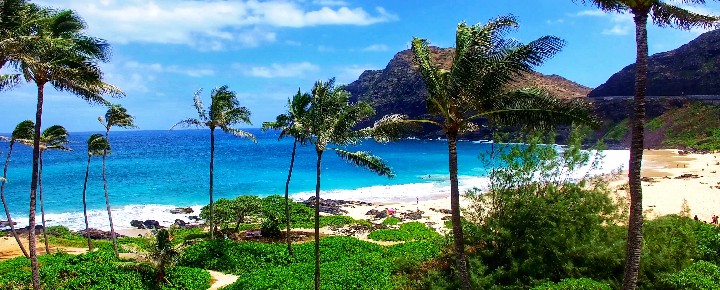 The data is in regarding Hawaii travel, and it is nothing short of dismal. Only 23% of Hawaii hotel rooms were filled last month, according to the state's Hawaii Tourism Authority. That number has remained virtually unchanged over the past 90 days. Visitor occupancy at that level is clearly unsustainable. And all of this continues in spite of relatively easy quarantine waivers for all but one island.
Read on to see how hope may on the horizon in various forms.
All islands except Kauai allow visitors to bypass quarantine based on pre-travel COVID testing.
Apparently, however, that doesn't appear to be moving the needle at all. To avoid quarantine, visitors need to comply only with pre-travel testing procedures from a "trusted partner" within 72 hours of their mainland to Hawaii departure.
Kauai went in a separate direction and left the Safe Travels program in early December. Visitors are required to either quarantine for 10 days, say at an approved resort bubble for a minimum of 3-4 nights or travel from another island after a minimum of three nights followed by another pre-travel (to Kauai) test. The quarantine waiver options can take significantly longer than 3 days, based on testing and results availability.
How easy is it to manage Hawaii's COVID rules?
Many of you say it isn't that easy, while others report that it can be done without too much grief if you stay focused on complying with the rules. Please share your experiences in navigating the rules.
Canadian visitors largely missing.
This is the time of year we typically see more Canadians escape to Hawaii's year-round warm climate. But that just isn't the case now. For the last month for which we have data (December), Canada arrivals were 3,833 vs. 64,182 the prior year.  And Japan visitors are missing too, with total December arrivals at 1,889 compared with 136,635 in the prior year.
Complicating factors for Hawaii travel resumption include the following:
1. Difficulty in obtaining test results within 72 hours. Last week the state temporarily moved that to be 96 hours instead, but that ends this week and was only due to bad weather on the mainland. The Lt. Gov. had suggested months ago that it be moved permanently to 96 hours, but the governor never approved that.
2. Too limited number of "trusted partners." Many of you have complained that the Hawaii list of approved partners leaves much to be desired. It would of course be easier if the determinant were the test type performed rather than who the test vendor is, but it doesn't appear that Hawaii can accommodate that in the way that most other places do.
Getting a test from someone other than a trusted partner is as good as no test at all and will immediately land those visitors in quarantine hell. As one of our readers, Roy, pointed out, even being tested at the Mayo Clinic doesn't work as they have not applied to be a testing partner. And Nancy concurred, asking "Tell me why Hawaii is not allowing covid tests from places in CA that are very famous, ie: Stanford, UCLA, UCSF, etc., and how about Mayo Clinic or John Hopkins? CVS and Walgreens are a joke."
In that regard, Gov. Ige said yesterday that a pilot program is set to greatly expand the testing sources beyond the current limitations. We are awaiting details on that.
3. Difficulty understanding procedures and obtaining help. We hear from you that you cannot get answers to questions you have about travel requirements. Yesterday, we were busy researching a one-day trip from Kauai to Maui for a visitor. As it turns out,  the current rules do not allow for that. Finding that answer, however, could not have been more difficult. The Kauai County website is poorly written and difficult to understand, even for those of us who deal with these issues daily. Furthermore, regarding Maui travel, we have gotten many questions about use of their contact tracing app.  Lastly, others have complained that they cannot easily get a hold of the state's COVID travel helpdesk either by phone or email.
4. Awaiting details and commencement of vaccination passport travel. You keep asking when this will start, and while we don't have any answers from the governor yet, it is likely to be within the next month or two. One question that all of us also have in mind is how long vaccination will be valid for Hawaii travel. The governor said he continues to await guidance from the CDC before any changes are announced. Lt. Gov. Green had hoped for interisland travel for those vaccinated to begin as soon as next week. Ultimately, the governor has the reigns on that call, however, and he just hasn't said.
Stay with us for more updates and please add your experiences to this post.
Disclosure: We receive a small commission on purchases from some of the links on Beat of Hawaii. These links cost you nothing and provide income necessary to offer our website to you. Mahalo! Privacy Policy and Disclosures.