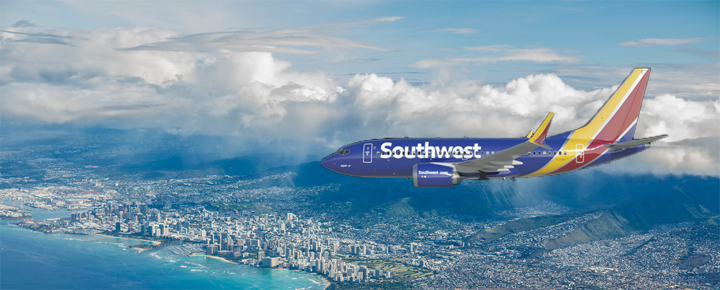 Southwest baggage fees, and several other issues of importance on upcoming Southwest Hawaii flights, have just been revealed. During yesterday's earnings call, CEO Gary Kelly discussed his "portfolio of new ideas." And overall the news is quite good. The company does not plan to introduce any new fees at this time. Their brand was built on specific fundamentals and they do not intend to rock that boat/plane right now.
CEO Gary Kelly said: "I don't think we need to change the essence of what Southwest Airlines is to still find opportunities to drive revenues."
While nothing was mentioned yesterday, we believe there is the strongest likelihood Southwest Hawaii flights will be announced in early August at a travel industry meeting in Honolulu. Beat of Hawaii will be there and cover it immediately. In the meantime, here is what to expect about fees and seats.
1. Southwest Change Fees.
Southwest's change policy is as follows: "In today's fast-paced world, things can change in a moment's notice. That's why here at Southwest Airlines we continue to offer maximum flexibility if you need to modify your travel plans, by not charging change fees. If you need to change an upcoming flight itinerary, you'll only pay the cost in fare difference and will never incur a separate change fee.
Confirmed by CEO Kelly yesterday, "we are not thinking about change fees."
2. Southwest Baggage Fees.
Southwest continues to be an industry stand-out and offers free checked bags! "Southwest allows two (2) checked pieces of baggage per ticketed Customer. Size and weight limitations apply."
Gary Kelly confirmed, "we are not thinking about bag fees."
3. Southwest Seat Assignments.
At this time, Southwest Hawaii flights will not have advance seat assignments. That could come in the future, however, as CEO Kelly indicated that their new reservation system puts them "in a position where we can more realistically think about that." Having said that, however, Kelly also stated "let me be very blunt, we are not looking at assigning seats right now. We are not talking about assigning seats now. And we're not talking about looking at it sometime in the future."
4. Early Boarding.
Instead of seat assignments, the company will continue to offer two early boarding options you should be aware of:
Front of line boarding. "Now you can be one of the first on the plane by upgrading on the day of travel! When available, Upgraded Boarding allows you to secure a position in the A1 – A15 boarding group for just $30, $40, or $50 per flight, depending on your itinerary."
EarlyBird Check-In. "EarlyBird Check-In is a low-cost ($15) option giving you the convenience of automatic check-in before our traditional 24-hour check-in. You'll have the benefit of an earlier boarding position. As an EarlyBird Check-In Customer, you will have a better opportunity to select your preferred available seat and have earlier access to overhead bin storage for your carryon luggage."
Ready everything you need to know about Southwest Hawaii Flights.
Disclosure: We receive a small commission on purchases from some of the links on Beat of Hawaii. These links cost you nothing and provide income necessary to offer our website to you. Mahalo! Privacy Policy and Disclosures.