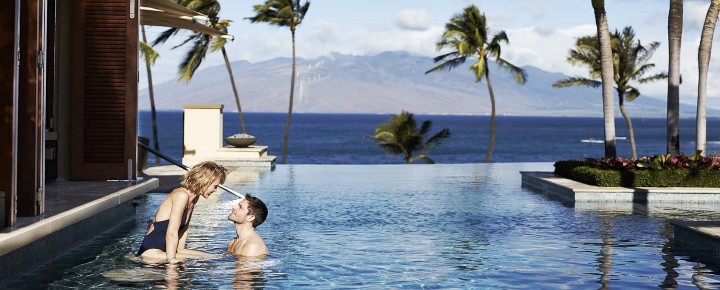 Having heard about it online, we couldn't help but check out the new six-episode Hawaii TV show White Lotus this past weekend. The show was filmed exclusively at the Four Seasons Maui last year.
The White Lotus, a fictional Hawaii resort, and the show by the same name provide a fascinating journey into entirely too privileged and egocentric, high-end Hawaii travel. Visitors stay at White Lotus for various reasons, including honeymoons, rejuvenation, family, and even death. It is a satire on class that revolves around a week in the vacation lives of these status-seeking vacationers.
The show also adds a hint of awareness about Hawaii's current dilemma concerning tourism and how that industry impacts the state overall and some of its less privileged residents.
The first episode in the series opens with an unknown body being loaded onto a Hawaiian Airlines interisland flight. We haven't watched the entire series yet, so we too will be a bit surprised about how that tragedy unfolds.
In the first episode, vile young rich man Shane comes to the manager with his honeymoon bride to complain about their suite. While it is beautiful with a great ocean view, it lacks the plunge pool depicted in the virtual tour his mother had promised when she made the reservation. The focus then becomes Shane's vehement displeasure with Armond, the resort manager, and with his newlywed bride. And that's just the beginning.
Even before that scene, the hotel manager and staff are seen preparing to meet arriving new guests. It is clear then that much will be revealed about the juxtaposition between these uber-affluent guests and the largely struggling staff.
You get the point, that this is a weird twisted tale of dysfunctional, miserable guests who can't be made happy no matter their financial situation or the beauty of the resort and the island.
There has already been much negative feedback about the show. That includes casting of the show, which features only one Native Hawaiian, while still attempting to address Hawaii's colonial history.
With all its foibles, White Lotus is one of the most talked-about shows of the summer. If you like it, you'll be glad to know that HBO has renewed it for a second season. It appears, however, that it will be quite different from the first season, including a new cast set at a different location. In fact, it isn't even going to take place in Hawaii. We hear that it may be the French Riviera. The style will be the same wherever it takes place, with a new resort, new staff, and (mostly) new affluent guests. HBO said, "The next chapter of The White Lotus leaves Hawaii behind and follows a different group of vacationers as they jet to another White Lotus property and settle in temporarily amongst its inhabitants."
Image credit Four Seasons Maui.
Disclosure: We receive a small commission on purchases from some of the links on Beat of Hawaii. These links cost you nothing and provide income necessary to offer our website to you. Mahalo! Privacy Policy and Disclosures.