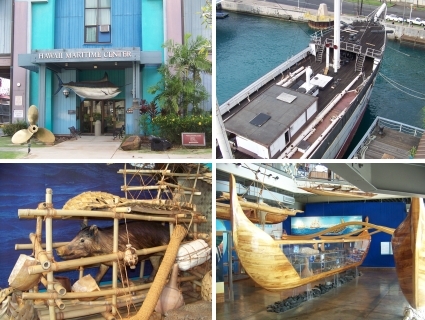 The handwriting was on the wall when we toured the Hawaii Maritime Center in April.  Faced with a bad economy and low visitor traffic, the museum was closing its doors for the last time at the beginning of May.
On our visit there was a somber mood with the final day looming.  We asked at the Information Desk if the closure was temporary as the officials wanted us to believe.  The look on the person's face spoke to a more terminal fate for the museum.
We walked around the displays that celebrate the history of Hawaii from the perspective of the sea, and then climbed to the top of the building for sweeping views of the city and harbor.
Below us (picture at top right) was docked the Falls of Clyde which is the only four-masted, full-rigged ship left in the world.  Built in 1878 the ship first sailed into Honolulu in 1898 and carried sugar between Hilo and San Francisco.  A national historic landmark, its future may have a different ending than the Hawaii Maritime Center.
In 2008, ownership was transferred from the Bishop Museum to the Friends of Falls of Clyde.  With your support this grand dame of the sea will have a new lease on life.