Oprah has been a fixture on Maui, as a part-time resident, for about two decades. The star, sometimes referred to as Maui's queen and one of the island's largest landowners with thousands of acres, has just helped to reignite the love of hiking in Kauai.
It is really something special — the best hiking in the country! — Oprah.
Oprah is now the poster child for hiking in Kauai.
Who doesn't know that Oprah had double knee replacement surgery last year? This week in Hawaii, she boasted that the new knees work while hiking with friend Gayle King.
We were impressed by the 68-year-old's hiking abilities, especially being so new on artificial knees. Both women used hiking sticks to assist them.
Oprah said, "Hey, everybody. On another hike today because it's my new passion. She said, "Here's the big deal" regarding the surgery and her recovery. "A year ago, I had knee surgery. So November of last year, I couldn't walk, period. So I am a [advertisement] for new knees."
We don't know exactly when she had the knee replacements performed, but she said she's returned to hiking as a hiker on Beat of Hawaii's home island, Kauai. Oprah said it was her first time hiking on the Garden Island.
We aren't sure which hiking trail they are on, do you know? They reported it was age and ability-appropriate terrain, albeit 10 miles long, and Gayle said it wasn't a relaxing stroll. Oprah reported, "uphill for 5 miles straight. 10.2 miles round trip." When they reached the summit, they celebrated with lunch. Watching the video, it seems like a security detail is in the background. We were also wondering if the trail might be on private land since the name of the trail has not been released.
Oprah's motto: "The State of Hawaii is the state of health."
This isn't the only hike Oprah has been on recently, as seen from the many clips on her popular Instagram account with 22 million fans.
View this post on Instagram
Some of the best hiking in Kauai starts here.
We'll list some of our favorite day hike treks here on Kauai. Please add your best hikes in the comment section below. Mahalo!
When you think of Kauai, beaches are usually the first things that come to mind. But after that comes hiking in Kauai, and for a good reason. Some of the best hiking in Kauai will give you access to unforgettable experiences not available in any other way. From lush rainforests, steep peaks, and lava tubes to leisurely walks in nature, it doesn't get better. The options are limitless, making them accessible to most people.
Here are some of our favorite hikes in Kauai. The first trail your editors hiked recently for the second time in 2022 on Christmas Day. Obviously, it never gets boring.
We use All Trails which has great information on the various trail from its users.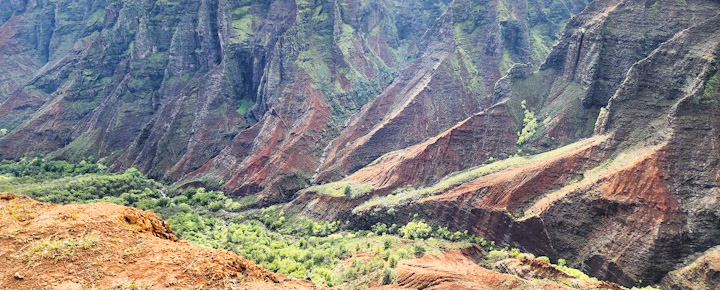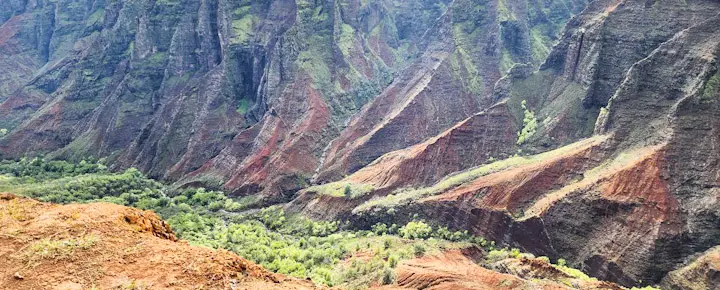 Waipoo Falls Trail, Waimea Canyon State Park – If it's been raining, the Canyon trail to Waipo Falls can be even more challenging. But generally, it's rated moderate and is doable for most people in good shape. The view at the end is stunning as you're on a plateau in the canyon's center. From there, you can hike down to the top of the waterfall. Be sure you wear hiking boots or shoes (no sandals).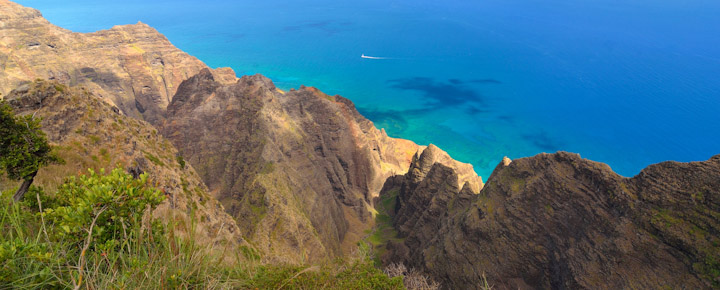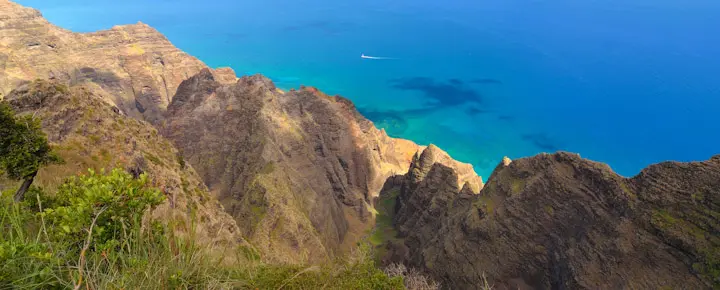 Awawapuhi Trail, Kokee State Park – A challenging hike for the experienced hiker in very good shape. On the awa'awapuhi trail it's three miles down to a cliff point and an unrelenting 3 miles back to the top with significant elevation gain. We  always think, "when will this trail end," on the steep incline on the way up. Most of the trail is shaded until you are in the lower half and reach the end, with spectacular ocean views of the Na Pali Coast.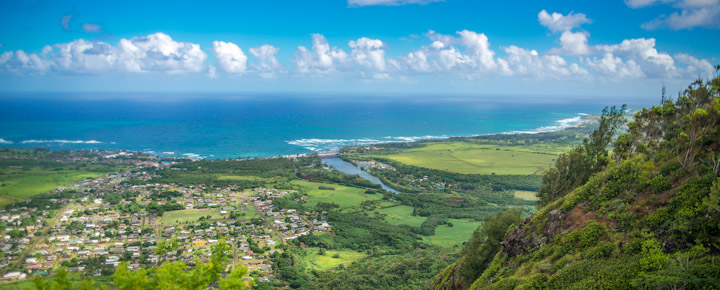 Sleeping Giant Trail, Kapaa – A moderate hike but more of a workout than the Waipoo Falls trail. The last two hikes began on a downward slope. For Sleeping Giant, also called Nounou Mountain Trail, it's reversed, and you start by hiking up. At the trail's midpoint, there's going to be a point where you're not sure if you go right or left. Go right (left will have you climbing the face of the jungle-laden mountain), but you'll need to traverse over one steep area. There are picnic tables near the top. You'll have another view to remember of the ocean and town of Kapaa below. That's why the trail is known as the 'Sleeping Giant' hike of Kauai. The giant's body is visible from anywhere in Kapaa. There is a local legend of the giant who overate, fell asleep and never awakened. The trail starts in a nice tree tunnel. From there, it becomes more difficult as it ascends. The trail can be muddy.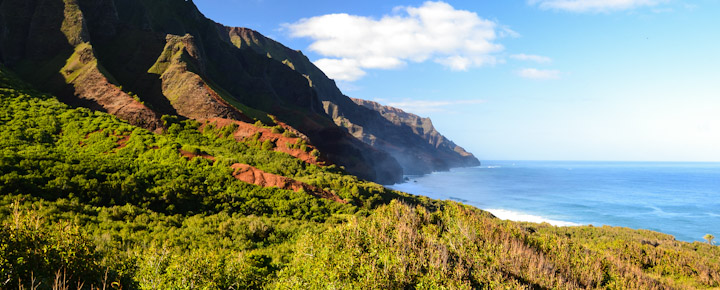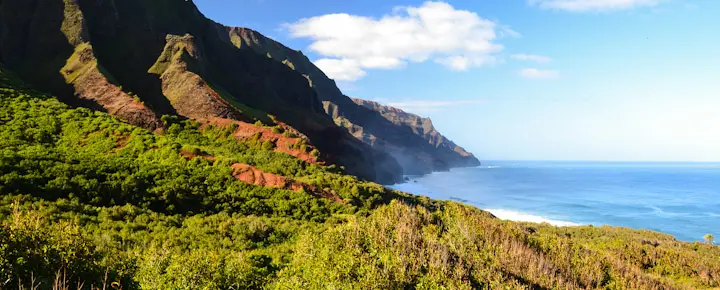 Kalalau Trail from Kee Beach to Hanakapia Beach – Even if you hike only a half mile, you'll be treated to unforgettable ocean views on this epic north shore coastline trail that leads to Hanakapiai Falls on the way to Kalalau Beach and the Kalalau Valley. No trail permit is required for the first two miles, but you'll need a parking permit for Kee Beach. Reservations open 30 days in advance. This is a moderate to above moderate hike that's best for those in good condition. It can become dangerously slippery.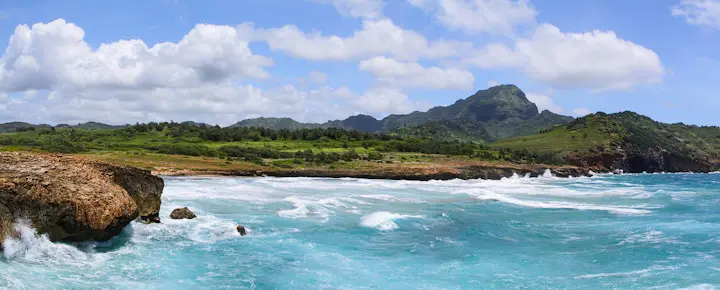 Mahaulepu Heritage Trail at Poipu – This trail is primarily oceanfront and starts at Shipwreck Beach. It's a trail that most people can take regardless of physical conditioning. It's mostly flat, although there are a few places you can hike out closer to the ocean. You'll follow the ocean to Mahaulepu Beach, and you can stop at a cave along the way. The gravel and rock trail is 3 miles long each way, but you can walk a shorter distance and then turn around. There are lookouts all along the way, and the landscape is spectacular.
There are many other favorite hikes on Kauai, including the Alakai Swamp Trail, The Wai Koa Loop Trail, The Kalepa Ridge Trail (now closed), the Kuilau Ridge Trail, The Pihea Trail, Honopu Ridge Trail, and on and on.
Note: Use of the term hiking in Kauai rather than hiking on Kauai is intentional.