When Oprah does anything, people notice, including Howard Stern. And so, following nearly two decades of part-time living in upcountry Maui, the TV mogul made news for purchasing another 870 acres of land. For this ag land acquisition, she reportedly paid $6.6 million. She also did two other small land purchases last year, bringing her total ownership to about 1k acres on Maui.
Today, unrelated to Oprah, another spectacular nearly 3,000 Hawaii acre property also traded. See more on that below.
The debate about whether it's a good thing or a bad thing? It depends on who you ask.
Residents, officials, and others are all questioning whether Oprah acquiring more precious Maui land is beneficial or does it displace residents, including native Hawaiians. And we welcome your thoughts in the comments.
For one, Maui councilmember Yuki Lei Sugimura said that Oprah should be commended for keeping most of her Maui land holdings undeveloped and hiring residents to do work. On the other hand, the council member pointed out that too many invasive wild pigs and axis deer are present on the property, which will need to be addressed by Oprah.
Another official, Hawaii senator Lynn DeCoite said, "I wish we had more people like her." That comment was in relation to the fact that Maui has been swamped with overdevelopment and tourism.
Another talk show host, Howard Stern, however, outspokenly criticized Oprah and accused her of being braggadocious:
I make a good living and have trouble watching Oprah. I go, wow. Look what's going on over there. Her estate is unbelievable. When she goes shopping, she goes shopping in her backyard, cause everything is growing back there. — Howard Stern.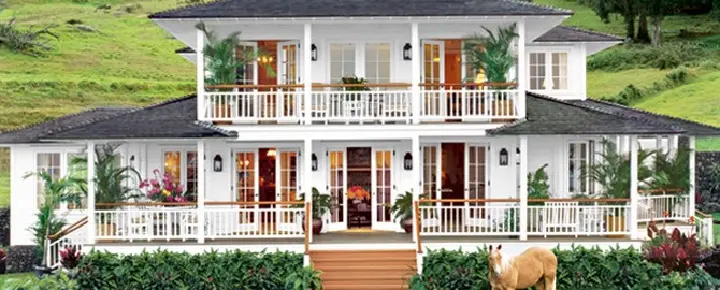 Is a much bigger Oprah land grab in the works?
A massive property, the most significant currently for sale in Hawaii, sits next to Oprah's current Maui land holdings. It is offered for $75 million, which, while expensive to us, is probably nothing to Oprah. It leaves us wondering why Oprah hasn't picked that up yet. Could it be related to political correctness and timing, or is she simply disinterested?
The 3,600-acre Hana Ranch (featured image) came on the market last year and appears still for sale. It is adjacent to Oprah's property.
Currently a working ranch with more than 1k cattle, it is owned by a Denver capital company that purchased it eight years ago for a paltry $9 million before investing $17 million more to upgrade it. According to the owner, the land is used for regenerative technique experiments in Maui's tropical climate.
As it stands now, it would theoretically be possible for up to 37 homes to be built on the developable portion of that property. On the other hand, the current buildings are minimal, with a 1,800 sq. ft house, offices, and stables. It features private walking trails, which would seemingly be right up Oprah's hiking passion alley, and fruit orchards.
The seller said that for any sale, approximately 125 acres would be gifted to Maui County for affordable housing development.
Zuckerberg, Ellison, and Bezos are other Hawaii landowner stars.
Among other notable property acquisitions in Hawaii, these three stand out for their notoriety, scope, and expense. They include:
1. Zuckerberg's 1,500 acres on Kauai set Facebook's founder back some $170 million.
2. Larry Ellison's ownership of nearly the entire island of Lanai. Almost three years ago, the Oracle kingpin bought it from Castle & Cook at about one-half billion dollars. That included two world-class Hawaii resorts with 30 miles of paved roads and 141 square miles of land. Ellison is in the process of turning Lanai into an eco-friendly agricultural island.
3. Jeff Bezos's small but fantastic property is one of the most beautiful spots on Maui. The Amazon founder purchased his La Perouse Bay property near Wailea two years ago to make Maui his part-time home. It cost Bezos some $78 million.
Today's news includes a $36.5 million Hawaii land sale.
It is being reported today that North Shore Oahu's 2,740-acre Dillingham Ranch has just been sold after being on the market for some time. We aren't yet aware of who the buyer is. That piece, which has been used for filming movies and TV, also features a 19-acre oceanfront parcel with more than 1,100 feet being directly oceanfront. It is vast and goes all the way to the ridge of the Waianae Mountains.
Do you have a take on rich and famous Hawaii's latest property buys?