You have to wonder what it was about La Perouse Bay that caused Amazon's Jeff Bezos to drop, what may be for him a measly $78 million, on a new house there. That was a record-high price for the Valley Isle, topping the prior high price by some $30 million. So now you know where Bezos will be hanging out when he isn't headed into space.
The Amazon founder and his partner Lauren Sanchez have taken sides with the rich and famous Hawaii billionaire club on Maui. He's there with Oprah, while Mark Zuckerberg is found on Kauai and Larry Ellison sits top remote Lanai.
The deal closed this summer, although details of the sale were only reported this week. Putting it together was complex,  wherein Bezos bought the company that is the owner of the land, rather than buying the property directly. It has been reported that Bezos had been long-planning the Maui real estate buy, inasmuch as he recently donated to the Hawaii Land Trust associated with Maui environmental conservation. He also contributed to Maui's Habitat for Humanity in what was termed a generous personal donation.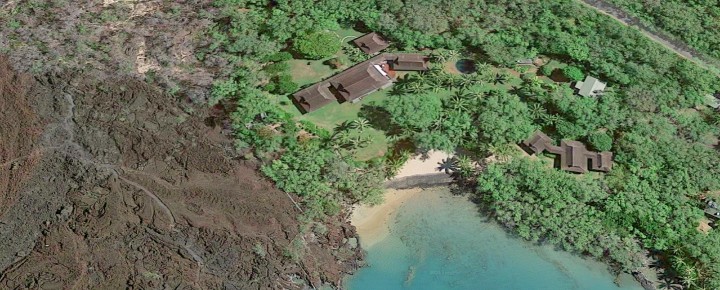 The appeal of La Perouse Bay.
Secluded La Perouse Bay (French name) is also called Keoneoio Bay (Hawaiian name). It is not far beyond Wailea, another playground of wealthy Maui visitors. It is just south of the Ahihi-Kinau Natural Area Reserve, home to fish and other marine life. It is also an area with salt pans, heiau, and fishing shrines. La Perouse is as far south as you drive. The area is rugged, and it is typically dry and hot. It offers great snorkeling along coves at the northern section of the bay for those experienced and there is coastal hiking.
The new Bezos oceanfront estate is remote and isolated. It's perched on the southwest corner of Maui, on about 14-acres, just beyond the renowned South Maui beaches. As seen in the Google Maps photo, a lava field sits nearby.
The property has been called the Carter estate and comprises 7 parcels of contiguous land and part of an ancient Hawaiian fishpond.
Last sold for $4.2 million in 1996, the property is epic. The main house consists of 4.5k square feet, a 1.7k square foot guest house, plus other buildings and a large, 700 square foot round swimming pool.
There are few photos of the estate because it has not previously been on the real estate market.
Apparently this won't be Bezos' last purchase on Maui. He is looking at further island acquisitions too.