Bezos already disrupted the vacation rental industry as an early investor in Airbnb more than a decade ago before anyone had ever heard of it. Now he's looking at doing the same with Arrived Homes. The Maui estate owner has turned his Midas touch to fractional vacation rental homes, including Hawaii. This is a new take on Pacaso, with some major differences between the two that we'll talk about.
The Amazon founder is not new to Hawaii. He had the foresight to move here and get positioned at arguably one of the most beautiful spots on Maui. Bezos closed on the La Perouse Bay location not far from Wailea to make Maui his island home last year.
Bezos invests in Arrived Homes – Fractional vacation rental homes from $100 to $10k in initial investment.
A new way to be part of Hawaii is fractional ownership in single-family rental properties. We first reported on this topic last year with Pacaso. The company Bezos is investing in is Arrived Homes. Bezos was an early participant in its funding round last year, which invested $37 million in seed money and then in another $25 million recent round. Arrived Homes says investment opportunities for those of us not in that billionaire category range from $100 to $10,000 in ownership. In Hawaii?
Arrived Homes is entering the short-term vacation rental marketplace. This is so new that it's not yet reflected on their website. Arrived Homes is amassing properties that they will rent out via Airbnb in the next 90 days. There's a lot we don't yet know and it remains to be seen if your investment might include any nightly stays, or discounts thereon, whereas, with Pacaso, you do have that ability. Also, who will be managing and maintaining these new vacation rental listings?
Arrived Homes is so popular that it is hard to get in on their rental home investments.
It comes as Airbnb just hit its highest profits ever. Bookings in the quarter of over 100 million nights, which was up 25% compared with 2021.
When Arrived Homes added a batch of 12 long-term rentals to their website, they reportedly sold out in 8 minutes. To our knowledge, no Hawaii vacation rental properties have made it to Arrived Homes yet. But they're coming.
Maui's Bezos bets against higher-end fractional Pacaso.
We first learned of Arrived Homes competitor Pacaso earlier this year. It was a name previously unknown to us. Pacaso, launched in 2020, buys homes, then sells them via membership in an LLC to those interested in a new kind of Hawaii fractional ownership. They have had a series of Hawaii listings, although only one is currently listed on Maui (see below).
Pacaso's website says it is "Co-ownership, simplified."
They manage the home, and you own part of it. It's the modern way to buy and own a second home. The innovative startup was launched last fall by prior executives from real estate Zillow. Pacaso buys properties and then sells second-home buyers' shares in them. This isn't traditional fractional ownership, where you might buy one, two, or more weeks annually. Instead, Pacaso properties are being split between eight or fewer owners, depending on the situation.
While forming an LLC to own property between already connected individuals is nothing new here in Hawaii and elsewhere, what's different this time is that the owners do not know each other. Pacaso operates in 30 regions worldwide, where it owns and manages homes.
Disruptor Pacaso comes to Hawaii.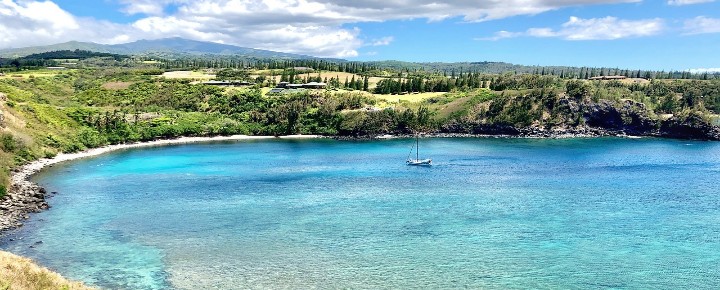 This spring, Pacaso announced that it was selling shares of its first Hawaii second-home, a Kapalua, Maui condominium with spacious bedrooms and breathtaking views of the Pacific Ocean, featuring spectacular sunsets. The cost of ownership of this beautiful unit near championship golf courses not far from the historic town of Lahaina and Kaanapali Beach was $1.45M per share, based on a maximum of four owners participating.
Pacaso has said it will not disrupt the mid-priced Hawaii real estate market since it will only acquire Maui homes with a value above $4 million. Such was the case with the home near Montage Residences Kapalua Bay. Pacaso currently has one available listing on its Hawaii property page: a $7.5 million home. It is being sold in 25% shares at $1,886,000. It looks as though the remaining prior listings were sold.
Pacaso and Arrived Homes aren't alone in this new luxury home fractional membership.
Another company we learned of had been working in the lower end of the market. Cohana Homes previously listed three Maui homes that were fractional residences from $958K to $3.3M, which appear to be sold in a similar fashion to Pacaso. The apparent difference is that Cohana operates at a much lower end of the Maui real estate market than Pacaso.
When we returned to check their Hawaii listings today, however, we found that there were none.
Hawaii residents are worried as home prices continue to skyrocket.
The issue has residents and the government taking a second look. A Maui council member indicated they have received complaints and are looking into the legality of it all.
The cost of homes, primary or secondary, has been soaring in Hawaii. We just heard of another multi-million dollar Kauai luxury home being sold at well above the asking price, sight unseen, by mainland buyers, without any inspection-related repairs or contingencies. What's happened is that investors from the mainland often outprice Hawaii residents.
Hawaii is learning by example as Pacaso hits headwinds across the country.
Others vacation destinations, including Long Island, Santa Barbara, and Palm Springs, among others, are struggling to control Pacaso, calling it another form of a timeshare. Then in Northern California, the tourist town of St. Helena banned Pacaso after the company and city had been in court for the past year to determine whether the city's ban on timeshares applies to Pacaso.
There, outspoken neighbors who oppose Pacsco wanted to preserve their communities and prevent other unwanted aspects of what they deem short-term stays. Neighbors said in planning commission testimony that they suffer from "the intrusions that living adjacent to a hotel bring."
Pacaso says its homes are not any form of a timeshare. A Pacaso representative also said of their co-owners, "these are people who want to invest in our community. It's not taking away housing stock either." They say further that having the vacation home occupied year-round brings more ancillary income to the community.