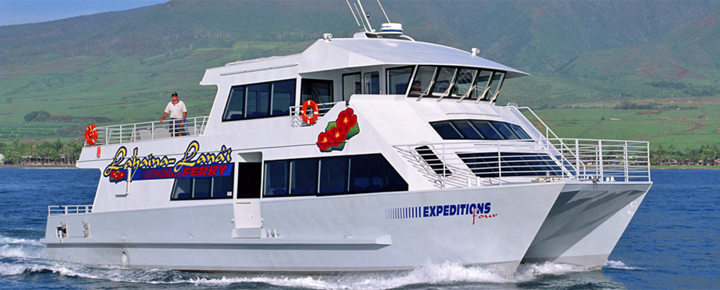 Both the Lanai ferry and Molokai ferry offer a day on the sea and a chance to easily include another island when you visit Maui. Skip the hassle of airport check-in and security. Both Hawaii ferry rides offer fantastic photo opportunities and a chance to see humpback whales in season. At each island you can include a land tour or car rental for the day.
Lanai Ferry
The Lanai Ferry, pictured above, operates across the Auau Channel 5 times daily on the 1 hour route between Lahaina and Lanai. It's a comfortable and fast alternative to flying, and a Hawaii vacation deal too at only $30 for adults and $20 for kids each way. We've tried the Lanai Ferry multiple times and love it. There's also a shuttle from the dock to Lanai City for $10 each way.
Molokai Ferry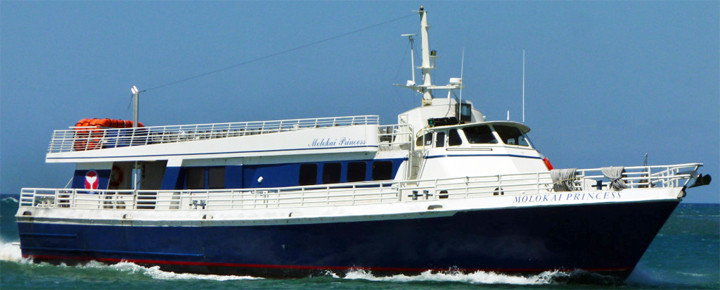 The Molokai Ferry now operates just once daily on Tuesday, Thursday, Friday and Saturday. For $60 per person each way, you'll spend 105 minutes on a ride that many have reported can be very rough. Once you arrive at Kaunakakai, you'll have Molokai tour options including day tours, and self-drive.
History of Failed Hawaii Ferry Ventures
Did you know that long before the failed Hawaii Superferry even became a dream, there existed a high speed Hawaii ferry service between the islands? It started in 1975 and used a Boeing 929 Jetfoil boat named Kamehameha. The service, originally envisioned as operating between Honolulu Airport and Waikiki was subsequently switched to an inter-island Hawaii ferry.
A Hawaii ferry system continues to be a dream for those of us reliant on air transportation for simple things including shopping and medical appointments.
Hawaii Ferry – SeaFlite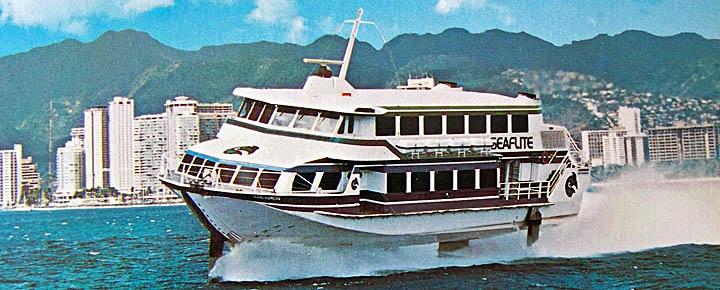 Two other boats were added to the original and the service  ran for 2 1/2 years, ending in January 1978. The owners abandoned the service due to financial problems and the boats were sold into service in Hong Kong.
SeaFlite operated 12 runs daily in its hay day at a cost of $20 one-way.
Seasickness presented a severe problem on the boats, which were touted as being smooth sailing since they theoretically skimmed above the waves. Other problems included a fire aboard one of the vessels, and a crash into a Coast Guard vessel. The boats also suffered lack of reliability and sailings often got cancelled. There was a persistent concern about harming Hawaiian humpback whales, although no problems actually occurred as far as I'm aware.
Two other attempts were later made to restart the service using upgraded Boeing 929-115 in 1978 and 1979, but neither effort got off the ground.
Hawaii Superferry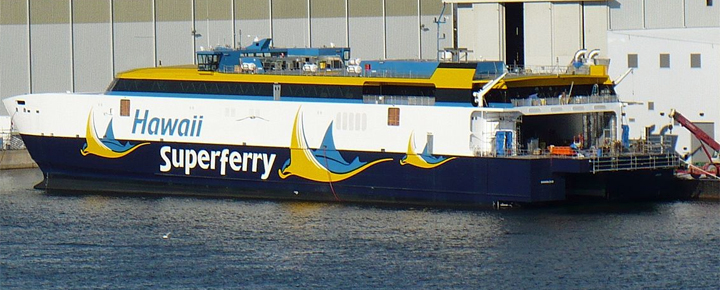 The Hawaii Superferry, the most recent Hawaii ferry, started operations in 2007 and lasted less than 18 months. The aluminum catamaran featured a vehicular drive-on, drive-off ability, and is used by the military. Superferry could transport up to 866 passengers and 282 cars. During its short existence, it remained mired in issues which included a lack of an environmental impact study, fuel guzzling size and weight, and perennial problems with seasickness.
Disclosure: We receive a small commission on purchases from some of the links on Beat of Hawaii. These links cost you nothing and provide income necessary to offer our website to you. Mahalo! Privacy Policy and Disclosures.