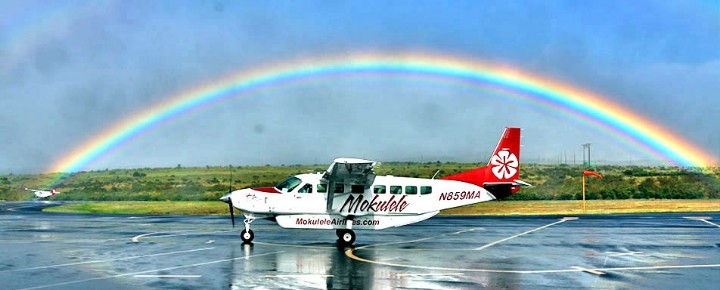 The little airline that could is still moving up. We wrote about both Mokulele and the company they are merging with recently in the post Airlines of Hawaii | How Many Do You Remember?
Among its distinctions that include amazing and unparalleled sightseeing opportunities as they fly much lower than jet aircraft, Mokulele will be the only carrier serving Kauai's Princeville Airport. Mokulele has codeshare agreements with both American and Alaska Airlines.
Makani Kai Air and Mokulele are merging starting June 15, when Mokulele will become the business' public entity and the place where all bookings will occur. That, after the merger was announced last week and is scheduled to complete later this summer. Both carriers fly the same Grand Caravan aircraft while Makani Kai also flies Piper Chieftain planes.
As a result of the merger, a new route will be added, from Honolulu to Lanai. Other Mokulele/Makani Kai routes also include Honolulu, Hoolehua and Kalaupapa (Molokai), Kapalua, Kahului and Hana (Maui), and Waimea, Kona (Big Island) and Princeville (Kauai). In Honolulu, Mokulele flies out of terminal three, on Aolele Street.
Mokulele Airlines is based at Kona and operates both scheduled and charter flights between Hawaii airports using Cessna Grand Caravan aircraft. The company has been in business a quarter-century and has an interesting past. Last year, Southern Airways acquired Mokulele. Makani Kai is Hawaii owned and has been in business for over two decades.
Disclosure: We receive a small commission on purchases from some of the links on Beat of Hawaii. These links cost you nothing and provide income necessary to offer our website to you. Mahalo! Privacy Policy and Disclosures.