You may have heard that one of our favorite ways to get around Hawaii, Mokulele Airlines, is upguaging its fleet once again. And this time it is for real.
We can't keep track of Mokulele fleet changes.
This time, however, don't look for the 767s they once actually envisioned for flights to Illinois and London (don't ask). Or even the Beechcraft 1900D fleet they had planned as recently as last year. Or the ever-so-elegant Embraer 170 jets (pictured below) they had some dozen years ago. Rather, this is a logical and humble addition of 28 passenger Saab 340s into their existing fleet of eleven nine-passenger Cessna Grand Caravans. We've previously shared what we like about Mokulele, its attitude, and its unique low-altitude Hawaii flightseeing.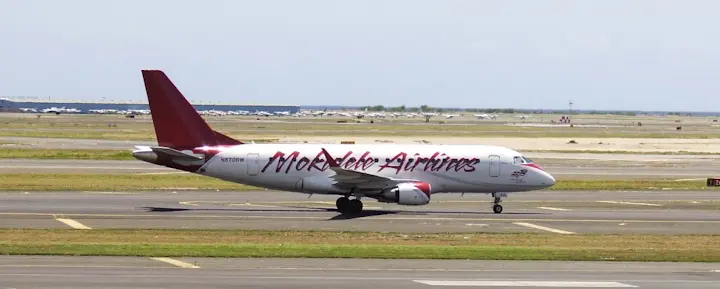 This pleasant addition is a certainty for Hawaii visitors traveling to Lanai and Molokai.
The two new aircraft will be onboard later this summer. Its first new plane is here and started appearing on flights to Molokai last week, and the second one is still awaiting delivery, The full schedule for the new planes is due in September, although you may well see them beforehand.
Mokulele, a part of Southern Airways, will use the planes for their most popular traveltimes, allowing them to serve more than three times the number of passengers. They serve HNL, both Maui airports, and three on Big Island, Molokai, and Lanai. The only island not served is Kauai.
Mokulele has further plans, too, "Things like making the ramp work instead of walking up the stairs, little details like seat belt extensions, children's life vests, how to handle luggage in that volume, now we need tug and carts to haul luggage, that requires station people training, ticketing, boarding passes, seat assignments, lots of little details, so we're going to practice with some other guys first."
Note that when you book on the Mokulele website, they will make clear which aircraft you are booking. One negative is that the new planes have more limited carry-on space. Mokulele said, "The smaller plane has a lot more seat and leg room. There is an overhead compartment, but most of your purses wouldn't fit, opening is about six inches. On the floor, under your seat, maybe 12x12x12 would fit. What you could carry on the small plane, you will probably not be able to carry on the big plane." The new aircraft is, however, ADA accessible.
About Mokulele Airlines.
The airline is based on the Big Island at Kona and operates scheduled and charter flight services between Hawaii airports using eleven Cessna Grand Caravan aircraft and now two Saab340.
Mokulele started in 1994 when it was founded by a Native Hawaiian, Rebecca "Kawehi" Inaba. Bill Boyer, of Alaska Airlines DigiPlayer fame, acquired it in 2005. Then two years later, it started flying in a partnership with Mesa Air. In 2008, Mokulele partnered with Republic Airways and even had these beautiful Embraer 170 jet aircraft for a time. Republic became involved in 2009 when it acquired 50% of the company before its remaining acquisition in 2019.