Today is day four, following what will long be remembered as the mangled Hawaiian Airlines' reservation system upgrade to Amedeus from Sabre. We're happy to report that the situation is much better today, which is excellent news for everyone. However, as you'll see below, work remains to be done.
In the end, while 830 flights were delayed, it went far beyond that, and the impact on those traveling, the airline's staff, and the company's finances were enormous. We don't know yet if the magnitude of this event will come under the purview of the Department of Transportation if for no other reason than a large number of delayed flights.
Many, if not most, passengers were caught entirely unaware, as we were, about the upgrade event occurring. No one, likely including Hawaiian, was aware that the problems would be so severe – stopping all website and app reservations for days and preventing check-ins, among other things. We'll surely learn more about what actually went wrong soon.
When Southwest had its nationwide meltdown last December, it was of a vastly different nature and size, impacting tens of thousands of flights. Southwest, which is some ten times larger than Hawaiian, did not have the technology and other resources to manage the issues that escalated rapidly from a horrendous weather event into a nationwide shutdown for the airline. On top of that, last week, Southwest had a mini-meltdown when a software firewall failure led to a brief nationwide ground stop. Southwest's lack of investment in appropriate technology has been repeatedly called out as the core of its problems.
Lack of appropriate technology investment certainly isn't the case at Hawaiian. In any event, however, what's most reminiscent is how quickly things can spiral out of control, even at companies like these two airlines, which are behemoths of the travel industry. And that when things do go awry, travelers can suffer greatly.
As of Saturday evening, April 22, Hawaiian's issues are far fewer.
Earlier today, their app started working again after being inaccessible since Wednesday. This morning, for example, when BOH checked on a flight next week using the app, the reservation could not be found, whereas a previously canceled flight reappeared as an active reservation.
The Hawaiian Airlines' website is also working again. We were able to make new reservations and also retrieve existing reservations.
Hawaiian Airlines flights cannot, however, be found on Google Flights. They disappeared from the essential flight portal, which is not fixed as of Saturday evening. If you start your flight searches on Google Flights like many other people, and we do, you will notice that their flights are noticeably absent, per the image below.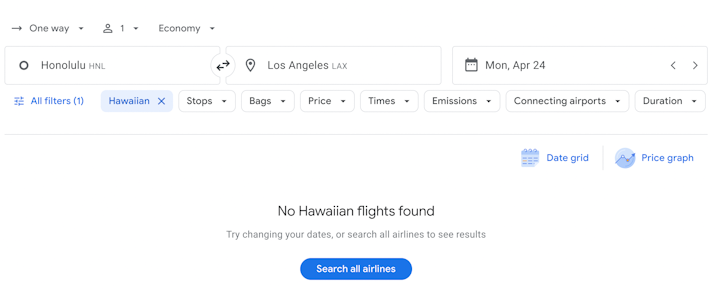 830 Hawaiian Airlines flight delays since Wednesday:
What is most apparent is that the number of delays is now less than half of what it has been over the past few days.
1. Wednesday, 4/19. (251 flights delayed).
Honolulu: 127 flights were delayed, or 83% of all flights.
Maui: 61 flights were delayed, or 82% of all flights.
Lihue: 33 flights were delayed, or 89% of all flights.
Kona: 30 flights were delayed, or 78% of all flights.
2. Thursday, 4/20. (259 flights delayed).
Honolulu: 131 flights were delayed, or 67% of all flights.
Maui: 61 flights were delayed, or 67% of all flights.
Lihue: 33 flights were delayed, or 68% of all flights.
Kona: 34 flights were delayed, or 72% of all flights.
3. Friday, 4/21. (229 flights delayed).
Honolulu: 108 flights were delayed, or 55% of all flights.
Maui: 61 flights were delayed, or 67% of all flights.
Lihue: 30 flights were delayed, or 62% of all flights.
Kona: 30 flights were delayed, or 78% of all flights.
4. Saturday, 4/22. (91 flights delayed).
Honolulu: 47 flights were delayed, or 25% of all flights.
Maui: 23 flights were delayed, or 27% of all flights.
Lihue: 14 flights were delayed, or 31% of all flights.
Kona: 7 flights were delayed, or 15% of all flights.
Here's what happened From Wednesday through Friday.
Booking tickets online remained unavailable, and the call center was overwhelmed with calls.
Confirmation codes changed, and the old ones ceased working on all platforms.
Flight check-in online and at airport lobby kiosks stopped.
Check-in was only via an airport agent.
Changes to reservations were not available online. Hawaiian said, "To make changes to existing tickets after April 19, 2023, please contact our Reservations Department. We will be implementing new, enhanced self-service flight changes on our website and app in the future."
Fare holds ended abruptly. The ability to hold a reservation has been suspended.
Saved credit cards disappeared. After April 19, 2023, any existing saved payment methods will not transition to our upgraded system."
App Saved Travelers disappeared. "The ability to select travelers saved to My Account will be temporarily unavailable."
Companion fare offers became unavailable. "discount code via email instead of through the HawaiianMiles member dashboard" are due to be sent out soon. We haven't received them thus far.
Today the red warning banner that had topped the website changed from red to purple. You can read their latest update on the situation here.
Earlier warning:
"Scheduled system outage: April 18-19
Our scheduled system outage is complete, but booking new tickets on HawaiianAirlines.com or on our mobile app is not yet available as we bring our systems back online. You may book new tickets through your preferred online travel agency.
We are also experiencing intermittent errors with check-in on our website. For best results, you can use the mobile app to check-in for your flight or see an agent at the airport.
Our contact center is experiencing high call volume, and you may experience longer than normal hold times. Thank you for your patience and please click here for more information on our technology upgrade."
Hawaiian Airlines' Facebook page went silent for two days.
Its typically busy Facebook page went silent from Tuesday at 11 am until Thursday afternoon. Perhaps more significantly, there was never an announcement of the forthcoming upgrade on their Facebook page.
Comments included the following:
"Are you joking! 4 hours yesterday, 2 hours in first class line, with each customer taking 30 minutes plus…only 2 agents and the line 40 deep…because you did your training in January and had no assistance yesterday from the software company that provided the new software; the agents were searching through training manuals to try to figure out how to work the new software and…when everything went to hell, nothing but crickets. This was completely avoidable, and all of us who had to endure should get Compensated. Reminded me of the Southwest fiasco.
"Same happened to us. Everyone on our flight "lost" their seat assignments due to the system change and were reissued seats at random. This broke up many families who had paid the extra cost to select better seats together over 9 months ago, yet were not compensated. We sat on the tarmac for 2 hours yesterday while the poor ground crew and flight crew did their best to get everyone a seat… To add insult to our injury Hawaiian lost our luggage (along with everyone else who started their journey in Kauai) despite the hours long delay at the gate on our second flight.
"20-year Platinum member. Aloha is gone from HA. They don't care anymore."
"Shame on you Hawaiian Airlines. We can't book online or via the app and yet you give us no updates as to when this issue will be fixed. Just called to book my flights and waited for 52 minutes, only to result in someone picking up the line, then hanging up. Terrible, terrible, terrible. I know this is unforeseen, but at the very least, keep your customers updated on the progress so we're not wasting our time."
"I saw the chaos firsthand at Kahului (OGG) on 4/20/2023. I completed my work assignment earlier than expected and decided to switch to an earlier flight back to Honolulu, which has Never been an issue in the past. While waiting in the Guest Services line, I watched 4 people (3 HawnAir employees and 1 Amadeus employee) hovering over one PC trying to figure something out. Meanwhile, the line is getting longer. Fortunately, HawaiianAir representative at the "Bag Drop" counter waved me over and got me switched to an earlier flight, which ended up being delayed 90 minutes. Good thing I got on that flight, though, because my original flight out was cancelled at the last minute. Time to switch to Southwest?"
Why Hawaiian moved from Sabre to Amadeus.
Hawaiian joins other tech-heavy airlines, like Etihad, which seemed to have rather seamlessly completed its move from Sabre to Amadeus last month. Other Amadeus customers include British Airways, Singapore Airlines, Qatar, Lufthansa and Air France/KLM. You may recall that Southwest Airlines also moved to Amadeus about five years ago.
How were you impacted this week by the Hawaiian Airlines software problems?