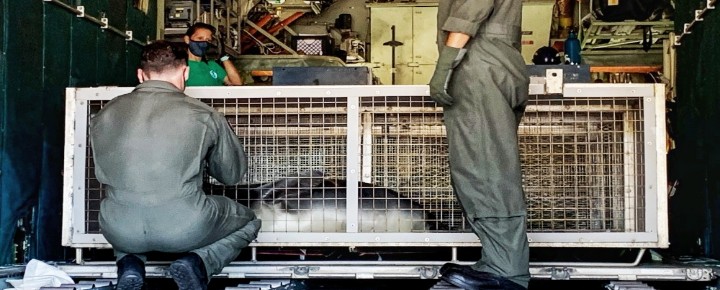 A first class flight rescue mission took place yesterday to fly four endangered Hawaiian monk seals over 1,300 miles to Midway Island. That was courtesy of the US Coast Guard 14th District, NOAA, and The Marine Mammal Center. The four females had been in rehab at the animal hospital on the Big Island until they were evaluated for release.
"To return four female Hawaiian Monk Seals to their ocean home is an incredible success story and a significant boost to an endangered population where the survival of every individual is critical." Dr. Cara Field, Medical Director, Marine Mammal Center.
Midway Atoll National Wildlife Refuge is located over 1,300 miles northwest of Honolulu. and is a sanctuary for seabirds as well as five dozen Hawaiian Monk Seals. In the past 13 years, more than 50 Hawaiian monk seals from across the islands have been released there via Coast Guard air transport.
These seals, Hilina'i, Leimana, Make Kilo, and Ka'ena were rescued because wildlife officials did not think they would survive given their small size among other factors. They spent 10 months in rehabilitation battling health issues, including malnutrition. Some tripled in size with care before their release.
NOAA rescued the seals in the Northwestern Hawaiian Islands last year. Veterinarian Michelle Barbieri of NOAA said, "They had a near-zero chance of survival if left in the wild, but this effort has given them a second chance."
The Monk Seal pups flew on a Coast guard HC-130 Hercules aircraft pictured above. The crew conducted multiple safety briefings and precautions to ensure the safety of the human and monk seal passengers. CDR Pilot James Morrow said, "We take pride in the opportunity to assist our partner agencies like The Marine Mammal Center and NOAA in recovery efforts of endangered animals."
Lead photo Benjamin Berkow, USCG District 14 Hawaii Pacific. HC-130 photo courtesy of Lockheed-Martin.
Disclosure: We receive a small commission on purchases from some of the links on Beat of Hawaii. These links cost you nothing and provide income necessary to offer our website to you. Mahalo! Privacy Policy and Disclosures.