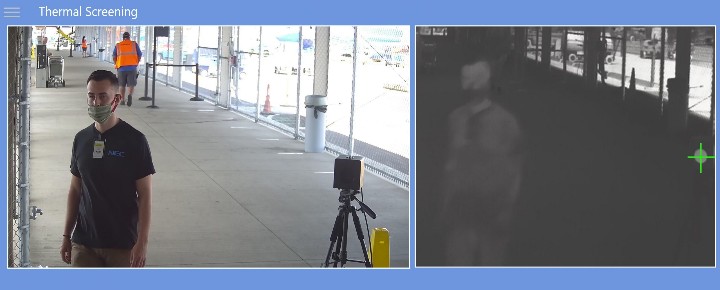 The State of Hawaii announced that it has rolled out the third phase of their project, which combines facial biometrics with thermal screening at Hawaii airports. The state did this in conjunction with technology partner NEC. Now you may get more than a lei greeting on arrival.
Announced in August 2020, the latest phase included installing biometric facial imaging technology so that airport officials can identify then notify passengers who have higher than normal body temperatures.
A couple of observations. First, we've experienced thermal screening for years, going back to the SARS days. But this is new technology incorporating cameras. Also, it comes as you exit the plane, which is great. But what about the fact that the person pulled aside with an elevated temperature was sitting with scores of passengers for more than five hours?
NEC said that the images aren't associated with personal or identifiable information, that they are being deleted within 30 minutes, and are not shared with any other agency.
Governor David Ige said, "Hawaii continues to implement proactive measures in response to the pandemic, and this is one part of a multi-layered process designed to protect the health and safety of the community by helping prevent the spread of COVID-19. In addition, utilizing technology like the thermal temperature screening and facial imaging equipment will also add efficiency to the passenger verification process and bring Hawaii closer to reaching the new normal at our airports."
The systems went into operation at the five Hawaii airports which receive trans-Pacific flights earlier this year. The technology is expected to be far more effective than performing manual temperature checks.
The Hawaii Department of Transportation (HDOT) Airports Division said it will now be able to determine which passengers have a detected elevated core body temperature of 100.4 degrees and higher, a common symptom of COVID-19.
Thermal screening cameras are now installed at all arrival gates. Passengers with elevated temperatures will have their photos taken. That image is available for airport personnel to identify and contact the person within the airport terminal. If a second check confirms the heightened temperature reading, the passenger will undergo additional screenings.
The anonymity of images.
Images collected are to be in no way connected with any personal information, including name, address, identification, etc. Those without elevated temperatures will not have any images taken.
ACLU not so sure.
When this was announced last year, the American Civil Liberties Union of Hawaii suggested the program "hit the brakes." They are concerned about the potential for abuse of the collected information.
At that time, the ACLU Hawaii said, "While we understand the urgent need to fight the spread of COVID-19 and safely reopen Hawaii's economy, indiscriminate and rushed use of FRT—particularly without adequate regulations, transparency, and public discussion—is ineffective, unnecessary, rife for abuse, expensive, potentially unconstitutional, and, in a word, 'terrifying.'"
Image courtesy of NEC. 
Disclosure: We receive a small commission on purchases from some of the links on Beat of Hawaii. These links cost you nothing and provide income necessary to offer our website to you. Mahalo! Privacy Policy and Disclosures.