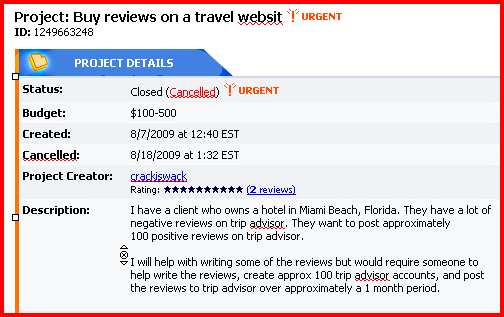 Consumer beware.
Hospitality marketing firms are promoting their ability to concoct systematic fake reviews to improve a hotel's rating and lambaste the competitors.  Consumers, however, are poised to be hurt the worst.
Can you spot these fake reviews?
I assert, definitely not.
The wide-spread belief that real reviews can be sorted from the bogus is rapidly changing through more elaborate (though not abstruse) means.
Basing your trust on those who have written more reviews, or a wider range of reviews no longer matters.  It doesn't take a scientist to opinion that someone with few reviews and an angled perspective is likely fake, or in any event, not credible.  Professional review creators certainly understand that even better than we do, and write accordingly.
The fraud problem, previously seen as a potentially self-limiting number of fake reviews contrived by employees, friends and families in a relatively low-scale, low-tech way, is now progressing to an entirely new level of reviewer identities specifically fashioned with multiple reviews of different properties.
How it's done:
Not requiring Herculean technology, marketers are using a multitude of reviewer locations and IP addresses, among other means, in order to to circumvent both the manual and automated fraud prevention methods that TripAdvisor employs.  Likely these black hat sculptors are several steps ahead of TripAdvisor and the rest of us in this regard.
Proof:
On a small scale, the photo example above points to a job offer to sculpt fraudulent TripAdvisor reviews.  You won't find hotel marketers offering these services on Google. They use other, less traceable means to engage prospective properties.  It is hard to imagine many hotels which wouldn't at least want to listen to such a potentially lucrative ploy.
Why this is working:
With an extremely challenging hospitality economy predicted for some time to come, hotels can simply not afford to leave reviews to chance.  The value in a higher TripAdvisor rating equates to rooms filled vs. rooms empty and to a great deal of money.  Or simply the ability to stay in business.
Where is TripAdvisor in all this?
Expedia's TripAdvisor regularly states their position that while they are aware of attempts to systematically subvert reviews, they take this very seriously and have the matter under control.  As you'll recall TripAdvisor not long ago went to the extent of putting punitive red badges on properties believed to be taking part in these nefarious activities.
That having been said, however, I believe TripAdvisor continues to be wary of anything that would reduce its number of reviews, real or otherwise. Doing so would likely bring serious damage to its advertising business, which is Expedia's cash cow.
Subscribe to our email updates.