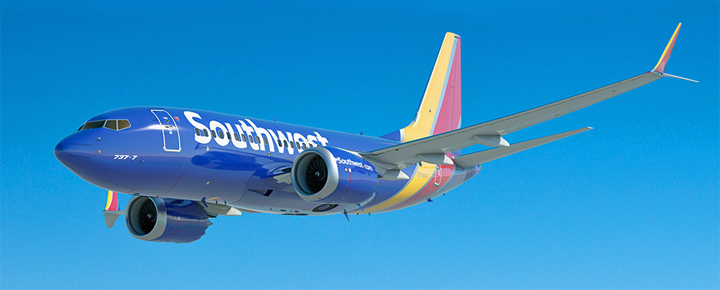 When Southwest Airlines' Hawaii flights start in the near future, the company will bring with it a very strong brand with loyal customers, quality aircraft, and extensive experience in short and long haul competition. They will learn from the mistakes made by a multitude of past and current airlines serving the islands, and will enter the Hawaii airspace at a time of positive yet tumultuous change. We look at both history and future in today's update and Southwest's strategy.
1. Examples Not to be Repeated by Southwest.
Aloha Airlines. Out of business now for nearly a decade, Aloha had a lot going for it and at the same time a lot of problems. While they had great brand recognition and public perception, they lacked strategy, resources, good management, and a quality fleet of aircraft. Not a problem for Southwest.
Allegiant Air. Just out of Hawaii entirely as of last month, the company began existing the islands not long after their very splashy entrance. They suffered from a fleet of used 757 planes, terrible public perception, unreliable service, unresponsive customer service, lack of expected onboard amenities and services, among other things. Even though Allegiant arrived with $99 one-way airfares, it wasn't enough to bring them success. Lesson learned.
2. Hawaii entry at a time of tumultuous industry change.
When Southwest arrives, they will be doing so at a most unusual time. Even without Southwest, 2018 should be the year of all years in terms of rapid market changes. Those include:
New 18 plane fleet at Hawaiian Airlines. A significant number of the new planes will be on board for 2018 flights. Those in themselves will shake up the Hawaii market. The purpose of the new planes is to allow Hawaiian to compete effectively with the other airlines flying to Hawaii using narrow-body aircraft. Those include Alaska, American, Delta, and United. Previously, Hawaiian has relied on a now outdated model, which focused on wide-body aircraft flying into Honolulu and Maui. Over the past decade, however, direct flights to all islands have become the norm on the other carriers. Hawaiian will be adding more direct flights to all islands, and increasing service to places on the mainland that were not practical to fly with their wide-boy A330 fleet. That also frees up the wide-body fleet for new routes both internationally and perhaps domestically (think east coast and mid-west).
New flights from United Airlines. United announced that in 2018 they will add nearly 30% more airlift to Hawaii, bringing their total number of daily flights to 40. Although we've seen less competition from United and the other legacy carriers in the past decade, United has been discounting flights from many west coast cities to Hawaii in the past six months. Those discounts will continue and likely escalate.
New flights from Delta Airlines. Delta is in a war with prior partner Alaska Airlines for their stake of the Northwest. This December, Delta will add a Seattle to Lihue year round nonstop flight, in competition with Alaska. We would not be surprised to see more flights to Hawaii coming from Delta Airlines.
3. Southwest Strategy.
Among the elements of what we can expect when Southwest Hawaii flights commence are:
Significantly lower fares across all routes, at least initially. And if that isn't exciting enough, those fares will be matched and likely bettered by the competition. With no bottom in sight, we do expect to see airfares in the $100-$150 range each way from the west coast.
Southwest's all coach cabin. Southwest has never deviated in this regard and we don't expect that to change with Hawaii.
More first time to Hawaii visitors. The company expects to not just compete within the existing market, but to actually create new markets of Southwest loyalists who will travel to Hawaii with Southwest for their very first time. Many will use their Southwest rewards to do so.
Disclosure: We receive a small commission on purchases from some of the links on Beat of Hawaii. These links cost you nothing and provide income necessary to offer our website to you. Mahalo! Privacy Policy and Disclosures.