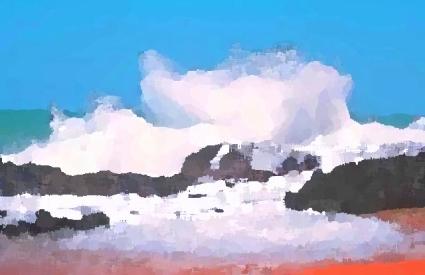 Recently, a 33 year old Japanese visitor drowned in the Wailua River, while kayaking with a tour group on Kauai.  On the same day, the Fire Department also rescued two more visitors on the Wailua River (not with the tour group), and another visitor at nearby Wailua Beach, after being swept out to sea.
What's to blame:
Inclement weather resulting in rough ocean conditions and a false sense of safety afforded by a tour group.  More often than not, it's visitors who are injured or lose their lives in Hawaii ocean (and river) accidents.  Lack of familiarity with the island water conditions is a significant component.
What can you do to protect yourself?
1.  Read the ocean safety brochure in your hotel room on arrival.
2.  Swim where there is a lifeguard.
3.  Pay attention to warning signs on the beach.  If you have questions, talk to a lifeguard before entering the water.
4.  Check the Hawaii Beach Safety website daily for updates on ocean conditions.
5.  Be careful on wet sand and rocks where waves can surprise you unexpectedly.  I took the top photo at Lumahai Beach on Kauai to show what might happen.
There are almost always safe places to be in the water in Hawaii, even in rough winter weather.  Just follow the tips above.