A Hawaiian Airlines first class review is something we've intended to do for some time. Last Tuesday, editor Jeff jumped aboard HA flight 3 from LAX to Honolulu in first class. This review is of their Airbus A330-200 widebody service with 18 first-class seats. You've already read what the Hawaiian Airlines LAX experience nightmare was like. We won't count that against the airline in this review since it's outside their control.
Beat of Hawaii paid in full for this trip, and Hawaiian Airlines was unaware that we would be onboard. The flight cost from Los Angeles to Honolulu Airport in first Class was $849, which includes lie-flat seats. First class lie flat is usually at least 50% more than what you'll pay for first class on their narrow-body aircraft without lie-flat. Read our review and see if you think it was a good investment.
Many other websites have reviewed the Hawaiian Airlines first class product. What is different about ours is that, as you know, we eat, sleep and breathe only Hawaii travel. While we travel to other places in the world, our focus here is exclusively on Hawaii.
What worked and what didn't on Hawaiian Airlines' first class.
On the positive side, the service was superb. It was even better than our experiences on Singapore Airlines in 2019, and on other first class flights. That's why our post title says, "stunned." It was something beyond what we were even expecting. Was this a fluke? We plan on flying Hawaiian to New York, and we will report back to you. Honestly we can't think of a better way to commence a Hawaiian vacation than this.
There were so few negatives about the experience as to be largely irrelevant. But they included quirky Italian lie-flat beds with strange adjustments that are also a bit too short. Also, there are no longer any Hawaiian Airlines Premier Club lounges outside the state, including at their most-important LAX gateway.
As a side note, Hawaiian's first class is not a true first-class product but rather a business-class product called by another name. When they fly internationally, they call this by the correct name, business class. We suspect they will soon change the name to be business class domestically as well.
This product is on all A330 flights the airline offers, which includes JFK, San Francisco, Las Vegas, Phoenix, Austin, among others.
Cost: First class 10/10.
The amount that Beat of Hawaii paid was a hair shy of $850. In our opinion, it is worth the extra amount for those who can and wish to afford it. The price for first class, lie-flat from the west coast to Hawaii, has increased dramatically since before Covid. For example, Fares on United and on Hawaiian are regularly as high as $1,800 or more one-way in lie-flat first. We picked dates for Jeff carefully to get as low a fare as possible, as this was about as good as it gets for this first-class offering.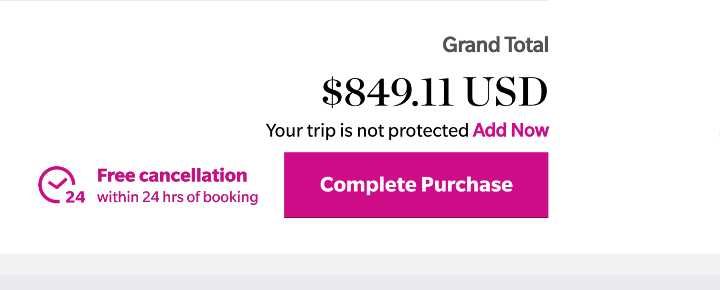 Customer service: 8/10.
Due to an error we made in booking his flight, Jeff inadvertently ended up with one of the flights being on the wrong day. His bad. Changing the reservation with Hawaiian Airlines required a call to their Philippine-based call center, even though the reservation was clearly cancelable within 24 hours of booking. It is not possible to cancel online.
While the process was reasonably easy once we got someone on the phone, it isn't appropriate to require a phone call in 2022. Furthermore, using low-paid foreign call center employees gets a low score in our opinion compared with Alaska, Southwest, and others, who answer the phone with airline employees based in the US.
Check-in: 10/10.
The online check-in process was easy, taking only one minute. So was the airport experience, too, with a dedicated first class line and no wait. First-Class includes two free bags, which Jeff brought for shopping at Trader Joe's in California. There may or may not have been an outside bag check, but if so, he didn't see it at the ultra-busy and somewhat confused international terminal from which Hawaiian operates at LAX.
Boarding: 10/10.
Boarding was on-time, and the first class zone was called almost immediately after boarding those who needed assistance. Upon arrival at the aircraft door, Jeff was greeted by a flight attendant who escorted him to his seat, 2C.
On-time Performance: 10/10.
Everything was exactly as expected. Boarding for the flight began about 30 minutes before departure time. The door was closed 10 minutes beforehand, and the flight departed the gate exactly on time.
Food and beverage: 9/10.
As a caveat, we wavered on giving this section either a 9 or a 10 review. In the end, we decided it should be a 9 due to minor shortcomings, as detailed below.
Prosecco, Mai Tai, water, or guava juice were almost immediately served by two flight attendants who introduced themselves. It was elegantly done using Hawaiian's Pualani emblem engraved crystal glasses. Also, before departure, the FAs brought menus and discussed options for beverages and food.
As a slight knock, there is no meal preordering, which is becoming standard on many airlines. Also, there are no alternatives to the meal provided. When Jeff asked, however, to have no sausages with his omelet, the flight attendant said they had not been cooked together.
Before departure, glasses were collected. Once airborne, nice table linens were distributed, then ordered beverages were delivered together with a generous bowl of macadamia nuts. The nuts weren't heated, which is atypical for first class.
Breakfast followed within 15 minutes of the first beverage service. It was nicely presented and frankly tasted much better than it looked. The offering was a mushroom omelet. Our only preference would have been for pre-ordering meals and having choices.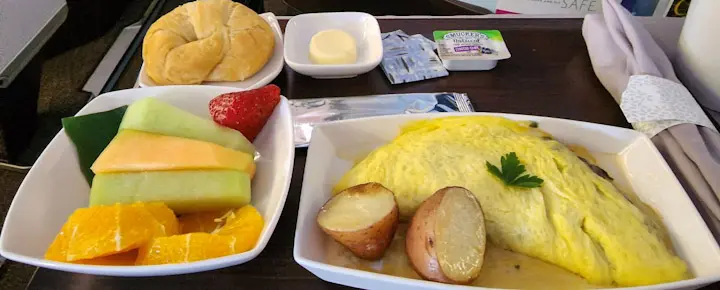 Following the entree, fruit, and croissant, which were served on one tray with china and stainless, an unusual haupia (coconut) chocolate cake from a renowned Honolulu baker completed the meal.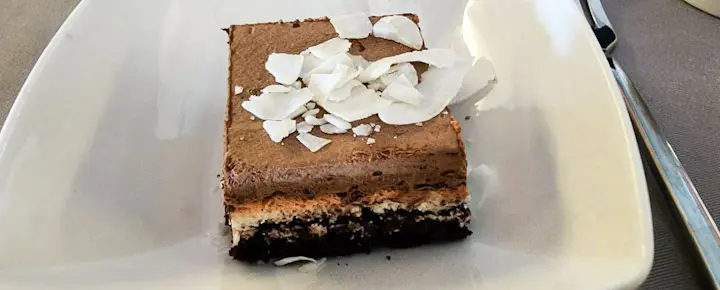 After the meal service, beverages were offered throughout the flight, although no water bottles or cans of Jason Momoa's Mananalu could be seen. The water served was from Hawaiian Springs. Jeff asked the flight attendant about the Mananalu water, and he offered to give him one from the Pau Hana (economy purchase only) cart. Jeff declined.
Final drink orders were taken less than an hour before arrival in Hawaii. And the final parting touch was a cookie from Honolulu Cookie Company.
Aircraft condition: 10/10.
The plane, an Airbus A330-200 widebody, features twin aisles and 18 first-class seats. The plane was approx. 9 years of age. It is an elegant aircraft and still felt modern and up to date, with no wear and tear. The first class cabin especially features lovely interiors with curved surfacess
Wifi/texting: 0/10.
There is still no WiFi or texting on Hawaiian Airlines. However, they intend to finally provide free high-speed satellite WiFi starting in 2023. That will be a huge improvement as they are currently the only airline flying to Hawaii without WiFi.
Flight attendants: 10/10.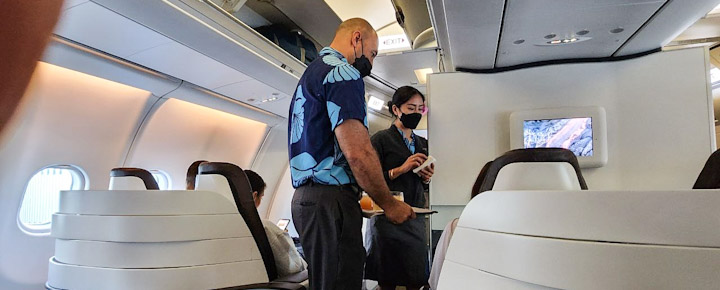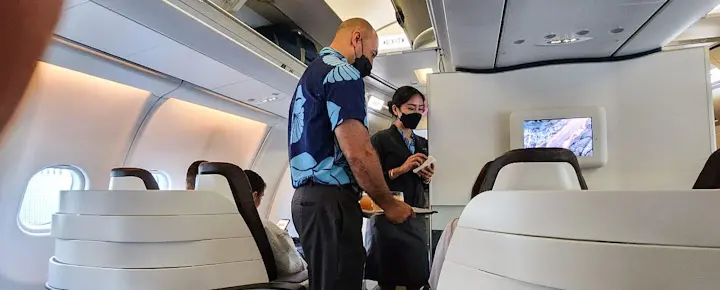 It's hard to say enough about just how excellent these flight attendants in the premium cabin were. Honestly, they were in a league of their own in terms of demeanor, pleasantness, thoughtfulness, attention to detail, and more. They exuded the best that Hawaii has to offer and presented the epitome of first class service, be it international or domestic. Two flight attendants were dedicated to the first class cabin together with the senior purser. This was the single most outstanding aspect of the Hawaiian Airlines first class flight. The purser on the flight, Diane, was based in Los Angeles and had been flying for Hawaiian for 34 years.
The staff-to-passenger ratio was great and, to us, is a clear indication of where Hawaiian Airlines sees itself headed in the future. That is, as an airline focused on premium products at premium prices. It is clearly an excellent fit and what they do exceptionally well.
Cockpit crew interaction: 10/10.
There were multiple professional announcements made from the flight deck. Those could be heard in all classes of service. It is worth noting that economy-class announcements cannot be heard in first class.
Seating and comfort: 10/10.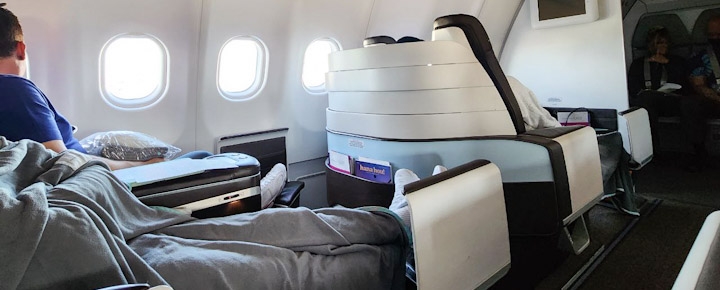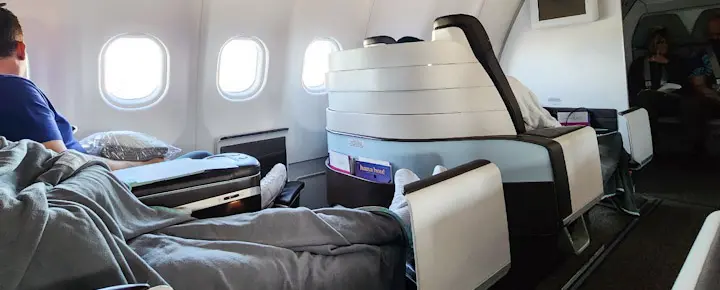 When Hawaiian retrofitted the A330 with lie-flat seats back in 2015, they decided to go in a different direction from most other airlines. The seats are from Italian seat designer Optimares. The issues with the seats include a single wheel for all adjustments, which limits options, 6-across (2-2-2 configuration) seating instead of the now more traditional 4 for business/first class, and a 76-inch total length. The seats aren't quite long enough to accommodate our six-foot-tall editor, and even when pushing his head all the way into the opposite corner as his feet, his shoes stuck out into the aisle some.
On a positive side note, virtually all other business seats now provide for passengers' feet to be located in a small and uncomfortable cubby-hole under the armrest of the passenger in front of them. With the Hawaiian Optimares seats, that isn't the case. The unusual footrest is always available, even during take-off and landing, and is comfortable to use.
It is worth noting that Hawaiian is moving to more traditional business/first-class seating on its upcoming Boeing 787 Dreamliner fleet, which could start to arrive as soon as next year.
A fleece blanket and a pillow in a bag are on each first class passenger seat. There was no mattress pad offered, which is provided on their longer flights. A storage bin is under the seat in front of first-class passengers, and a small, secure, lighted side storage pocket is at hand.
Passengers traveling solo can opt for the center section to avoid needing to crawl out over someone else. A glass privacy screen pops up between the center seats and works effectively. A highly adjustable tray table made eating and working easy, and it was possible to stand up without retracting it.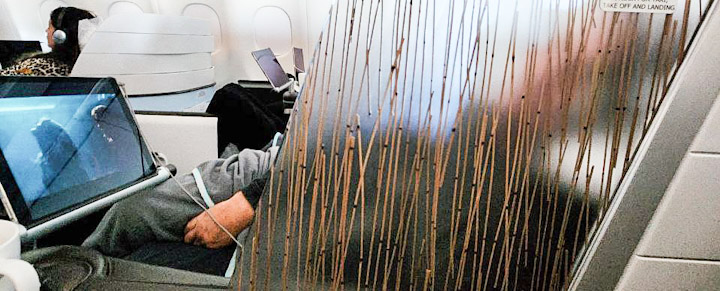 Power (AC/USB): 10/10.
All first-class guests are provided with USB power as well as AC power.
Inflight Entertainment: 10/10.
The A330 first class features fully-loaded iPad-based in-flight entertainment, including TV shows and movies, which is handed out after take-off. It includes The unit sits perched on a unique stand that pops up from the center table as seen here.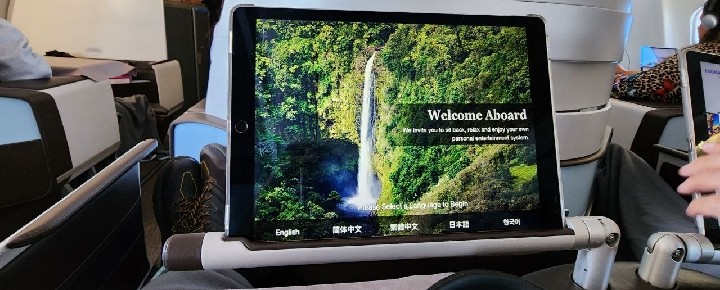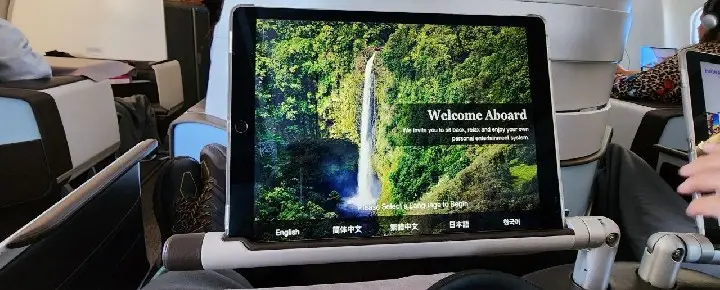 While not personal entertainment, a well-done arrival video was played that featured many Hawaiian Airlines employees involved in wildlife conservation, Hawaiian culture, search and rescue, hiking safety, and other fascinating areas that are of great benefit to Hawaii. This served to raise awareness among soon-to-be-arriving visitors in a nice way.
Total score: 117/130.
If you discount the fact there was no WiFi but it is about to be added fleet-wide, then the score would have been 127/130. And if you remove the fact that it was necessary to call customer service, it would have been 129/130. Job well done Hawaiian Airlines!
Have you tried the lie-flat first class offering on Hawaiian Airlines?