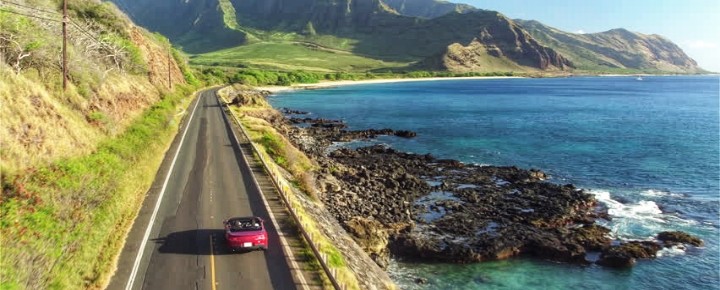 If you are looking for any light at the end of the Hawaii car rental tunnel, there is some good news today. After continually writing about just how bad the situation was for months, things have shifted, at least somewhat. And some of it has changed rather dramatically. It isn't all smooth sailing ahead, with some very real pricing and availability problems still existing, but the Hawaii car rental news is at least simproved as of today.
Hawaii car rental price examples as of August 18, 2021.
We checked online for all major car rental companies and compared that with our last check, which was on August 4. We did not include minor companies or alternative rental sources. Vendors included are Alamo, Avis, Budget, Dollar, Enterprise, Hertz, National, and Thrifty. We also did not check Craigslist Hawaii car rentals due to ongoing concerns you should read about. On the other hand, Turo is a viable alternative with insurance options and is frequently the best-priced option.
Note that the prices below are intended as guidelines only and can fluctuate rapidly. They vary greatly both by island, by season, and by dates within each season. Prices are before any discounts and include taxes. Some of the best rates now require pre-payment.
Mid-August until mid-September. Honolulu starts from $654/week (was $985). Maui starts from $609/week (was $918). Big Island starts from $327/week (was $1213). Kauai is largely unavailable.
Mid-September to December (except Thanksgiving). Honolulu starts from $654/week (it was $771). Maui starts from $787/week (was $1039). Big Island starts from $731/week (was $1220). Kauai starts from $1234/week (was $1193).
Christmas/New Year. Honolulu starts from $1,284/week (was $1221). Maui starts from $1405/week (unchanged). Big Island starts from $1173/week (was $1213). Kauai is largely unavailable.
January 2022 and beyond. Honolulu starts from $681/week (unchanged). Maui starts from $678/week (unchanged). Big Island starts from $693/week (unchanged). Kauai starts from $681/week (unchanged).
What is the new normal for Hawaii car rental prices?
Based on our latest checking today, it appears that in most cases, we can continue to expect to pay about $100 per day for car rentals for the foreseeable future. And at the holidays, agencies are hoping to keep that prices about double that. So it looks like car rentals will continue to cost more than your Cheap Flights to Hawaii.
Plan for Hawaii car rental the same way as flights to Hawaii and accommodations.
We can safely say that car rentals have now become the second-largest expense for most Hawaii vacations. The first is accommodations, and the third is now airfare to Hawaii.
While many others have written about money-saving tricks for car rentals, the following are our just updated suggestions, from a local Hawaii perspective:
Alternative Hawaii car rental sources remain popular.
Hawaii car rentals remain a topic of widespread discussion, and visitors have been renting cars from alternative sources. But before heading in that direction, there are a couple of points to remember. First, the state has now said it frowns on visitors' rental of non-traditional vehicles like those. Second, you'd better check to see how insurance would work in the event of a problem. See more on that below.
We know of people in Hawaii buying cars, sometimes dozens of cars, to rent them to visitors. This, however, brings up questions that need to be answered before driving off.
Hawaii car rental company consolidation.
Hawaii car rental prices were going up rapidly before all of these inventory and pricing issues even began. Nearly 95% of the car rental market is controlled by just three companies, which continue to market through their multiple brands. Enterprise includes National and Alamo, Hertz includes Thrifty and Dollar, and Avis includes Budget.
What other factors contributed to the crisis in Hawaii car rentals?
Demand for Hawaii car rentals continues to exceed capacity at peak periods. That's true at both holidays and mid-summer and has been the case for decades.
Exorbitant Hawaii car rental taxes and fees.
In addition to high base rates, there are the following additional mandatory fees and taxes. General excise tax (varies by island) up to 4.71%. State motor vehicle $5/day. Vehicle registration up to $1.45/day. Customer facility charge $4.50/day. Airport concession fee 11.1%.
The state of Hawaii gets involved to a degree.
Hawaii had been relatively quiet on the car rental crisis. Recently, the state has launched a ground transportation portal on the HTA website offering resources to car rental alternatives by island. Those include new shuttle services in addition to taxis, ride-sharing, bus, and shuttles. The state has wisely started suggesting that visitors obtain car rentals before making other reservations.
"Please plan ahead to secure a reservation first before making the rest of your travel arrangements. The Hawaii Tourism Authority does not condone visitors renting moving trucks and vans for leisure purposes." That is because those vehicles are needed for other, nontravel reasons.
As you will recall, two months ago, Stephen Levins of Hawaii's Department of Commerce and Consumer Affairs said of the crisis, it "certainly deserves our attention…we are going to be investigating the underlying basis for charging such great amounts to rent a vehicle." But, unfortunately, we still haven't heard anything from the state in that regard since.
New shuttles arrived on Maui and Kauai.
The HTA is helping Maui and Kauai counties to start shuttle programs for visitors, transporting them between airports and resort destinations. In that regard, please consider where you are staying in Hawaii in relation to your ability to obtain a car rental.
Also read: New Kauai Transportation Options Launch | But Will It Help?
25 Tips to Get a Discount Hawaii Car Rental in late 2021 and 2022.
Alternative car rental sources and discounts.
Check several sources and compare rates and availability before booking. Look at both airport and city locations for pickup and drop-off. To get a feel for prices, you can try working with online travel agencies and other sites. Check the actual car rental company sites as well as those below.
Discount Hawaii Car Rental (our advertiser we learned from our readers) is an excellent resource we frequently used. We've found their rates can save significantly compared with competitors at peak times. If you ask a question on this post for them, they may well comment.
Try Turo. That's the giant peer-to-peer car rental service that is similar to Airbnb for cars. If you decide to try it (we have not), let us know your thoughts. Remember that Turo has been experiencing unprecedented demand, and clearly, it isn't easy to find availability. Nor is it cheap. Check options, including premium insurance coverage.
Check AutoSlash, which our readers have also recommended. They too frequently comment here.
Look at discounts available through AAA, AARP, and Costco, although those may be challenging at this time.
For periods when there are no car rentals, many visitors are turning to Craigslist. Unfortunately, we cannot recommend that route as we have heard of way too many problems, including insurance protection and breakdowns. However, we suggest checking multiple car rental sources frequently for sold-out dates that could subsequently become available.
Continue to protect yourself against damage, dirt, and other fees.
Damage Protection Tip: Consider using your cell phone to photograph the car before driving it off the lot. Our good friend and Beat of Hawaii reader, Colleen, take the photos with her husband standing next to the car holding that day's paper. It's also a good idea to do the same thing on return, such as when you drop the car before or after office hours. Dollar once accused us of not returning their car at Oakland Airport. When we got back to Hawaii, there was an urgent call from them. We had dropped the car off early that day before they opened, and it was sitting in their lot.
Hawaii Dirt Tip: Hawaii car rental agencies can charge a fee of $50-$100 or more for excess dirt. It is effortless in our environment to end up with mud inside or outside of the car. If this happens to you, get to a car wash before returning it to the agency. Consider having newspapers or other floor protection if you're hiking or when it is muddy.
Get a Final Receipt Before Leaving: We've learned this one too the hard way. Be sure the contract is closed out, and you have a complete and final receipt/accounting before leaving the car rental facility at the end of your trip.
Timing is everything.
Make your car reservation far in advance for travel not only during high seasons but year-round. For now, book car rentals in advance of other reservations. We'll let you know if that changes.
Once you make a reservation, be sure to check back several times to see if better deals arise before your trip. Even now, availability and the price are moving targets. This has saved us untold hundreds of dollars in car rental charges. Frequently (and more so all the time), prepaid can become the best deal (but not always). We rented a car from Hertz not long ago, where the total on first checking was $1,600. In the end, we paid $600 for the same rental by checking, canceling, and remaking the reservation, then finally asking the counter agent if they could do better (which they did). You've reported the same phenomenon in many comments.
Set a reminder to recheck car rental prices a day or two before you travel for any last-minute offers.
Know your insurance needs before you get to the car rental counter.
Additional coverage may or may not be necessary. Before your trip, check your own insurance policy and your credit card company to determine what coverage may be offered at no cost. Don't just blindly fork over an extra $10-$30/day when you show up unprepared at the rental counter. Agents may have a strong incentive to sell insurance and other upgrades.
Reader Oliver's advice: "Many credit cards offer secondary insurance, i.e., they will pay if you don't have any other insurance such as your own car insurance. But you may not want to use your car insurance, as a claim will likely drive the rates up. Some cards offer primary rental car insurance. Note that credit card car rental coverage is in a state of flux, resulting in frequently less or no coverage. Be sure to check and not assume.
Check Priceline.
Additional driver and underage fees add up and can be confusing.
Fees vary widely by company and rental location. If more than one driver is on the rental agreement, inquire when making the reservation. Costco rentals include a second driver. Many companies include spouses or business partners automatically. But work through this in advance to avoid a surprise of perhaps $10/day. We recently saw a couple with a 24-year-old driver assessed a $25/day fee for being under 25, so it pays to check and be prepared.
Car sizes, upgrades, and pre-payment options.
Car rental prices are based on demand, not size. Research different size rental cars to see what offers the best deal. Larger cars are often cheaper than smaller cars, especially now.
Many of us prefer somewhat smaller cars that are fuel-efficient, and equally important, are easy to maneuver in Hawaii. In Honolulu, a compact car will be far more nimble in tight parking lots and generally.
Do you really need GPS when you already have it on your phone?
Check into pre-payment options, but consider those carefully as 1) you will be locked in and 2) it doesn't guarantee the best rate.
Pre-paying gas generally comes with a much higher price per gallon. So check that before you drive off.
Join the rental company's frequent renter program.
It doesn't often save you money, but it will certainly save you considerable time when picking up your car. After a long flight to Hawaii, that will seem as good as cash. Many of you have reported that as well.
Determine the grace period of the contract.
Previously this was 59 minutes. So if the car was due back at noon and you had it in by 12:59, there was no charge. Now, however, some companies have no grace period whatsoever. So be careful with this one, as the excess rate on car rentals can be up to $15/hour plus taxes.
Is the price the total price?
Hawaii airport surcharges on car rentals have gone up. Often, car rental quotes don't at first show taxes and other fees. That can add up fast, so click on through to see the total bill first. And prepare for a bit of sticker shock.
Can you share your plans for Hawaii car rentals?
Updated 8/18/21.
Disclosure: We receive a small commission on purchases from some of the links on Beat of Hawaii. These links cost you nothing and provide income necessary to offer our website to you. Mahalo! Privacy Policy and Disclosures.